LOS ANGELES — Phil Yu is excited. The Los Angeles-based blogger saw an advance screening months ago of "Crazy Rich Asians" and now the first Hollywood movie in 25 years with an all-Asian cast is about to arrive in theaters along with two other predominantly Asian films.
"I've been driving around town seeing posters for 'Crazy Rich Asians' and it gives me a real thrill. It's like, Wow! Do white people feel like this all the time?" said Yu, who has been writing his Angry Asian Man blog since 2001.
The romantic comedy, based on the best-selling book by Singapore-American Kevin Kwan and opening on Wednesday, is the first all-Asian Hollywood studio movie since "The Joy Luck Club" in 1993.
"Crazy Rich Asians," which stars Michelle Yeoh, will be joined by two others this month in a breakout moment for Asian filmmaking that will test whether U.S. audiences will turn out en masse to watch.
Sony Pictures indie thriller "Searching," featuring an Asian-American family and directed by an Indian-American newcomer, opens in U.S. theaters on Aug. 24, while the Netflix adaptation of young-adult novel "To All the Boys I've Loved Before," starring an Asian teen, will be released next week.
"I hope it's Asian August. I think this is the start of a new movement," said Jon M. Chu, director of Warner Bros.' "Crazy Rich Asians."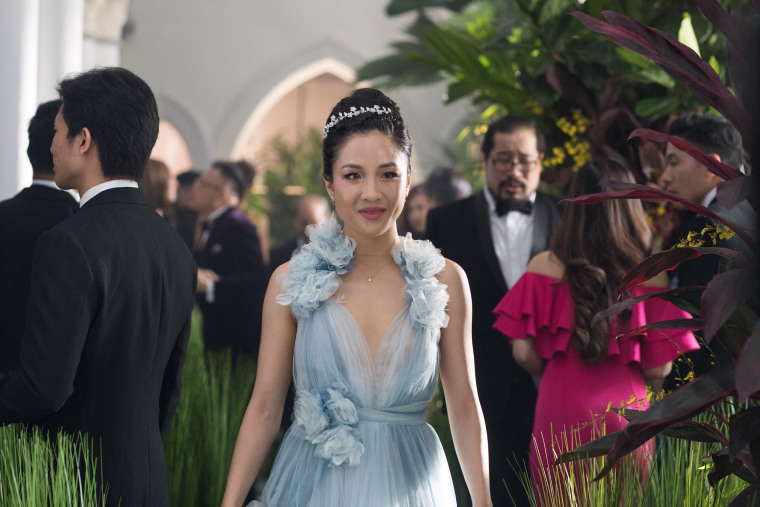 "The audience needs to decide. If they show up on opening weekend, that sends a very clear message to the studios that more will be made. They are sitting at their desks right now with movies that have not been greenlit," Chu said.
Pressure is high
Asians make up 5.8 percent of the U.S. population, according to the 2017 census, but a University of Southern California study showed that 37 of the top 100 grossing films in 2017 had no Asian characters.
When they do appear on screen, Asian actors are often cast in martial arts sequences, or as the token ethnic best friend or other stereotypical roles.
Worse still, Hollywood has a history of whitewashing. Emma Stone was cast as a Hawaiian-Chinese character in the 2015 film "Aloha" and Scarlett Johansson played a role meant for a Japanese woman in last year's "Ghost in the Shell."
Amid the anticipation among the American-Asian community at the sudden spotlight, the pressure is on.
"There is a lot riding on this," said Guy Aoki, founding president of the Los Angeles-based Asian American Media Action Network. "On one hand you are excited and on the other you go 'Oh God, I hope this does well' because if it doesn't, we are screwed."
While "Crazy Rich Asians" is set in the world of the super wealthy in Singapore's ethnic Chinese community, "Searching," starring John Cho, could have featured any ethnicity.
"We're the first contemporary mainstream thriller to ever have an Asian-American lead. That is crazy because it's 2018," said director Aneesh Chaganty.
Wider themes
Author Jenny Han insisted on casting an Asian as the lead in the adaptation of her novel, "To All the Boys I've Loved Before."
"It wasn't that she needed to be Asian; it's just that she was. Never in my life have I seen an Asian-American girl star in a teen movie before," Han said.
The makers of "Crazy Rich Asians" are stressing the movie's wider themes, aware that the estimated $20 million budget film must succeed outside the Asian-American community.
Yet Aoki and Yu say it is unfair to place the future of Asian filmmaking in Hollywood on one or two films.
"One romantic comedy with two Asian faces on the poster having to hold up the dreams and hopes of an entire community is just not fair," Yu said.
Follow NBC Asian America on Facebook, Twitter, Instagram and Tumblr.