ORANGE COUNTY, Calif. — Every weekend this summer, thousands of people have flocked to a seasonal night market in front of Asian Garden Mall in Westminster, California, to scoop up grilled razor clams, balut and fresh-squeezed sugar cane juice.
Twenty minutes north, in Buena Park, Yena Kim and Jackie Lee, both 16, visit The Source OC at least once a month. On a toasty July afternoon, they sipped Macanese-style dalgona milk tea from Flippoly, a dessert and sandwich joint, and played games at an internet cafe called Ultimate Esport.
"At American malls, you kind of just go shopping," Kim said. "Here you come for the entertainment." 
While many U.S. malls are struggling to fill storefronts and attract shoppers who are increasingly hooked on e-commerce, malls that serve Asian American enclaves are seeing strong demand in the post-pandemic economy.
"Asian malls have survived because they cater to a need for community," said Willow Lung-Amam, an associate professor of urban studies and planning and the director of the Small Business Anti-Displacement Network at the University of Maryland, College Park.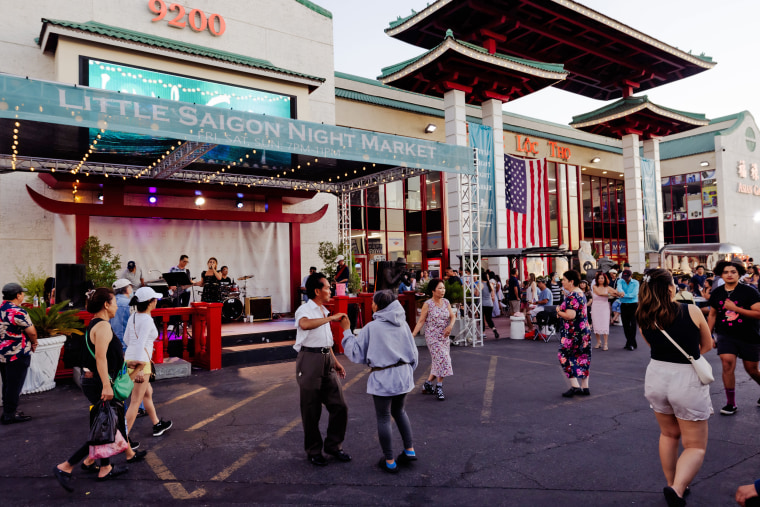 The number of U.S. malls fell by nearly 17% every year from 2017 to 2022, CapitalOne Shopping Research found, and many of their longtime anchor retailers have struggled. Lord & Taylor emerged from bankruptcy in 2021 as an online-only business, and Sears came out of its own bankruptcy last year with just a handful of physical stores left. Just last month, JCPenney unveiled a $1 billion plan to revamp its business.
For Asian-focused malls, however, retail tenants tend to serve as social gathering places that attract diverse clienteles for reasons that go beyond shopping. A Chinese noodle bar in a complex might draw families celebrating Lunar New Year or birthdays, for example, who can then pop into the Korean clothing store next door or grab sweets at the Japanese bakery around the corner. And for sites like Asian Garden Mall, community events like the night market are added draws.
"I love the food. I love the people and atmosphere," said Leonida Garcia, 62, a Filipina prep cook at Disneyland who lives in Westminster and has attended the night market four times this year.
She added, "I like this place a lot because everything's cheap."
Asian Garden Mall, which opened in 1987, boasts more than 300 largely family-owned shops selling specialty products like herbal tea, traditional Vietnamese dresses and jewelry. While many long-standing Asian malls in the U.S. have those more traditional offerings, some are also luring in young shoppers by hopping on food trends or leaning into K-pop fandom.
For more from NBC Asian America, sign up for our weekly newsletter.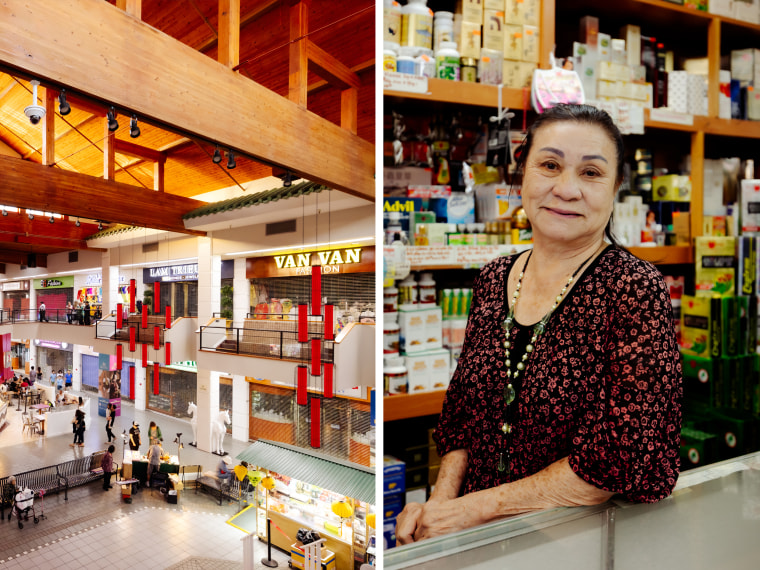 K Place opened at The Source OC in 2018 as a one-stop hub for K-pop merch, albums, light sticks and band-inspired stationery. General manager Emily Kim said the shop delivers a buoyant sense of community that young K-pop fans may not be able to find when they shop online.
"The moment you step into K Place, you are immersed in a diverse crowd united by K-pop," she said. "Our photocard trading events and annual Random Play Dance event give our community a platform to express themselves and interact with kindred spirits."
Offerings like those have helped Asian-focused malls buck broader industry trends. Malls face the highest vacancy rates among U.S. retail spaces, according to researchers at the global real estate services company JLL, with the share of empty space rising from 4.3% in 2018 to 8.8% this year.
The bustling Diamond Jamboree mall in Irvine, California, by contrast, has no vacancies, leasing manager Helen Wang said. Pacific East Mall, a 25-year-old mall in the San Francisco Bay Area, is nearly at full capacity after it underwent major renovations last year, leasing executive John Luk said.
Tangram, a mall in the Flushing neighborhood of Queens, New York, already has more than 75% of its retail spaces leased after it opened last year. More than 35 businesses are open, and more are in the works for winter, including a Korean barbecue restaurant and an arcade, said Helen Lee, an executive vice president at F&T Group, which co-developed the property.
Some retailers at longtime Asian malls have become institutions unto themselves. A handful of businesses at Asian Garden Mall, such as the general goods store MY-A, have been operating since the center opened, providing essential services to immigrants who speak little or no English.
"I work 365 days without rest," said MY-A owner Kieu Hue Ly, who sells medicine, cosmetics and household goods exported from Taiwan, Vietnam and Singapore. Most of her customers, Ly said, are Vietnamese refugees who have been shopping at her store for decades.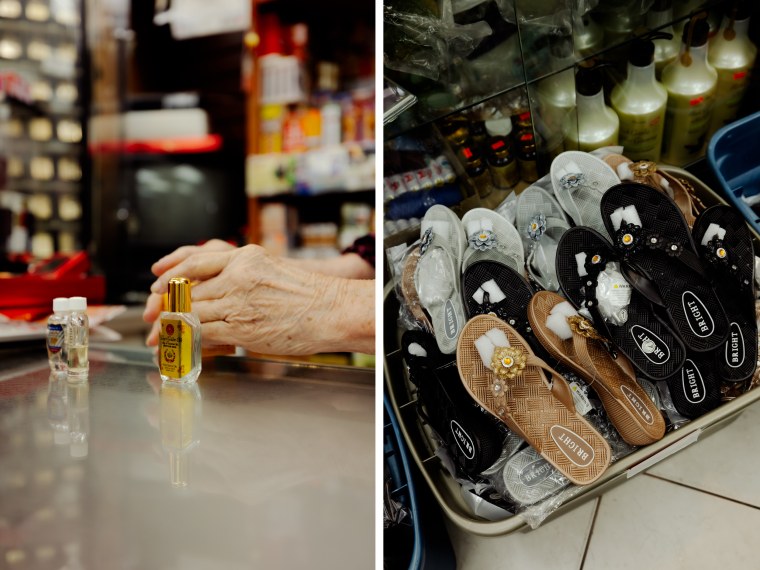 When the center was forced to close during the pandemic, the families who ran it looked out for one another, she said.  
"Other business owners bought from me when customers stopped visiting the mall," said Ly, 76. "We're all friends and love each other very much." 
"This is a family mall," said Jessica Dan, the owner of Chic's Handbags, a handbag and wig stall she inherited from her brother in the early 1990s. Her sister, Jennifer Dan, runs a jewelry stall by her side.
Dan said her customers are mostly Vietnamese, Chinese and Filipino elders, both locals and tourists, seeking discounted rates on designer brands. But she's concerned about the future of mom-and-pop shops like hers, as they don't hold the same appeal to younger people. 
"The next generation doesn't want to do this work," she said. "They want to shop online."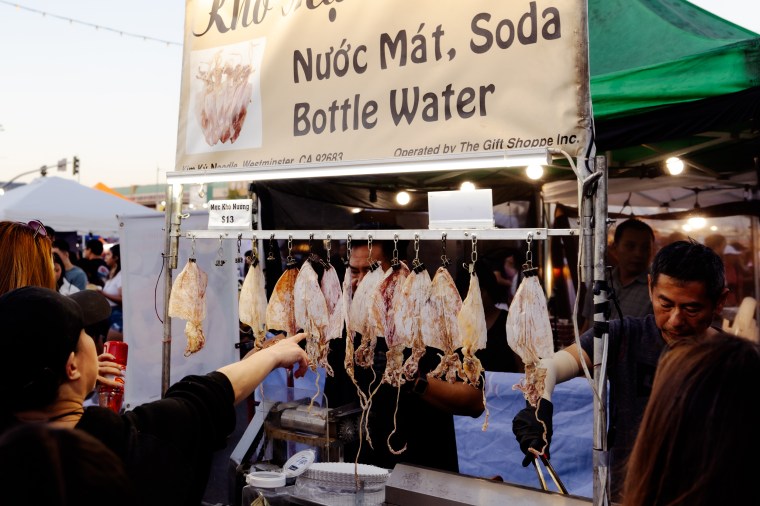 The Asian malls of the 1980s and '90s often featured specialized shops and services, including grocery stores, travel agencies and herbal shops, that "catered to a broad cross-section of immigrant families," said James Zarsadiaz, an associate professor of history at the University of San Francisco.
But the rise of e-commerce and the U.S. expansion of major Asian-owned chains around the turn of the century, Zarsadiaz said, have shifted consumer habits and needs.
"Many consumers, particularly upper-middle-class or affluent Asian families, want Asian malls to mirror high-end shopping centers that don't exclusively cater to Asian customers," Zarsadiaz said. Many shopping plazas in Asian American communities today have fewer mom-and-pop businesses and more restaurant chains and boba shops than their predecessors did, he said.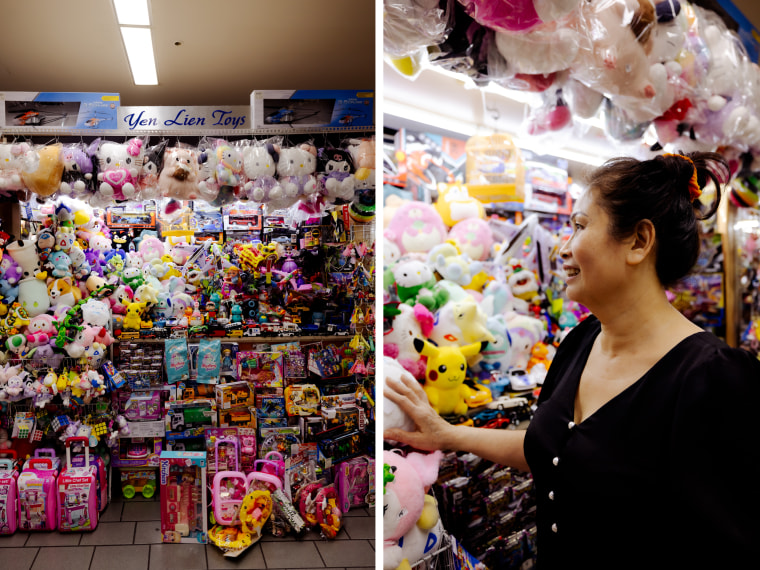 In the 2010s, the Westfield Santa Anita mall near Los Angeles began seeking out international retailers like the hot pot chain Haidilao and the Japanese cheesecake empire Uncle Tetsu to court the fast-growing local Asian American population. New World Mall in Flushing, which opened in 2011, boasts a bustling food court that draws customers from all over the country. Tangram features a futuristic 24,000-square-foot food hall inspired by the exuberant, neon-lit night markets in many Asian cities. 
Lee, the executive overseeing Tangram's development, said the mall drew inspiration from cities like Tokyo, Singapore, Taipei, Bangkok and Shanghai. It boasts an eclectic mix of Western brands, international retail and food chains, like Xiaolongkan Hot Pot, and emerging local businesses, like the egg tart stall NaTart.
Tangram requires overseas businesses to advertise in English on menus and storefront signs, Lee said, which helps create a more inclusive experience for non-Chinese shoppers.
"I've often had people come to me and say they feel very intimidated when they come to Flushing," she said. "They almost feel like they need to have a tour guide with them. At Tangram, you can come in and feel right at home."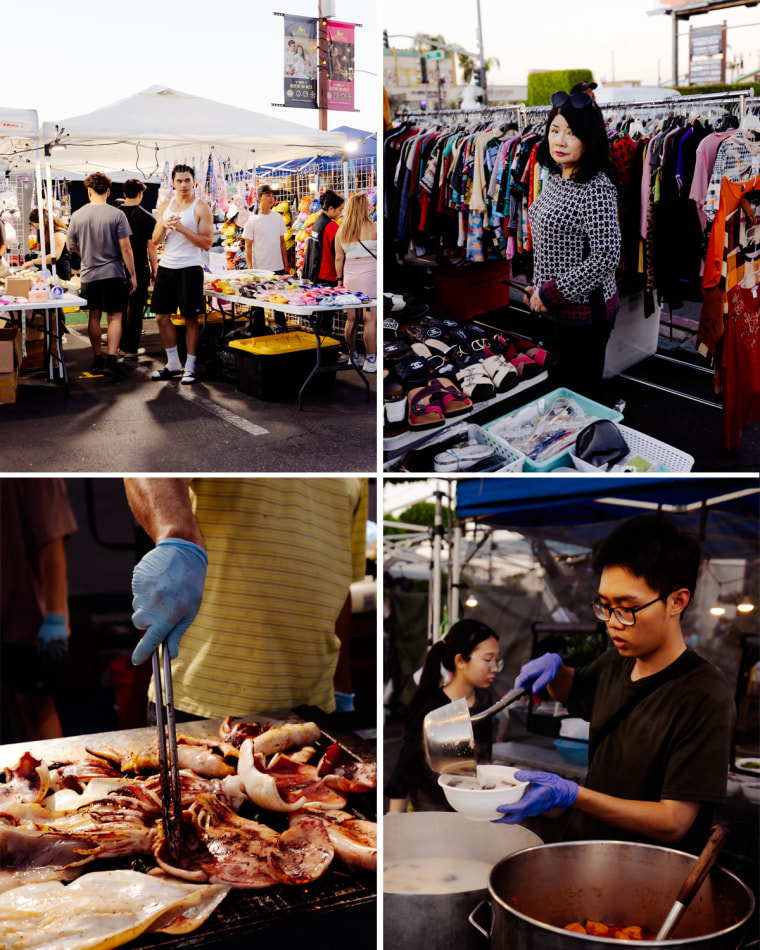 CORRECTION (Sept. 8, 2023, 7:35 p.m. ET): A previous version of this article misstated the location of The Source OC. It is in Buena Park, not Buena Vista.