In a 2016 reaction video to Indonesian rapper Brian Imanuel's "Dat $tick," Wu-Tang Clan member Dennis Coles, who raps as "Ghostface Killah," couldn't believe the then 16-year-old's grasp on the type of Southern hip-hop popular online.
"That's dope. That's dope," Coles said, adding that he would be interested in rapping on a remix. Coles' praise helped drive popularity for the song's music video, which has been viewed more than 84 million times since it was released on YouTube in February 2016.
We all have to face ourselves, but the art of emceeing forces us to verbally articulate that to the world. It's definitely not easy.
But not everything about Imanuel's debut and subsequent success, including 10 singles and multiple tours, has been positive.
He has been criticized for cultural appropriation, stirring up controversy to drum up publicity, and, perhaps most frequently, for his former rap moniker, "Rich Chigga," "chigga" being a portmanteau of Chinese and a racial slur that also appears in the lyrics of "Dat $tick."
Imanuel has said that the name was "corny" and that he wanted to diminish the power of the slur, though as he told music website Genius, he has realized he is "totally not in a position to do this."
In December, Imanuel announced his debut album "Amen," scheduled to be released Feb. 2. On Jan. 1, he changed his name.
"I have been planning to do this forever and I'm so happy to finally do it," he tweeted. "I was naive & I made a mistake."
Imanuel and his representation declined to be interviewed for this story, citing scheduling issues ahead of the release of "Amen."
His "mistake" had drawn attention to the pitfalls Asians and Asian Americans have faced in rap. No matter how close they come to mainstream success, they must first confront an idea that they don't belong in hip-hop.
As part of the Miami-based group 2 Live Crew, the Trinidad-born, Afro-Chinese Christopher Wong Won, who performed as "Fresh Kid Ice," made hip-hop history twice: first when a federal appeals court judge overturned a ruling that the group's third album, 1989's "As Nasty As They Wanna Be," was obscene and again when the Supreme Court granted them the right to parody other artists commercially.
Yet he wasn't even fully celebrated for being the first prominent Asian rapper until close to his death in December.
"The Asians were there in the beginning of hip-hop — but as DJs," Wong Won told Vice in 2016. "We've been in the background and stayed behind the scenes, but we learn from our mistakes."
Wong Won didn't acknowledge how arduous that fight for visibility can be. In 1997, the Mountain Brothers became the apparent first Asian-American rap act to sign to a major label when they inked a deal with Ruffhouse Records, but execs stumbled as they tried to figure out how to market the group. Producer Scott Jung, also known as CHOPS, has said that one actually suggested they wear martial arts outfits and carry gongs.
In 2002, Jin Au-Yeung, known as "MC Jin," won seven consecutive BET "Freestyle Friday" battles on the network's "106 and Park" program thanks to lines like, "If you make one joke about rice or karate, NYPD be in Chinatown searching for your body."
He signed with Ruff Ryders, but the label waited until two years after Au-Yeung's BET run to release the Wyclef Jean-produced "Learn Chinese" off the under-performing album "The Rest Is History."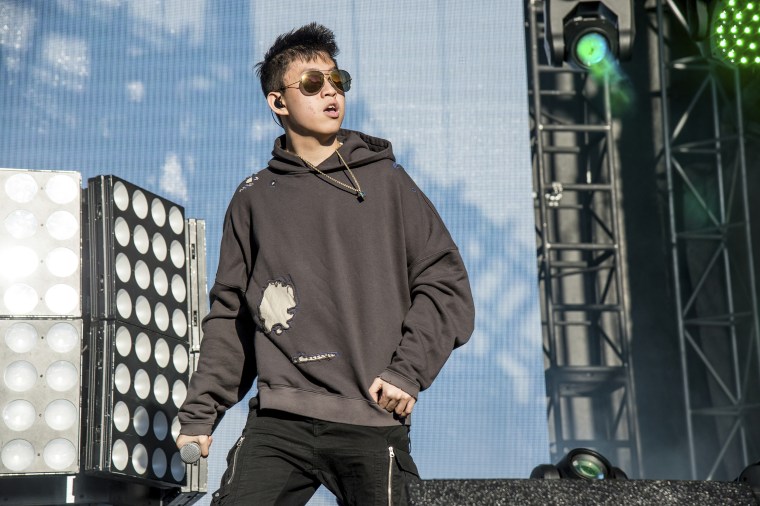 More than a decade later, the 2016 documentary "Bad Rap" cited MC Jin as a rare success story for Asian-American rappers. Jonathan Park, known as "Dumbfoundead," was one of the most established of the film's four subjects, yet he also wondered what more he could do to become a mainstream success.
By comparison, 88rising — Imanuel's label and promotion company, who also produced the reaction video — has found some success promoting hip-hop acts with Asian roots.
Founder Sean Miyashiro's most current efforts began in 2015, when Park hipped him to Korean rap upstart Keith Ape. Miyashiro helped Ape get a performance slot at Austin festival South by Southwest and became his manager. He also had a hand in having Complex produce and premiere the video for the remix of "It G Ma," which featured Park and fellow rappers Waka Flocka Flame, Father, and A$AP Ferg.
The point of "It G Ma," along with 88rising's "Rappers React" videos for Imanuel and Chengdu rap group Higher Brothers, was to show how hip-hop's prosperity gospel is already a universal language.
"Every immigrant has the same kind of experience, from Latino Americans to Jews to Italian Americans," Miyashiro told The Hundreds in 2015. "It's all the same and we're trying to embody that dream."
The problem is, as compelling as their backstories may be, the acts Miyashiro cosigns co-opt American Southern hip-hop signifiers and tropes as means for their new wave of Asian cool.
Keith Ape and his Cohort rap crew were so heavily inspired by OG Maco's "U Guessed It" that the Atlanta rapper took offense before he received a portion of the publishing royalties. "Dat $tick" was Imanuel replicating trap music he had heard online.
"I didn't realize what that could do, how people could feel about that, because I'm not really in that shit," he has said.
George "G" Yamazawa, an award-winning spoken word poet and rapper, is well known for dismantling this idea that the struggle for equality is the same regardless of class, race, gender and sexuality.
His verse over the "Dat $tick" beat, which he performed to open for Imanuel in Jacksonville, North Carolina, last fall, has this line: "Just 'cause you're POC doesn't mean you f*** with black folk," "POC" referring to people of color. But Yamazawa doesn't call his take a diss.
"My relationship with black culture/the n-word is deep and nuanced, and I've matured into a place of understanding that took many conversations, confrontations and levels of self-examination," Yamazawa said by email.
"He obviously didn't understand the scope of impact it causes, and from what I've seen, he seems sincere about growing into the responsibility of his newfound position," Yamazawa added, referring to Imanuel. "As I learned more about his story, I began reassessing my expectations of a teenager, who identifies as a comedian and was born and raised in another country."
Perhaps 88rising has cracked the code on how to get American media to pay closer attention to Asian hip-hop: Start with artists who are at least abreast of how the genre is changing online. Then, get hip-hop superstars to testify on their behalf. But these Asian artists, who may soon become essential voices in the genre, will have to decide for themselves how willing they are to address issues of race when explaining their success.
Yamazawa understands this well. He touches on his upbringing as a North Carolina native with Japanese parents in his first two musical projects, the EPs "23"(2014) and "Yamazawa" (2016). But in 201 album "Shouts to Durham," Yamazawa decided that he didn't want to be defined by that fact alone.
"I definitely accept the responsibility of upholding a unique voice, but I learned that my creativity suffers when I act upon a perceived societal pressure instead of a self-induced initiative," he said. "We all have to face ourselves, but the art of emceeing forces us to verbally articulate that to the world. It's definitely not easy."
Meanwhile, the first single Imanuel released as "Rich Brian" focuses squarely on the future.
He obviously didn't understand the scope of impact it causes, and from what I've seen, he seems sincere about growing into the responsibility of his newfound position.
In "See Me," mainstream success is just within Imanuel's reach. He fancies himself being the "Indonesian MC Hammer." But for all its lighthearted depictions of the fast life, the understated production makes the song feel disarmingly intimate, as if Imanuel understands the attention he's receiving.
"Feelin' like I traveled through some time, oh yeah," he raps. "Skippin' through some years but it feel right, oh yeah."
Yamazawa believes that ultimately, Imanuel's success can be used as a learning experience.
"Rather than leaving the finger pointed at him, I think it's been a great opportunity for our community to dialogue about our involvement in the American/global race dynamic, cultural relativism, and mainstream media representation," he said.
Follow NBC Asian America on Facebook, Twitter, Instagram and Tumblr.