From New York City to Los Angeles and various other cities around the world, people of Asian descent have been documenting xenophobic incidents on social media following the recent outbreak of the new coronavirus, now called COVID-19.
NBC News' Social Newsgathering team has been tracking social media reports of harassment targeting Asian communities globally as the number of confirmed cases of coronavirus continues to spread internationally, including 13 in the United States.
In Los Angeles, Tanny Jiraprapasuke, 44, said a man riding public transportation directed an angry rant toward her about the coronavirus while she was traveling home with a friend late Saturday.
Jiraprapasuke said at first, she didn't pay much attention to the man, who was yelling on the train. However, she became concerned when she realized his outburst was specifically about the coronavirus.
As seen in video Jiraprapasuke recorded of the incident, the man can be heard yelling profanities, blaming China as the source of the coronavirus and making other hateful claims about Chinese Americans. Jiraprapasuke said that as the only Asian American on the train, she felt very alone at that moment.
"I'm not even Chinese. ... He's really attacking me because I look a certain way," Jiraprapasuke, who is Thai American, said. "So, for me it was just, 'Oh my God, my community's under attack."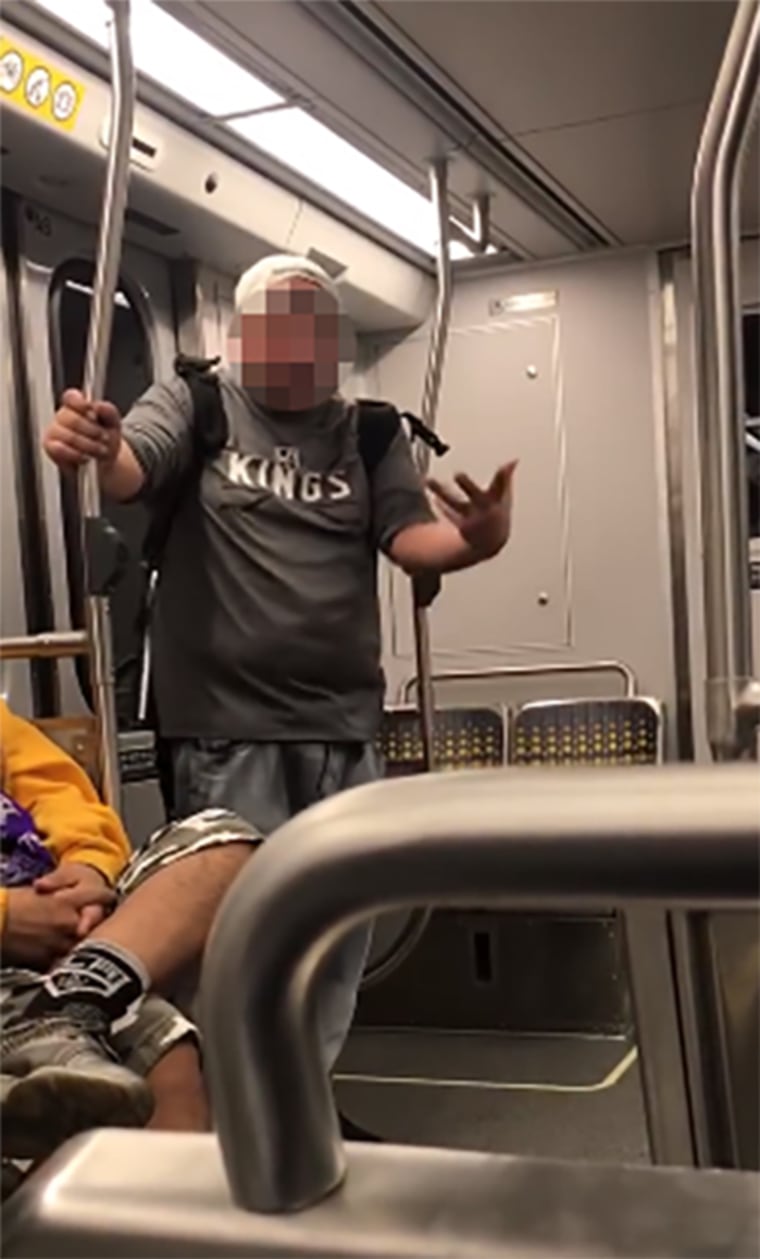 Jiraprapasuke said she shared the video on Facebook in hopes it would raise awareness and stop others from sensationalizing information about the virus. She said she did not report the incident to police.
In an example in Canada, Ingrid Chang, 22, shared a video taken by her sister in the British Columbia area. It shows a man saying "you dropped your coronavirus" to a young woman and her mother. Her sister later confronted him, taking video of the encounter, during which the man responded that he made the same comment to 10 other people and laughed it off as a joke.
"It's hard for me to know if he's a racist person or if his intentions were racist, but the only thing I know is that it made me and my family uncomfortable," Chang, whose family is Taiwanese Canadian, said.
In Europe, social media users shared a sign barring people from China posted outside Hotel Relais Fontana di Trevi in Rome.
Italian media reported that a spokesperson and deputy manager of the establishment defended the sign, dismissing any accusations of racism.
"It's absolutely not anything against people of Chinese nationality. In fact, the sign clearly specifies that entrance is forbidden ... for people who have come from China," the spokesperson told the Italian newspaper Il Messaggero.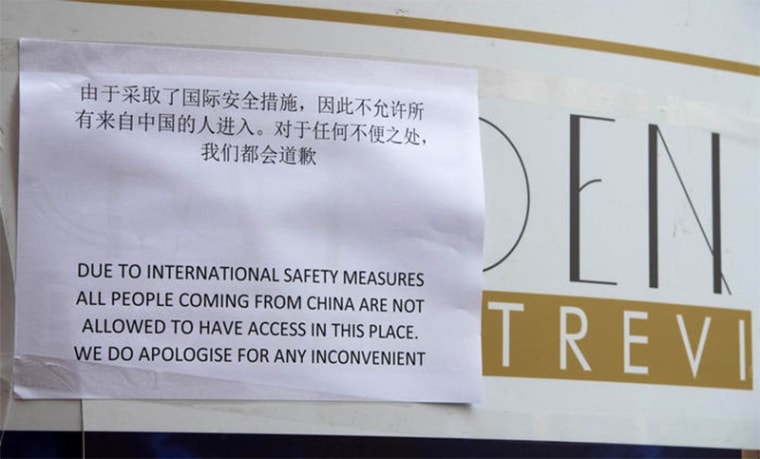 Signs barring Chinese people have also appeared in Thailand. A tourist visiting the island of Phuket posted photos on Twitter of signs outside a restaurant at Ao Sane Beach blaming the ban on coronavirus.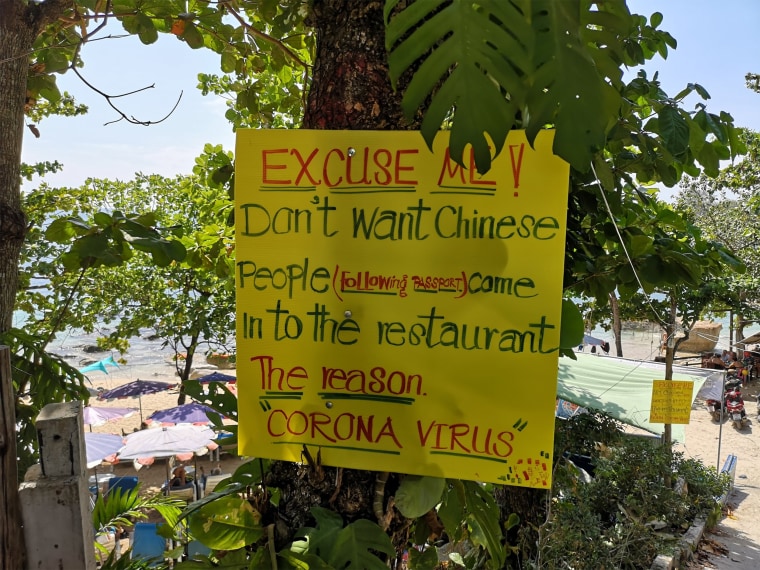 In New York, a woman in a mask alleged that she was assaulted on the subway recently. The New York Police Department's hate crimes unit encouraged the victim to report the incident after video of the attack surfaced.
"We've seen a lot of anxieties from folks in the community," Marian Guerra, the deputy chief of staff for City Council member Margaret Chin, told NBC News.
As of Tuesday, there were more than 43,094 confirmed cases of coronavirus around the world in 25 countries, with 1,018 deaths reported.
While some Asian communities grapple with the stigma surrounding the virus, some officials are offering their support and trying to counter reports of discrimination and misinformation.
Toronto Mayor John Tory addressed discrimination against Canada's Chinese community at a news conference Jan. 29.
"Standing with our Chinese community against stigmatization & discrimination, and reminding residents that, as our health care professionals have informed us, the risk of coronavirus to our community remains low," Tory tweeted. "We must not allow fear to triumph over our values as a city."
On Thursday, Philadelphia Mayor Jim Kenney, along with City Council members, visited the city's historic Chinatown for a dim sum meal.
This isn't the first time that an illness has sparked fears and xenophobia against specific ethnic groups. A typhus and cholera outbreak in the 1880s led to discrimination against Russian Jewish immigrants, and a bubonic plague outbreak in the early 1900s led to discrimination against the Chinatown community in San Francisco. Chinese communities were also stigmatized during the SARS outbreak in 2003, according to a 2004 study published in the journal Emerging Infectious Diseases.