Writer Bharati Mukherjee, author of "The Middleman and Other Stories" and "Jasmine," died Jan. 28 at the age of 76. Her husband, writer Clark Blaise, told The New York Times that she died of complications releated to rheumatoid arthritis and takotsubo cardiomyopathy, a stress-related heart condition.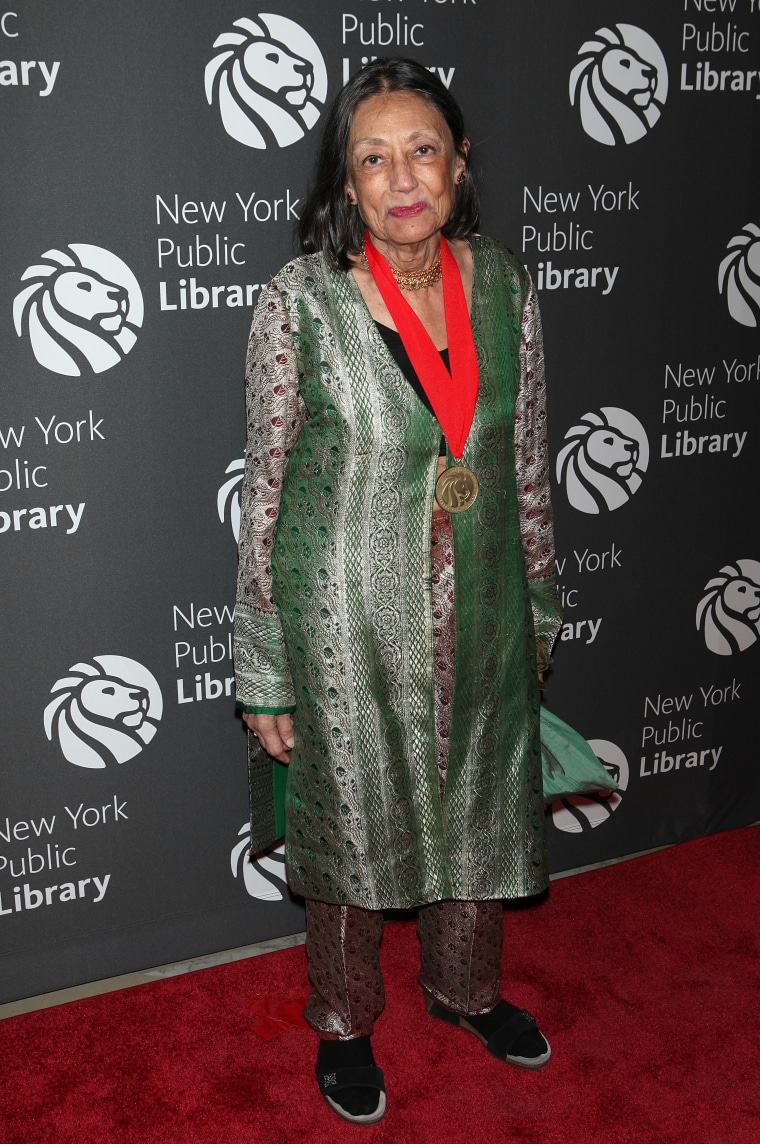 "Given our current vexed and contested cultural moment, Bharati Mukherjee's work takes on an added resonance because of its prescience; as she once wrote, 'the narrative of immigration is the epic narrative of this millennium,'" Ravi Shankar, founding editor of the Drunken Boat online poetry journal and creative writing teacher, told NBC News. "What I have always loved about Mukherjee's work is how central the liberating power of the imagination is and how she always refused to be boxed in, to write those exoticized versions of what an Indian writer is supposed to sound like according to the unspoken tenets of the publishing world."
Born in Kolkata (formerly Calcutta), India, Mukherjee was educated in England, Switzerland, India, and the United States. She came to the U.S. in the '60s to study at the prestigious Iowa Writers' Workshop at the University of Iowa, where she earned both a master of fine arts degree and doctorate in comparative literature, according to The New York Times. She lived in Canada and the United States and taught at McGill University; Queens College; the University of California, Berkeley (UC Berkeley); and Columbia University, according to UC Berkeley.
Mukherjee resisted the labels of "Indian writer" and "Asian-American writer," insisting that she be considered an American writer. She wrote seven novels, two collections of short stories, numerous essays, and co-authored two books of nonfiction.
Her "The Middleman and Other Stories," a collection of short stories, won a National Book Critics Circle Award in Fiction in 1988, making Mukherjee the first naturalized U.S. citizen to have won the award, according to Columbia University. Her writing and research interests included immigration, American culture, multiculturalism, nationhood, alienation, and the struggles of Indian women.
"In the collection of hers that I most admire, 'The Middleman and Other Stories,' … Mukherjee writes from and about many perspectives in that collection including as a wealthy Filipina, a Vietnam vet and a Jew from Iraq," Shankar said. "Her point of view is refreshing for she felt she was an American, even before she was an Asian-American, for as she also wrote, her identity remains a 'demand that America deliver the promises of its dream to all its citizens equally.'"
"In a world which seems to becoming more insular by the hour, Mukherjee presents us the vision of a true global citizen who embraces her heritage but is, first and foremost, human and whose example — and whose memorable works of fiction — can help instruct us all," he continued.
Follow NBC Asian America on Facebook, Twitter, Instagram and Tumblr.