Pablo Aguilar needed liquor, but not just any liquor.
He was looking for baijiu, a Chinese high-proof spirit most often distilled from a mash of sorghum and other grains. In China, baijiu has a long history for lubricating business deals — and for leaving many a businessman legless in its wake. That's why the Chinese owner of the Flushing, Queens, liquor store Aguilar visited about a year ago couldn't imagine what he wanted with the spirit.
Aguilar was on a research trip of sorts for his friend of 10 years, Orson Salicetti, former head mixologist at Apotheke in Manhattan's Chinatown. Salicetti had partnered with 26-year-old Qifan Li, formerly an interior designer based in California, to open a baijiu bar last May in Lower Manhattan called Lumos. Salicetti, 38, had made a career off of inventing creative cocktails, and after a friend introduced him to Moutai, a top-shelf baijiu in 2009, he thought the potent spirit had promise.
The liquor store owner, intrigued by Aguilar's persistence in getting his hands on China's national spirit, eventually invited him into the backroom and opened a bottle sheathed in a bamboo case, Aguilar told NBC News. The first sip was memorable, but for all the wrong reasons.
"It tasted like fuel," Aguilar, now one of Lumos' bartenders, said. "You can put this in a car and it would probably start."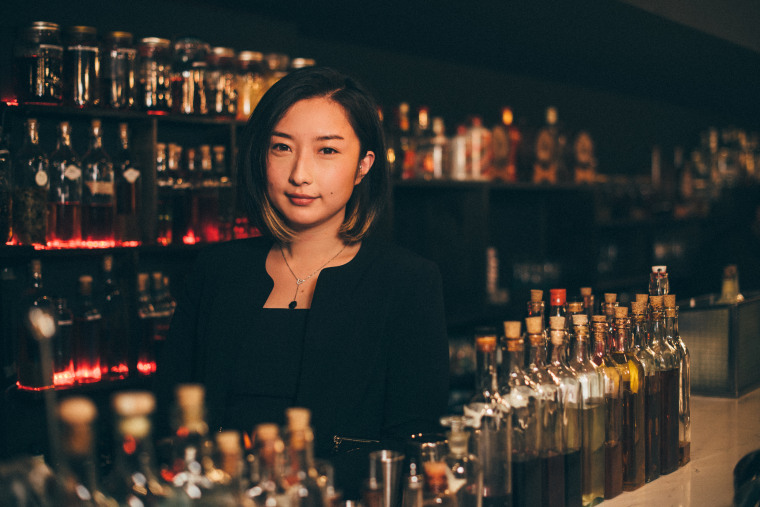 Fuel, kerosene, and rubbing alcohol are a few of the unflattering adjectives often bandied about to describe the taste of baijiu, a clear liquor with a mineral aroma and an alcohol content of between 40 and 60 percent that is traditionally drunk straight. But Salicetti and Li, who was born in China, were convinced it didn't have to be that way. They thought that baijiu could serve as a base in cocktails and, owing to its high alcohol content, could be infused with dried fruits like apricots, cherries, and prunes to create something altogether different.
RELATED: Makers of China's 'Firewater' Baijiu Fight to Make a Splash in U.S.
That formed the thinking behind Lumos, now one of a coterie of restaurants and bars in the United States introducing western palates to a distilled beverage that has fallen out of favor with some in China, but that is slowly ingratiating itself with cocktail enthusiasts in the U.S.
Salicetti, who was born in Caracas, Venezuela, spent almost two years designing and adjusting Lumos' cocktail menu before the bar opened, he said. The process required reading up on all things baijiu and a willingness to experiment — mixing the spirit with other liquors, fruits, and ingredients; testing the cocktails on focus groups; and scrapping what didn't work and keeping what did.
It also involved drawing on ingredients prevalent in the Chinese diet, including mangosteen, sesame paste, and almond milk, which Salicetti makes from scratch.
"When you're building a new concept like this, you're taking such a crazy risk," Salicetti told NBC News. "But for me, it's about everything is possible, and it's about being patient and educating people. And if you do that, you will have good results."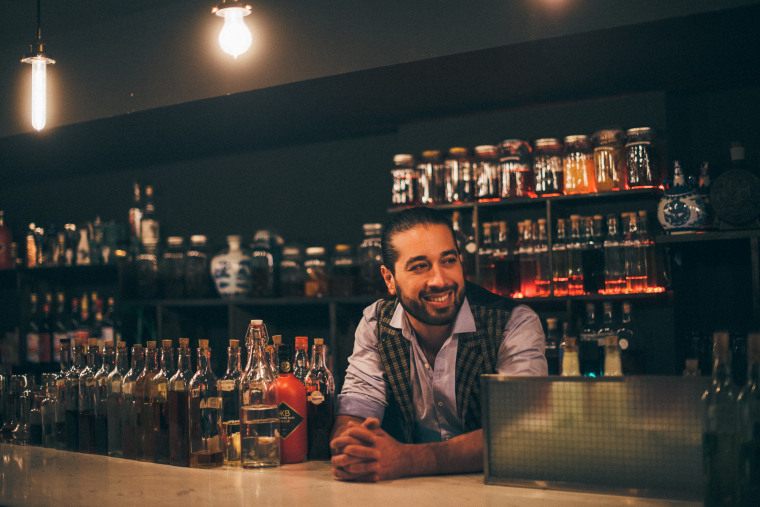 Lumos, whose Latin root means "light" and, Li said, is also a reference to a spell cast in "Harry Potter," offers 18 house, two high-proof, and two boutique cocktails made with baijiu. Also on the menu are 12 house-made baijiu infusions — produced with everything from Szechuan pepper to apricot — and 1 ounce shots of the spirit, ranging in price from $12 for HKB, a lower-proof baijiu that French-born Charles Lanthier created in 2013 for western tastes, to $32 for China's renowned Moutai.
There is also a small selection of wine and champagne by the glass, as well as Chinese beer by the bottle. To offset the effects of the high alcohol in baijiu, Lumos provides a small food menu whose dishes were created by Salicetti and his mother Miriam Cordoba, a chef who once owned Q Cafe Restaurant, a French-Latin bistro on Manhattan's Upper East Side.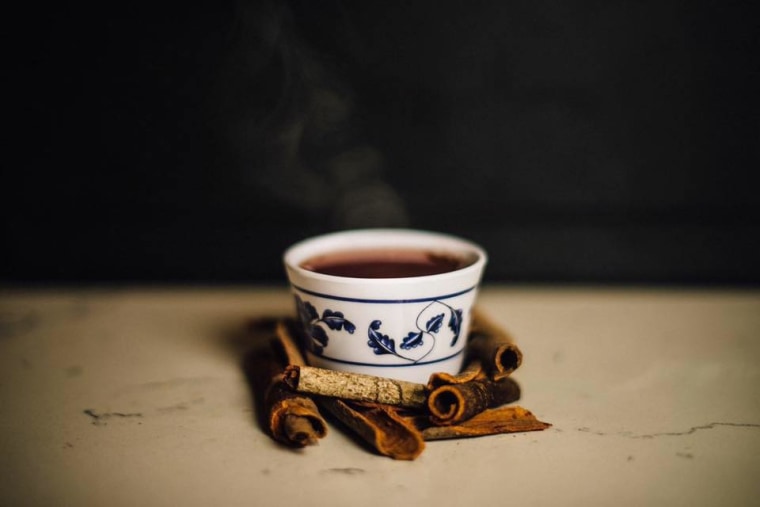 Salicetti always recommends cocktails to first-time baijiu drinkers before they graduate to knocking back shots. For Michael Forde, a 43-year-old DJ and a Lumos regular, the process went in reverse, Forde said. The two became friends after Salicetti saw Forde perform one night on the Lower East Side. Before the bar officially opened, Salicetti invited him down to Lumos to sample some baijiu.
"I tried that thing, man — straight," Forde recalled at Lumos one evening in mid-November. "They needed to call the cops to put me back up on this bench."
Later, Forde gave the cocktails a try and developed a fondness for one in particular called Otono, a fig-infused baijiu that includes lemon juice, apple cider, and bitters, among other ingredients. The result is a refreshing beverage with fall spices, as one of the bartenders put it.
Lumos is not the only U.S. establishment selling baijiu-inspired cocktails. In Manhattan, there is also RedFarm, on the Upper West Side, and Fung Tu, on the Lower East Side, both of them restaurants that serve modern Chinese cuisine. Then there is The JakeWalk, a craft cocktail bar, in nearby Brooklyn. On the West Coast, the San Francisco branch of Hakkasan offers a margarita made with baijiu, while Peking Tavern in Los Angeles, which calls itself "home of the baijiu cocktail," serves up several drinks that use the spirit.
Despite its rising popularity in the U.S., baijiu has been cast off by some among the younger generation in China as a spirit of a bygone era. These days, a growing number of Chinese are gravitating toward red wine, not only for its reported health benefits but also for its color, which in Chinese culture is considered lucky.
Nonetheless, baijiu remains one of the top-selling distilled spirits in the world, generating $23 billion annually in sales with 11 billion liters sold in 2014, according to MarketWatch. And in China, baijiu is enjoying a renaissance of sorts with the establishment of baijiu bars in major cities like Beijing and Shanghai.
In the short time since Lumos opened, it's baijiu cocktails have attracted a loyal base of mainly western customers, the owners say. Around 30 percent, Li said, are Asian. But when Chinese customers do happen upon the dimly lit basement bar, with exposed brick walls and modeled like a speakeasy, many are suffused with a sense of nostalgia about a liquor tied closely to the ethos of their ancestral homeland.
"Every time we have Chinese come, they are excited," Li said, adding that she hoped to open a baijiu bar on the West Coast.
"When I talk to older Chinese customers, they say it brings back so many memories of their childhood," she continued. "It makes them very sentimental."