A group of Bangladeshi-American artists and photographers are bridging the gap between their community in New York City and their roots in Bangladesh with "Transitions: New Photography from Bangladesh" at the Bronx Museum of Arts.
"Transitions," from the Bangladeshi American Creative Collection (BACC), features the work of nine photographers that demonstrate Bangladesh's burgeoning art scene, and will be on display until February 2016.
The Bangladeshi-American population is one of the fastest growing South Asian communities in the U.S., according to the Migration Policy Institute, made up of approximately 277,00 Bangladeshi immigrants and their first and second-generation children, and is the fifth largest Asian community in New York City.
But the community is often overlooked in the art world, which is what BACC is hoping to change by creating opportunities and exposure for Bangladeshi art in New York.
The following interview with Ayesha Akhtar, BACC's director and curator, has been edited for length and clarity.
What do you hope to achieve with "Transitions"?
First, we're creating a platform for Bangladeshi artists and photographers in the diaspora, with this exhibition specifically bringing their work to New York audiences. Second, we're trying to combat stereotypes of a staunch binary when we think about Bangladesh in relation to more developed countries. Mainstream media tends to portray Bangladesh as simply this poverty-stricken country, and while we don't want to undermine that this is a factor of the current situation, we want to challenge the way Bangladesh is usually portrayed through stock imagery, which often has no context. We hope that this exhibition can encourage others to explore the more detailed narratives that surround the usual images they may otherwise encounter on a regular basis.
And on a more local scale, we're trying to create and support conversations between Bangladeshi-Americans and the generations before them who immigrated here, as well as connect New Yorkers to their Bangladeshi neighbors. We want to show Bangladesh as a place with depth.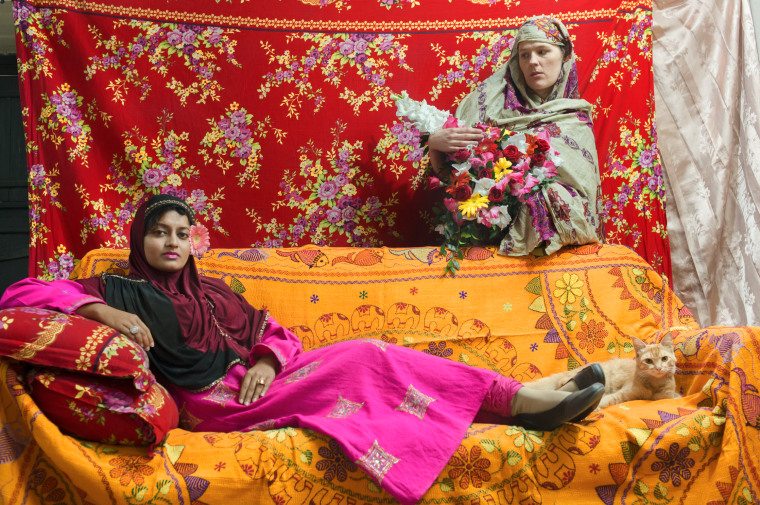 How did it all come together?
This exhibition is an evolution of a previous exhibition I co-curated with Nabil Rahman called "Eyes On Bangladesh," which was on view in Queens at Soundview Broadcasting in March 2014. It was through Nabil, a Bangladeshi-American artist himself, that I was first introduced to the extensive photography and art scene in Bangladesh. I became increasingly aware of how strong dominant stereotypes of "third world vs. majority world" countries are, and of how little we know about the history and progress of the arts in Bangladesh, and countries similar to it.
"The Bangladeshi immigrant community in New York has long been experiencing a state of transition."
After "Eyes On Bangladesh" ended, Nabil traveled to Bangladesh to pursue a documentary project and other artistic projects, and I took the lead on this new exhibition. I decided to visit Chobi Mela VIII, a two-week photography exhibition in Dhaka this January, where I met many of the new photographers that are exhibited in "Transitions."
When I came back to the U.S. from my visit, I approached the Bronx Museum about putting up a show similar to Eyes On Bangladesh. This is when the Bangladeshi American Creative Collective (BACC) formed, and the work for Transitions began. Nadia Q. Ahmad, who was on the advisory board for Eyes On Bangladesh, co-founded the BACC with me, helping to lay out a plan for budget, write and submit grant applications, and launch our marketing campaign with the help of our other team members, Mahfuzul Islam and Bashma Sheea.
We know that there are many groups in the New York City area that promote Bangladeshi culture, but we wanted to be able to raise a space to explore our Bangladeshi American identity.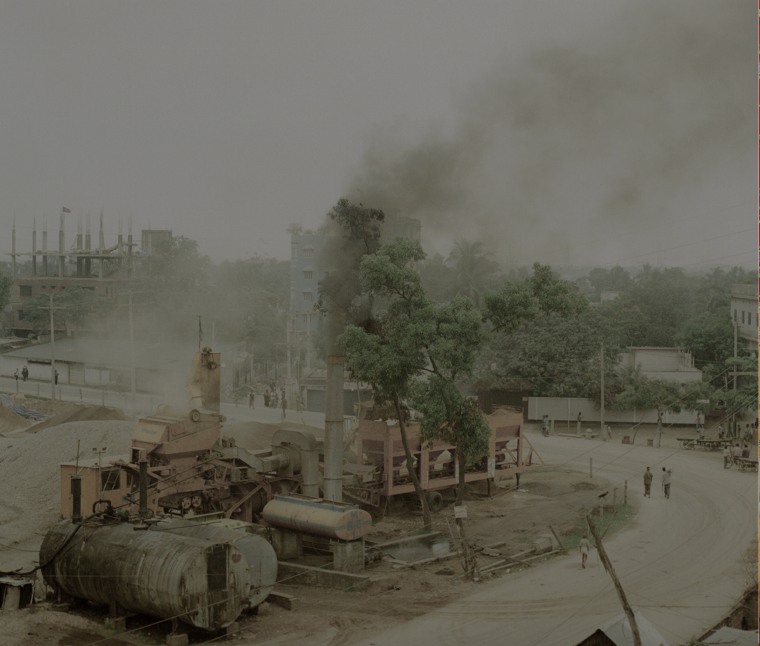 How can this exhibit bridge the Bangladeshi-American community to artists in Bangladesh?
We envision this exhibition as one way to open a line of dialogue. I certainly wasn't aware of an art scene in Bangladesh while I was growing up, and I know that lots of other Bangladeshi-Americans of my generation, and even of my parents' generation, might not have been aware of it either. A big factor for that is the access to platforms and institutions through which we can present this work to a wider audience. By bringing contemporary Bangladeshi art to a museum like this one, we want not only to increase exposure of these artists to diaspora communities, but also to open up more conversations about what it means to be a creative Bangladeshi-American. This exhibition reveals that culture is something that is constantly in flux, especially now that we're all so connected to each other. It also gives you a greater sense of perspective — as, you're one of 140 million people — you feel less looped into this 'minority' role. As a Bangladeshi-American, knowing that there are people in your country of origin turning out great work, and having artistic role models that are from the same place as you, is really important.
How were you able to bring this exhibit to the Bronx Museum of the Arts?
It sounds a little funny now, but to be honest, by being bold and overstepping boundaries! I emailed the Museum directly with a proposal, with no fear of rejection. It was actually very lucky that they had an opening. Usually, museums are booked three years in advance. After securing a venue, we reached out and are now very grateful for the support we received from our community as well as from the Bronx Council on the Arts.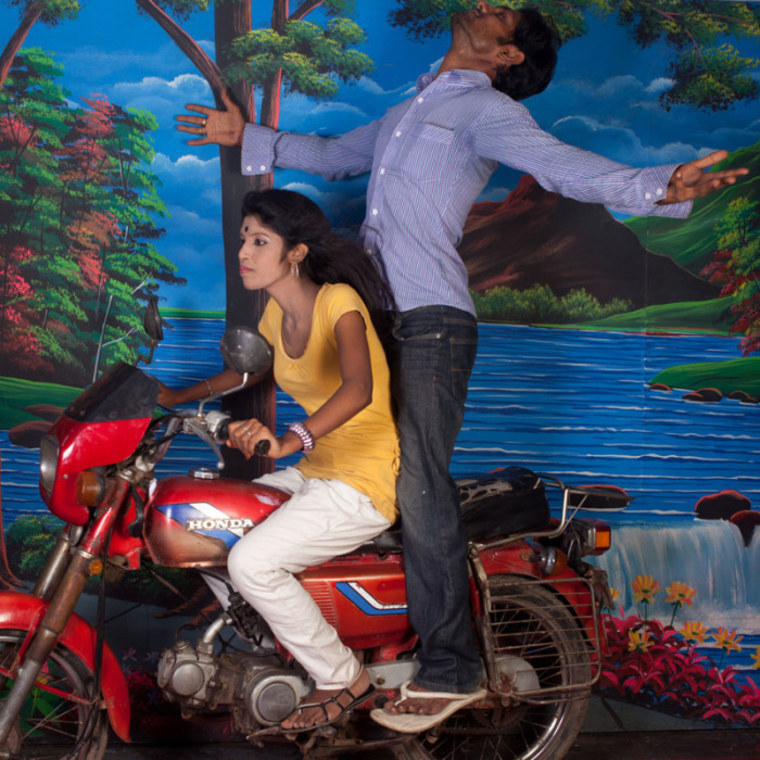 What are some of the themes in the exhibit?
The "transitions" theme has so many layers not only for Bangladesh, but for the Bronx and the Bangladeshi diaspora community as well. For example, for the past 10 years, Bangladesh has seen a ton of development with the ready-made garments industry, which makes up about 75% of the country's export income. Bangladesh is en route to becoming a central hub, and the people there are grappling with what that means. The Bronx is going through a similar transition – real estate prices are hiking up, and the Bronx is demanding services that other boroughs have had for years. The Bronx is grappling with the the onset of gentrification.
The Bangladeshi immigrant community in New York has long been experiencing a state of transition. I feel that my parents along with many other immigrant parents are having to transition from one unexpected cultural shock to the next. And maybe the art presented in this show can help us understand and talk about these issues in a deeper way. We're interested to see what viewers will take from it.
What other projects do BACC does have in the pipeline? What type of future do you envision for BACC?
We want our next project to focus on work created by Bangladeshi Americans — this might involve bringing their work to Dhaka or having a show here. I think that once we're finished with the "Transitions" exhibition, we'll take some time to regroup and talk about what our collective's structure will look like. One thing we do know is that we definitely want to branch out and explore the many talents in the group — whether that's literary, performative, or entrepreneurial.