Himesh Patel has a story about Ed Sheeran: While shooting their film "Yesterday," in theaters June 28, the costars, along with a few others from the cast and crew, had dinner at a restaurant in Liverpool. After the meal, Sheeran walked across the street to his car, where he passed two young girls.
"One of them went, 'Oh my god!' And by that time, Ed was in the car," Patel said. "They were like, 'Was that ...?' Then they were both like, 'Nah. It couldn't have been.' And just kept walking. It was weird for me. I was kind of like, 'It definitely was!'"
The story is similar to the reactions Patel's character in "Yesterday" gets. The film follows Jack Malik (Patel), a down-and-out musician who becomes an international superstar after a freak accident erases the world's memories of the Beatles and Jack, the only person to remember them, claims the band's discography as his own. The character goes on to sign a record deal with Universal Music Group, tour across the world with Ed Sheeran (who plays himself) and become an idol to millions of fans.
It's a life that's far from Patel's own, but it's something that's slowly becoming a reality. As one of the still-rare leads of South Asian descent in a mainstream movie, Patel — who is also slated to star alongside Eddie Redmayne and Felicity Jones in the historical drama "The Aeronauts" in the fall — is still finding out what it means to be a role model.
"There are still kids who are going to look up to actors who look like them. And it's still unusual to see it in certain aspects — like playing a rock star, for example," Patel said. "We haven't seen that yet. It changes the conversation. People are then going to be like, 'OK. What's the next thing you do?'"
Raised in a small town in Cambridgeshire, England, Patel was one of a few nonwhite kids in his village. He fell into acting at the age of 10 when he starred as the lead in his school play, "This Is Your Life, Santa Claus," a parody of the U.K. documentary TV series, "This Is Your Life." "My teachers told my parents, 'You know, he's got a bit of a knack for it,'" Patel said.
And so his parents enrolled him in theater school. When he was 16, Patel was asked to audition for the British soap opera "EastEnders". The problem was the audition was on the same day as his final exit exam for school, which he needed to take to graduate.
"I ummed and awwed and was like, 'I don't know. I might have to go in and do this exam,'" Patel said.
In the end, he took his exam, and as soon as he finished, his parents rushed him to the audition. A couple weeks later, Patel was offered the role of Tamwar Massoud, one of the show's first Asian British characters. But it wasn't until a couple seasons in that Patel fully realized what that meant.
"Because I was so young and eager when I started, it took me a while to realize my place in the industry. It dawned one me a few years into being an actor on TV that it's not an equal table," Patel said. "We were specifically portraying a Pakistani Muslim family. But I knew that I, as an Indian Hindu, related to the character and the family as a whole. We were representing a large swath of the population and within that lies a responsibility of fighting to be represented correctly."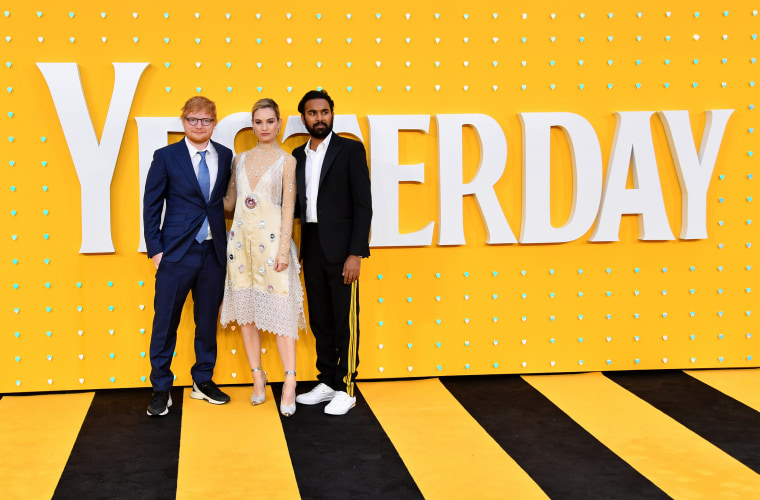 Patel went on to star in "EastEnders" for nine years. After he left the show in 2016, he wrote an essay for the book "The Good Immigrant" about his experience as an Indian British actor. Though he wasn't often typecast, largely because of how the industry had changed in his decade on TV, he was very much aware of how other actors of his background were treated, which is why he's hopeful for where Hollywood is headed.
"The industry is starting to listen and go, 'Oh. we can't just put South Asian guys as doctors or cab drivers or terrorists anymore. People aren't going to settle for that. We need to start offering these three-dimensional roles that have been traditionally reserved for straight white guys.'" Patel said.
Patel considers his role in "Yesterday", which wasn't written with a specific race in mind, an example of this change. He first auditioned in New York a couple years ago, where he was asked to read a monologue and perform a Coldplay song of his choice. (Screenwriter Richard Curtis has said the band's lead singer, Chris Martin, was originally in mind to play Jack's mentor before Sheeran was cast.)
Using a cheap guitar he bought when he was 13 (he wouldn't replace it until he was cast), Patel, who taught himself to sing and play the piano and guitar when he was a teen, performed a cover of Coldplay's "Never Change." It caught the attention of Boyle and Curtis. After a couple more auditions — in which he performed Beatles songs like "Yesterday" and "Back In the U.S.S.R." — Patel was offered the role. And while he had a small worry in the back of his mind that the part would go to another "straight white guy", Patel remained hopeful.
"You do wonder whether that's the thing, but I guess these are the moments that change that conversation," Patel said. "If somebody is the right person for the role, then their background or ethnicity shouldn't stop them."
But Patel's final moments before he was cast weren't without drama. Moments after Boyle called him to offer him the role, Patel, who was sick in bed at the time of call, threw up. After vomiting a couple more times that night, Patel took some cold medicine to help him fall asleep. Long story short: He ended up in the emergency room that night due to a combination of shock over the news and a bad reaction to the pills. "It was a weird night by all accounts," he said.
She watched the movie and was like, 'I don't usually cry. But I found myself crying.' It was the first time she'd seen someone of that background doing something like that in a movie. It was here and now and possible.
Patel — whose first memories of the Beatles include dancing to their cover of "Twist and Shout" in the hall of his primary school and listening to John Lennon's "Imagine" (his mother's favorite) on a re-released CD — hasn't met or heard from any members of the band. According to Patel, Boyle did receive the blessings of Paul McCartney and Ringo Starr to make the film — the latter of whom said "some very nice things" about the movie after he had seen it. "I still don't know if Paul has seen it," Patel said. "I'm sure he would love it. I hope he does anyway."
As "Yesterday" nears its release, Patel looks back on its press tour. The film didn't intend to make a statement about race, and the character's ethnicity isn't mentioned once. Still, Patel understands the importance his role has for the South Asian community. "We didn't try to do that. It wasn't like, 'We're going to get an Indian guy to play this role,'" Patel said. "I'm just glad that I happen to be the right guy to play the role and that I happen to be of this background."
He recalls an experience at the start of his press tour with a journalist of Indian descent that put everything into perspective. "She watched the movie and was like, 'I don't usually cry. But I found myself crying,'" Patel said. "It was the first time she'd seen someone of that background doing something like that in a movie. It was here and now and possible."
Follow NBC Asian America on Facebook, Twitter, Instagram and Tumblr.