As Sailaja Joshi was preparing for the birth of her first child, she had difficulty finding the right books for her child's first library. Recalling all the wonderful stories her mother told her as a child, lush with the colors and characters of India, she did what any expectant mother would do for her child—she started her own publishing company, Bharat Babies.
"I was desperately trying to find books that were developmentally and culturally appropriate to fill my first daughter's library," Joshi told NBC News. "I saw that there were books on the market, but they were rarely developmentally appropriate and occasionally, they were simply wrong. So, I decided to take matters into my own hands and Bharat Babies was born."
"Hanuman and the Orange Sun" will be the first book to be released, and features a little girl named Harini with black hair and brown skin, who eats both Indian and American food, and sometimes interchanges English words with Telegu words. Other titles in the works include "Ganesh and the Little Mouse," "Padmini is Powerful," and "Amal's Eid."
"My daughter and her friends will be able to see themselves and their culture in the stories they read growing up," said Joshi, "And that is incredibly empowering."
Joshi plans to release eight titles this year in three lines of books—board books, picture books, and early readers—all focused on telling the stories of India's many cultures and religions in developmentally and culturally appropriate ways.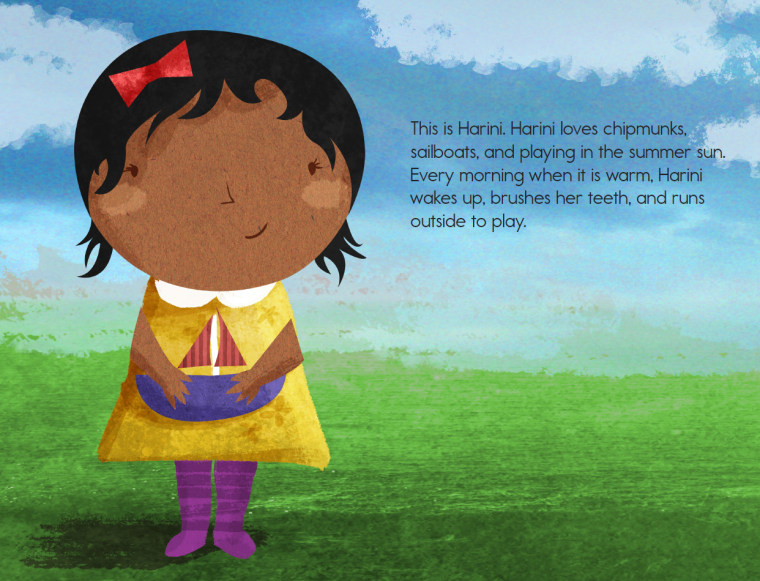 IN-DEPTH
SOCIAL