President Biden commemorated the two-year anniversary of the Atlanta-area spa shootings in which eight people — six of them Asian women — were killed. 
In a White House official statement released Thursday, Biden paid tribute to the victims and loved ones impacted by the 2021 shootings at two Asian-owned spas. 
"To the families of the victims, though the grieving never truly ends, we hope you find purpose in what will never be lost: the love you had for them and the love they had for all of you," Biden said. "Across the country, people of all backgrounds have gathered to remember the lives lost, honor this community's extraordinary resilience, and stand in solidarity with our fellow Americans."
Biden's statement comes as Asian Americans and others across the country held vigils and rallies to honor victims and called for action against gun violence and anti-Asian racism. 
Two years ago, Robert Aaron Long, now 23, admittedly shot five people at Young's Asian Massage in Cherokee County, four of whom died. He allegedly continued the rampage 30 miles away in Fulton County, where he shot and killed four women at Gold Spa and Aromatherapy Spa. Long has since pleaded guilty to the charges in Cherokee County, where he was sentenced to life without parole. But he pleaded not guilty to the charges in Fulton, where District Attorney Fani Willis is currently seeking the death penalty.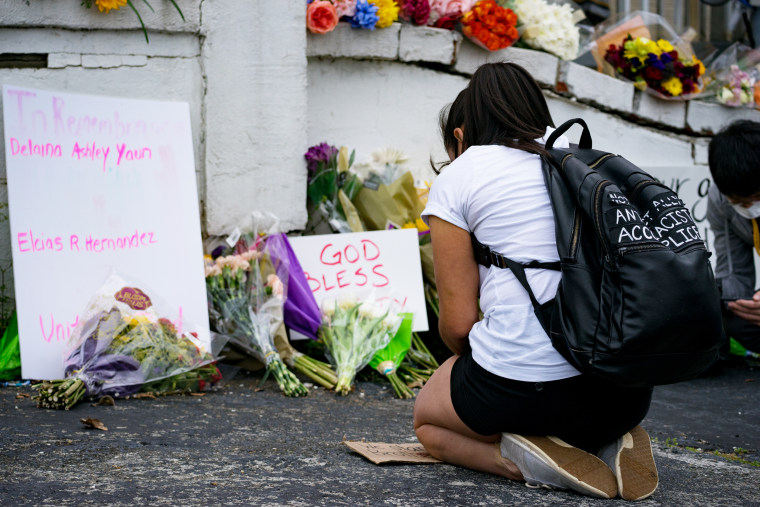 In his statement, Biden expressed his commitment to ending gun violence. 
"I want you to know that I see you. My administration sees you. And we are determined to end the scourge of gun violence, anti-Asian hate, and all forms of racism and extremism in this Nation," Biden said in the statement. "We remain determined in the belief that out of solace there is strength, from fear there is hope, and from darkness comes light." 
Biden joined several officials, including the members of the Congressional Asian Pacific American Caucus, in speaking out on the anniversary of the tragedy. Rep. Judy Chu, the caucus's chair, reminded Americans that the shooting was part of a larger wave of anti-Asian violence during the pandemic. 
"This tragedy shocked our country awake to the reality of surging anti-Asian hate that Asian American communities have been facing for three years," Chu, D-Calif., said in a statement. "I remain in solidarity with our communities in Atlanta and across the nation as we continue to fight anti-Asian hate and xenophobia in all its forms."
The Asian community has since contended with several other mass shootings, including one incident in Monterey Park, California, where 11 people were killed at a dance hall. It was followed by a second, unrelated shooting days later in Half Moon Bay, where seven were killed and another victim was injured. On Tuesday, Biden made a trip to Monterey Park to stand with the community. 
"We all saw a day and festivity and light turned into a day of fear and darkness," said Biden, who read the names of the mass shooting victims.
During the trip he also announced an executive order that aims to increase the number of background checks conducted before firearm sales, "moving the U.S. as close to universal background checks as possible without additional legislation."