What do musical artists Lorde, Post Malone, and Keith Urban have in common? They're all playing the same question-and-answer game.
"What is your next great adventure?"
"What makes you feel really alive?"
It's part of a project called "Big Talk" created by Kalina Silverman, a 24-year-old Los Angeles native, in 2014. The goal of "Big Talk" is to encourage deeper conversations and develop more meaningful relationships by skipping small talk, which Silverman said she didn't find helpful in college when it came to creating deeper friendships.
In the first video for the project, Silverman asked strangers in Los Angeles what they wanted to do before they died. Some in the video were stumped while some cried. Everyone featured shared personal thoughts and experiences.
"Big Talk is inspired by my desire to ... help people feel they can open up in more meaningful conversations in their lives in an easier way," she said.
After college, Silverman incorporated it into her project for a Fulbright scholarship in Singapore. The U.S.-funded program offers students and recent graduates research and teaching opportunities around the world. In July, Silverman also went to Bali in Indonesia and asked questions there.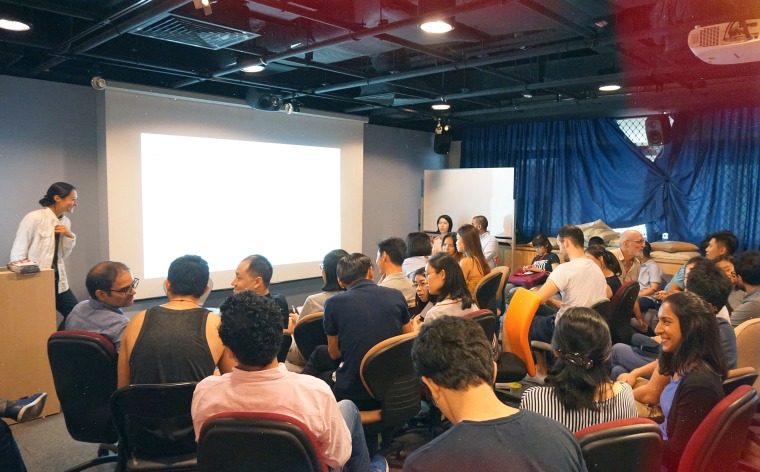 Silverman, whose mother is Chinese, said that often in Asian cultures, emotions aren't communicated and the idea of "big talk" is not as common. Research has found that Asian Americans and European Americans tend to communicate emotions differently and define emotions such as happiness in different ways.
Silverman said that her grandmother was restrained in outwardly showing love and emotions with Silverman's mom growing up. And Silverman also noticed that her Asian friends might have lacked more open relationships with those around them.
"In Asian culture, there's a phenomenon of saving face, wanting everything to appear good on the surface. Big Talk is about diving beneath the surface," she said. "And then Asian cultures traditionally focuses more on non-verbal communication and not being as outwardly expressive with your emotions. There's also class and power dynamics."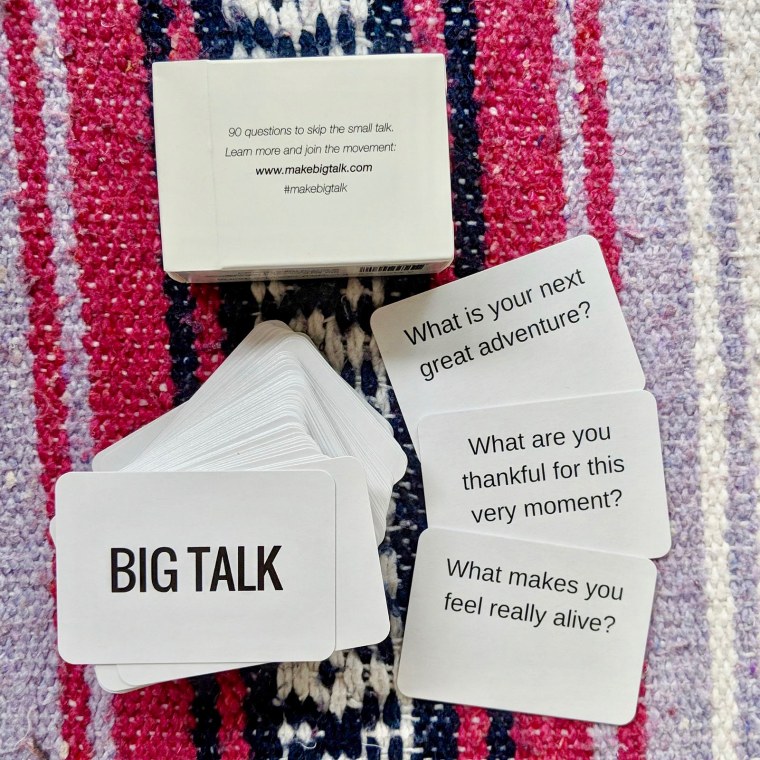 In Singapore, Silverman wanted to investigate why people were struggling to open up and have more meaningful conversations. So she used her questions to explore the relationship between Bangladeshi migrant workers and Singaporeans, hoping to compare the responses and try to find common ground.
She found during her research that Singaporeans believed that the biggest barrier to communication with migrant workers was language differences and a social divide due to "lack of exposure and middle ground space."
"However, despite external perceived differences, certain themes resonated across cultures; A desire to work hard and build a better life for family members, yearning for the beauty of home and natural surroundings, missing deceased loved ones," Silverman said.
Since her initial video, Silverman has not only uploaded more videos based on a singular question, but she's also created a game with Big Talk questions printed on cards that can be used as an ice-breaker. Questions include "What is one of the kindest things someone has done for you?" and "What do you miss?"
The uses she's seen have been diverse – including a soldier in Israel using it as a bonding tool in his unit, a long-distance couple writing letters to each other based on one question, or a school basketball coach trying to get to know his students better.
"I think it resonates with people first, because it's so simple," Silverman says. "It's just about being open and being yourself and getting to connect with people. And in the end, we all want relationships. I think relationships are the most important thing in life and that's what Big Talk is all about. It's about making your relationships more meaningful."
Follow NBC Asian America on Facebook, Twitter, Instagram and Tumblr.