The National Queer Asian Pacific Islander Alliance (NQAPIA) launched a three-part family acceptance campaign in New York City yesterday. The "Family is Still Family" campaign hopes to address the cultural divide between many LGBTQ children and parents of Asian and Pacific Islander descent.
Glenn Magapanty, executive director of NQAPIA, told NBC News that the organization "just [wants] to create a little more family acceptance of LGBT people."
"This is about struggling LGBT families," he said. "This is about telling the message that we are lesbian, gay, bi, transgender, and we can still achieve all the hopes and dreams that our parents wanted for us."
The campaign includes a video PSA series, which was first launched on a few Asian television stations late last year. They will continue to air on American television stations, as well as on international channels, in June 2016, LGBTQ Pride Month.
RELATED: Parents Come Out To Support LGBT Kids In Multilingual Ads
In the videos, parents of LGBTQ children talk about their unconditional love for their children, as well as their children's need for acceptance from their parents. The videos are all bilingual, and include parents speaking in Mandarin, Cantonese, Korean, Tagalog, and Lao.
However, with the incredible diversity of the Asian and Pacific Islander community in mind, NQAPIA created leaflets in twenty languages to complement the series.
"Parents need resources about their LGBT kids in Asian languages, and we couldn't cover all twenty of them in video," Magapanty said. "There's so little information that we wanted to dispel some of the myths and misconceptions that Asians have. Being gay is not a Western influence. Your child did not become trans because they went to [American] school or have lesbian friends."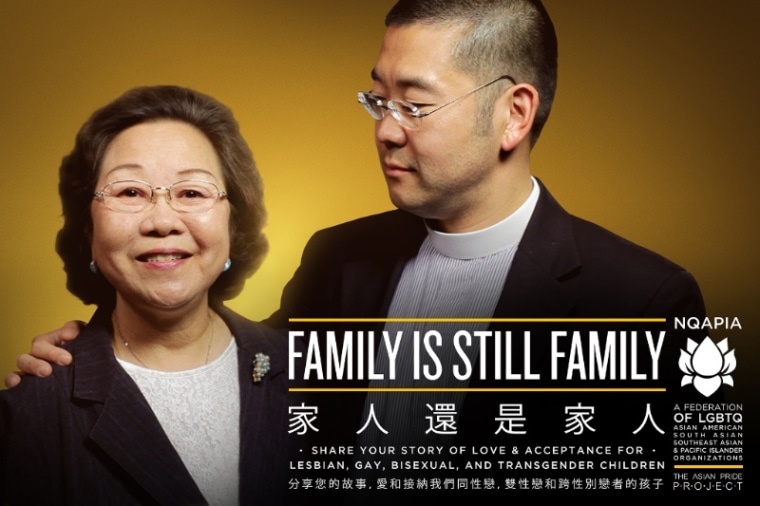 Magapanty said that the leaflets, which include languages such as Tamaro, Urdu, and Basa, are already online and being used by some LGBTQ children to come out to their parents.
"We want to make sure their parents are educated and supported so that it's easier for them to be able to come out," he said. "The parents are educated, so the young people feel supported to be able to come out."
The campaign also hopes to help children and families even after coming out.
"Knowing that your kid is LGBT is the first step, but we are trying to get [parents] to a higher level of acceptance, of understanding," said Magapanty.
The "Family is Still Family" campaign will also host a twelve-city tour of Asian Family Acceptance Workshops, which will be led by the parents that also appear in their video ads. Through speeches and discussion, these volunteers will offer support in a more culturally-friendly setting.
"Having literature and videos out there is great, but it's not enough," Magapanty said. "Parents need to have someone else to talk to. They go to [other meetings] and everyone is white. They didn't immigrate to the U.S., they all speak English, it's very clear it's not their community."
Magapanty noted that support and acceptance is an important foundation for LGBTQ children.
"When LGBT people are fully supported, all of their talents and abilities, all of their true talents and abilities come out," he said. "They can achieve their hopes and dreams. They can be successful, they can have families, they can be secure. They need that support and love."
Follow NBC Asian America on Facebook, Twitter, Instagram, and Tumblr.