After Emily Kessel's parents adopted her from South Korea, they filled out naturalization papers to make sure she became a U.S. citizen, as children who were adopted by Americans prior to 2001 were not automatically granted citizenship.
Children like Emily Warnecke, who was adopted in 1964 by a World War II veteran who, Warnecke, 52, told NBC News, was informed by the U.S. Embassy in Seoul that she had become a citizen when he adopted her. Or Adam Crapser, 41, who was adopted in 1978 at the age three, abandoned at age ten, bounced around the foster system before landing in an allegedly abusive home, and — after an immigration ruling earlier this week — is expected to be deported.
Warnecke and Crapser are part of an estimated 35,000 international adoptees to the United States that are without citizenship, according to the Adoptee Rights Campaign, an advocacy group co-chaired by Kessel working to close what they and some legislators call a "loophole" in a law that automatically grants citizenship to those adopted by U.S. citizens. That law applied to all future and minor adoptees, but not to ones who were already adults when it passed.
RELATED: Adoptee Adam Crapser Denied Relief, Expected To Be Deported
"It's so very unjust for all of us to go through this," Warnecke told NBC News. "We should be able to vote and be treated just like any other American. ... Our Congress, senators, and the president need to help us, this has been going on for so long."
Advocates have been trying for three years to amend the law, and it has already failed once in Congress, Kessel said.
In 2013, an amendment which would have closed the loophole was attached to the Senate Border Security, Economic Opportunity, and Immigration Modernization Act — also known as the Gang of Eight immigration bill — which passed the Senate but failed to pass the House of Representatives.
A standalone bill, the Adoptee Citizenship Act, was introduced to the Senate in 2015, but in the meantime, adoptees without citizenship suffered.
Warnecke, who works in the aerospace industry, has faced additional scrutiny at work because of her lack of citizenship, she said, and when she fell ill in 2014 she was unable to draw from California's disability insurance even though she had paid into the program.
"They wouldn't give me my back pay or my other benefits," Warnecke said. "This is money I paid into. It's not right."
"It's so very unjust for all of us to go through this. We should be able to vote and be treated just like any other American."
For Sara, an adoptee from Iran who declined to give her last name in fear of hurting her career, the harm has been both mental and physical.
Sara was adopted at age three, she said, and did not learn she was not a citizen until 2008 — when she was 38. The inability to get a passport has forced her to miss out on career opportunities and personal moments and the continuous worry has been a drain.
"I went to college, I worked hard, I bought myself a house, and I did everything you were supposed to do," she told NBC News. "And then to find out that, on a technicality, that I didn't have control of my life anymore, it was heartbreaking. ... It's always in the back of my head. I'm a person who likes to plan, but it's difficult when you know your life can change, and you can't control it."
In a statement following his immigration decision, Crapser said he hoped his case would bring more attention to the bill.
"While I am disappointed in the judge's ruling and worried about my family's future, I hope that what has happened to me will further demonstrate the importance of passing the Adoptee Citizenship Act," Crapser said.
That act, which was introduced in 2015 in the Senate and 2016 in the House, would apply the 2001 changes to all adoptees of U.S. citizens. Both bills have bipartisan support and are currently in committees.
"Under current law, a small population of adoptees, through no fault of their own, face deportation because they are not considered to be American citizens," Sen. Dan Coats (R-Ind.), who co-sponsors the Senate version of the bill, told NBC News in a statement. "This is despite the fact that they were brought to the United States as children by their American adoptive parents and even grew up here."
"Adoptees who are brought to this country should have the rights of any other American and be treated equally under the law as biologically born children."
"Adoptees who are brought to this country should have the rights of any other American and be treated equally under the law as biologically born children," Rep. Adam Smith (D-Wash.), who introduced the bill to the House during the summer of 2016, told NBC News in a statement. "This is a part of an inherent promise the United States makes to the adoptive family, to the child, and to the sending country, when an intercountry adoption takes place.
RELATED: Adoptees Travel to Congress to Advocate for Citizenship Bill
While the bills have yet to move beyond committee, both advocates and the bills sponsors have hope that they can pass, especially given the outreach by the Adoptees Rights Campaign.
The organization has hosted multiple "days of action" with volunteers making legislative visits in Washington, D.C. and calling Congressional offices. The group also hosts a postcard-sending campaign, which has sent upwards of 9,000 cards to members of Congress, according to Kessel. The group's goal is to send a total of 35,000, one for each estimated international adoptee without citizenship.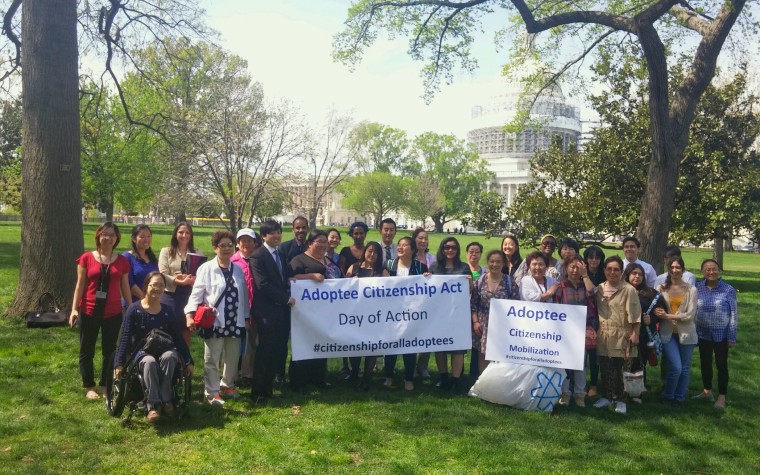 "Following the introduction of the Adoptee Citizenship Act, both Congressman Smith and Congressman Franks have been active in educating their colleagues about this pressing issue and the importance of bringing this common-sense, bipartisan legislation to the House Floor for a vote," Rep. Smith said. "With the support and advocacy of organizations like the Adoptee Rights Campaign and the National Korean American Service & Education Consortium, bipartisan interest in the bill is growing."
"We're getting a lot of momentum," Kessel said. "This is an adoption issue that's being addressed now. The people who were brought here were promised citizenship. They've been here for years. It's not here yet, but we see a real window of opportunity."
Follow NBC Asian America on Facebook, Twitter, Instagram, and Tumblr.