South Asian cabbies attacked on the job joined a New York lawmaker and other advocates Monday in announcing state legislation to stiffen penalties for assaults on for-hire drivers.
New York state Assemblyman Ron Kim, a Democrat, detailed his amended bill at a news conference in the New York City borough of Queens a week after Sikh taxi driver Harkirat Singh, 24, had his turban ripped from his head while dropping off a fare.
The New York Police Department (NYPD) is investigating that case as a hate crime.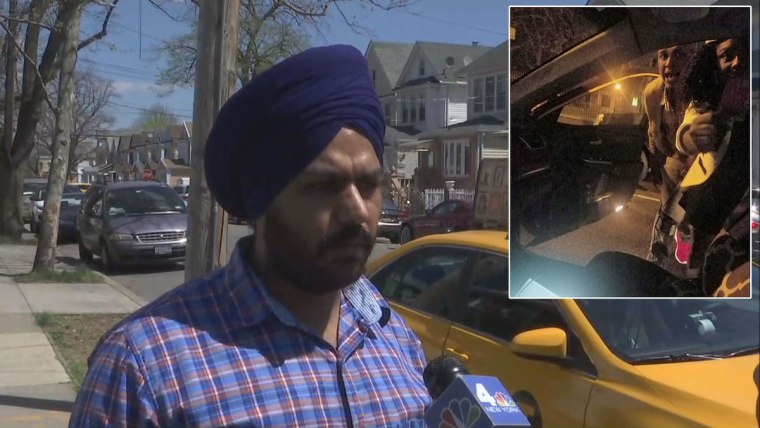 Singh appeared with two other drivers — Anwar Syed and SM Uddin — who said they were also attacked in separate incidents. The men spoke about the importance of passing the bill as another taxi driver was hospitalized over the weekend following an assault in Queens.
"I want to give the message we are all equals," Singh said. "There's no differences between the colors and we have to respect each other."
RELATED: Sikh Cab Driver Allegedly Attacked, Turban Stolen in Possible Hate Crime
Kim said he is seeking to add for-hire drivers, also known as livery drivers, to a list of occupations, including transit workers and emergency medical service technicians, for which assault is already an automatic felony.
The bill would also make it a statewide requirement to include signage in for-hire cars telling customers the consequences for assaulting drivers. The New York City Council, Kim noted, already passed a bill mandating such signs.
Kim said immigrants, many of whom make up the ranks of livery drivers, are often afraid to speak up when they become victims of crime.
According to the New York City Taxi and Limousine Commission, 53 percent of all drivers live in Queens, the borough that Kim represents a part of in the Assembly.
"Now the time has come to push back together," Kim said.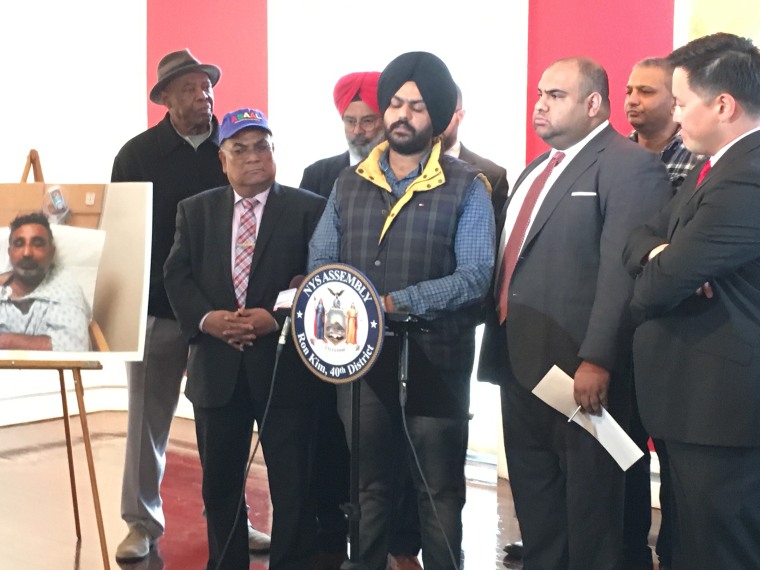 For Syed, an Uber driver, fear struck in February on Long Island when he was allegedly asked by a passenger where he was born, according to his attorney, Albert Cahn. Police said an argument later broke out, and Syed was beaten unconscious and spent days in an intensive care unit, according to Cahn and police.
Phillip Gannotta, 23, was arrested and charged with second-degree assault, third-degree criminal mischief, and fourth degree criminal possession of a weapon, according to a statement from the Nassau County Police Department.
Gannotta's former attorney told WABC at the time that Syed ran over his client's foot.
"Mr. Syed is calling for lawmakers in Albany to make the changes that are needed to ensure that all drivers are protected," Cahn said.
Uddin, also an Uber driver, shared a similar story. On July 4, 2016, a passenger he was driving became irate after Uddin missed an exit on the highway, he said.
According to Uddin, the passenger then allegedly asked him where he was from, to which Uddin replied, Bangladesh. Uddin said the man cursed at him while calling him Bangladeshi. A quarrel ensued and Uddin was punched in the face, he said.
RELATED: Anti-South Asian Hate Crimes During Election Mirrored 'Year After 9/11': Report
Further details about the case were not immediately available.
Beresford Simmons of the New York Taxi Workers Alliance urged cabbies to close plastic partitions separating them from passengers and to minimize conversations with customers.
"If it's a few dollars they want to walk away with, let them go," said Simmons, a taxi driver for 44 years.
Kim said the State Legislature unsuccessfully took up a similar bill seven years ago to protect livery drivers. That one was geared toward restructuring the penalties, Kim said. Although it passed, the bill was vetoed by the governor, he said.
Kim said his legislation has garnered interest from a couple of state senators. To make it to the governor's desk, it would have to pass both the Assembly and the Senate.
While Kim said other states have taken on measures to protect transit workers and emergency medical service technicians, he wasn't immediately sure if they extended to livery drivers.
Meanwhile, over the weekend another cab driver was injured on the job in Queens. Mohammed Mashiur Rahman was allegedly assaulted on Saturday after midnight when he and a passenger apparently argued over a fare, according to Ali Najmi, counsel to Kim.
The NYPD told NBC News that officers arrested Jose Gonzalez, 38, and charged him with assault and harassment.
A spokesperson for the Queens DA's office told NBC News that Gonzalez was given a desk appearance ticket to come to court on July 19. Attorney information for Gonzalez was not immediately available.
Kim said he would like to send a strong signal with his bill to the rest of the country that New York wants to protect its immigrant communities, from which a majority of for-hire drivers hail.
"It's no secret that there's a trend of attacks against Southeast Asian, Muslim, Sikh, Bangladesh, Pakistani drivers for the last few months," he said. "I think the national anti-sentiment has fueled a hatred that has emboldened people to act violently when they should be resolving conflicts one-on-one."
Follow NBC Asian America on Facebook, Twitter, Instagram and Tumblr.