A measure to expand acupuncture access to veterans was introduced last week in the House of Representatives.
The bill, called the "Acupuncture for Our Heroes Act," was sponsored by Rep. Judy Chu, D-California, and would require acupuncturist services be available at veterans health facilities. In an email to NBC News, Chu said she has seen how useful acupuncture was in treating pain and other health problems.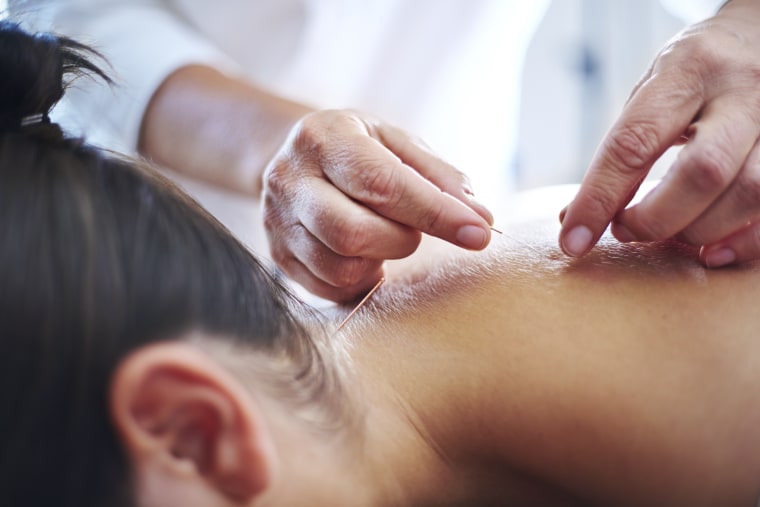 "But I've also seen how stigma or lack of understanding of acupuncture and traditional Asian medicine has put it out of reach for many as insurance won't cover the treatment," Chu told NBC News. "This means fewer options at exactly the time when we need more."
Chu noted that acupuncture offered a "non-addictive alternative" to opiates for pain management. According to a 2009 study from the Journal of Rehabilitation Research & Development, 81.5 percent of veterans seeking medical treatment who had their medical records examined reported having some level of chronic pain. Patients in the Veterans Affairs health system are nearly twice as likely to die from accidental overdose compared to the non-veteran population, according to a 2014 guide by the Department of Veteran Affairs.
"I'm hopeful that this legislation will mean more available healthcare for our veterans while also helping to improve the image and understanding of acupuncture in America," Chu said.
RELATED: Yoga, Acupuncture Can Help Some Pain, Studies Find
Acupuncture is a procedure in traditional Chinese medicine that involves the insertion of needles into specific points on the body.
The benefits acupuncture have been debated. A 2015 review of studies dealing with acupuncture in the Experimental and Therapeutic Medicine journal found that while some research suggested that the procedure offers a placebo effect, others suggested that acupuncture is beneficial. The review also offered guidelines for future acupuncture research.
The bill has received support from multiple organizations, including veterans service organization the American Legion. In an email to NBC News, Joseph Plenzler, director of media relations at the group, said the organization encourages the research and use of innovative, evidence-based medicine in treating various illnesses and disabilities.
"We have asked Congress to provide oversight and funding to the Department of Veterans Affairs' efforts in this area," Plenzler told NBC News. "We are urging Congress to improve pain management policies for the Department of Defense and the VA, and are pressing the VA to accelerate research efforts to properly diagnose and develop evidence-based CAM [complementary and alternative medicine] treatments."
Follow NBC Asian America on Facebook, Twitter, Instagram and Tumblr.