A lot of moving parts went into filming the climactic fight sequence in "Birds of Prey: The Fantabulous Emancipation of One Harley Quinn" — and not just because it took place on a spinning carousel.
For those three minutes of on-screen fisticuffs in the superhero flick opening Thursday, fight choreographer Jon Valera and stunt coordinator Jonathan "Jo Jo" Eusebio had their hands full. It's a pivotal scene, in which the titular heroes — Harley Quinn (Margot Robbie), The Huntress (Mary Elizabeth Winstead), Black Canary (Jurnee Smollet-Bell) and a tough detective (Rosie Perez) — team up for the first time to take on an army of thugs as they whirl around the fun house ride at six to eight rotations per minute.
And try not to bump into the camera operators or sound crew in the process.
"To synchronize everyone together, it got confusing, because now you're dealing with the feeling that you don't know where you are. The room is spinning, and then you're trying to get in the right spot, but you're dealing with inertia and vertigo," Eusebio said of the continual takes, which often lasted more than 30 seconds.
"Birds of Prey" director Cathy Yan said: "They really had to prepare the actors, because we were in their face. The camera was right there."
So Yan needed her own superteam behind the scenes to start training the heroes three months before filming.
Eusebio "is a huge Jackie Chan fan, and I am, too," she said. "But also, being Asians, as well, in this industry, he immediately got what I was looking for — which is this much more practical but also whimsical action, especially one that was very grounded.
"And then Jo Jo brought on Jon," she said. "I just love the two of them so much."
Something unique was happening off camera: The brain trust putting the fights together were all Asian American — including Yan, who is of Chinese decent, and Valera and the director of photography, Matthew Libatique, who have Filipino ancestry. It's a rarity in a field that hasn't been very diverse since predominantly white cowboys were falling off black-and-white horses.
"You know, you think you've done a lot and you've seen a lot on the job," said Eusebio, 46. "But when I look at it in hindsight, it's actually a pretty big deal, especially the way things are nowadays, with diversity coming out more in the forefront."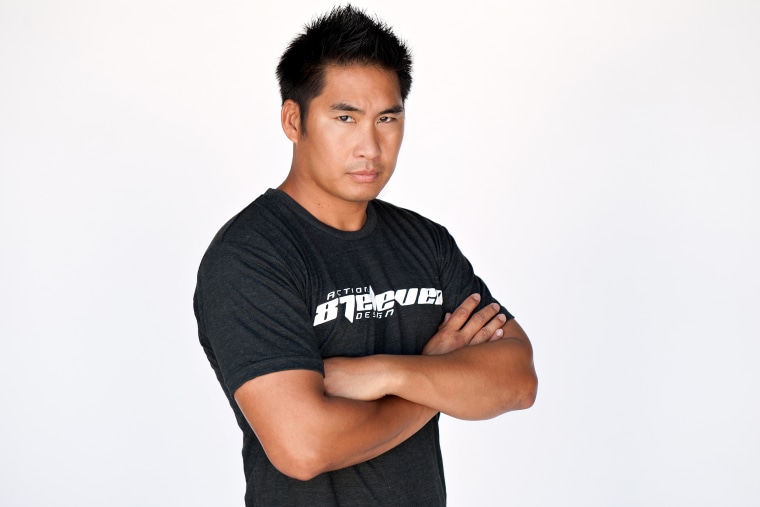 "Enter the Dragon" introduced many Americans to the dynamism of kung fu fighting in 1973, but the premature death of the film's star, Bruce Lee, before the U.S. release stunted the growth of the genre on this side of the Pacific. Still, Lee's too-short career would inspire the career choices of future generations of stunt performers.
"Finally, there was an Asian person out there and popular for everyone to see," said John Koyama, a Japanese American fight choreographer who has worked on such television shows as "Preacher." "That wasn't the norm. It definitely broke down doors."
There just weren't all that many opportunities to break down more doors for a while. Even less so for Asian American stuntwomen in the male-dominated field.
"There was always the running joke that if you're a tall white male and lean, you're always going to work no matter what," Valera, 44, said of breaking into the business in the 1990s.
Valera, who was born and raised in Virginia, gravitated toward martial arts as a kid and traveled the country for tournaments. Along the way, he met some California-based peers, and it was when he was traveling there to train that he became drawn to stunt work.
"If they needed a lot of Asians, they were calling for guys who can play Japanese [World War II-era] soldiers, and then for the next feature, they wanted North Vietnamese soldiers," Valera said.
"The Asian guys could always find work as ninjas or gangsters," he said.
It took another quarter-century after Lee's death for Hollywood executives to be reminded of the potential for martial arts in mainstream action movies, inspired by Chan and Jet Li, as well as the box office success of "The Matrix." Stunt veterans from Hong Kong, such as Woo-Ping Yuen, who choreographed "The Matrix" and "Crouching Tiger, Hidden Dragon," were enlisted to choreograph the action.
Asian American stunt performers would have to wait longer to get their own chances to move behind the camera on high-profile action movies.
Eusebio has come full circle on his latest movie: His first job choreographing fights was for the WB television series "Birds of Prey," based on the same DC Comics heroes. He did a tour of duty training Matt Damon for a "Bourne" movie and got to choreograph several superhero battles on Marvel's "The Avengers" in 2012. Not bad for a self-proclaimed comics fan.
"One day, they gave us all the prop weapons to train with or practice with," Eusebio said. "So they gave me a whole bag of stuff — had Cap's shield, Thor's hammer, Loki's scepter. Just all these iconic weapons or props that you hold in your hand and you can't believe that you're part of this.
"The kid inside me was just really giddy, excited."
Valera and Eusebio ended up as teammates on the stunt squad 87eleven, which was founded by a pair of stunt veterans, Chad Stahelski and David Leitch. When Stahelski, who doubled for Keanu Reeves in "The Matrix," got his chance to direct movies — the "John Wick" films — he brought in his team to handle the fights.
That visceral fight sequence in Morocco with Halle Berry and those dogs? Valera's handiwork. He also served as the fight coordinator on the Charlize Theron vehicle "Atomic Blonde."
For "Birds of Prey," Yan said she wanted the "John Wick style" on her superhero movie, which stands out from the CGI-heavy fare that dominates the genre and the multiplex. It best suited the female empowerment and representation themes of the new film.
"I really just want women to kick ass by using their own strength and power, as opposed to a magical superpower," Yan said.
Which, in turn, opened up opportunities for Valera and Eusebio to use their own strengths, highlighting a different kind of representation in the process.
"Behind the scenes, it's a lot more equal opportunity now, maybe even more than it is in front of the camera," Valera said.
Any rise in the opportunities for Asian Americans on film crews is mirroring the rise in representation in front of the camera and in the director's seat, particularly in the wake of the $174.6 million that "Crazy Rich Asians" earned at the box office. Marvel is in production on "Shang Chi and the Legend of the Ten Rings," its first movie about an Asian superhero.
It's not just about ninjas and gangsters, anymore.
"Now, there are a lot more Asian American and Asian fight coordinators — like a lot more," Koyama said. "It just opened up an even bigger door for people who have talent."