When Anna Pham's family business, Mai's Restaurant in Houston, burned down in February 2010, she received some 300 emails in one night.
"The outpouring was insane," Pham, the restaurant's third-generation owner, recalled. "I remember just reading through each and every email and social media post. ... People proposed here. People had their first date here."
It was the first time she realized that Mai's was more than just a small Vietnamese restaurant — rather, it was a staple in Houston. When Mai's finally reopened April 26, 2011, the mayor declared it Mai's Restaurant Day.
Pham's grandparents, refugees from Vietnam who came to the United States after the fall of Saigon in 1975, started Mai's in 1978, initially as a pool hall serving late night bites to the Vietnamese community.
Like many other migrants, the Phams brought their cuisine with them to the U.S., paving the way for a robust culinary scene that occasionally fuses both American and Asian techniques and ingredients at a range of price points. As part of Vietnamese American fine dining, outposts such as the multigenerational Crustacean in Los Angeles and Le Colonial in Houston serve dishes like crispy vegan rolls and five-spice frites, in addition to bánh mì chả cá (fish cake sandwich) and phở bò (beef noodle soup).
The Phams named their restaurant "Mai's" after one of their eight children — the one with the easiest name to pronounce in English. And today, Pham (her mother is the eponymous Mai) still maintains the hours her grandparents did — open until 3 a.m., six days a week.
At first, making the menu accessible to customers meant including more familiar Chinese food. Pham remembers working the cash register after school in the late 1990s and doling out dimes as change when customers would come in for the $2.90 all-you-can-eat Chinese lunch buffet.
But today, out of the 127 items on the menu, there are only a few Chinese dishes left. The most popular items now are Vietnamese — bò lúc lắc (shaking beef) and gỏi cuốn (spring rolls).
"Vietnamese food is no longer an acquired taste. You've definitely tried phở before, you've definitely tried bánh mì before," Pham said.
For chef Charles Olalia, putting a spin on traditional Filipino fare at his restaurant Ma'am Sir in Los Angeles is sometimes less a matter of convincing diners than it is other Filipinos.
"A good example of this is the lumpia. When it's not, like, the lumpia of your mom, then everybody's going to go crazy. Like, 'Why do you have sea urchin in your lumpia?'" said Olalia, who grew up in Pampanga, a province northwest of Manila, Philippines. "I need to express myself as a chef, with the cuisine as my medium. I'm prepared for the questions and that backlash sometimes."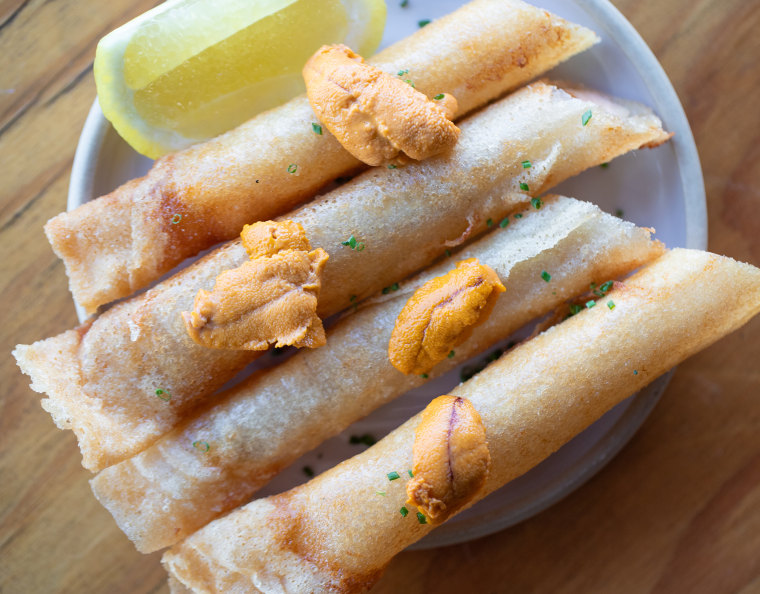 Olalia serves up what he calls "party food," with home-y dishes such as pork sisig (a type of hash), pan de sal (yeasted bread rolls) and a longganisa burger made with sweet Filipino sausage.
He said now the culinary world seems to be catching on to the flavors — and popularity — of Filipino cuisine. He has also found a community among other Filipino American chefs including Chad and Chase Valencia of LASA in Los Angeles and James Beard Award-winning chef Tom Cunanan of Bad Saint in Washington, D.C.
"It's been fun just pushing the cuisine together with all our different points of view," Olalia said. Oftentimes people are like, 'Your food does not taste like his food, but you're both Filipino.' Well, it's not supposed to."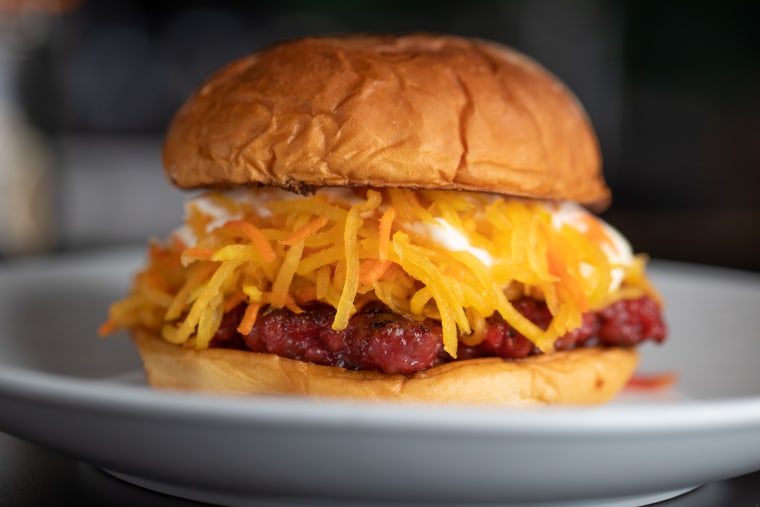 Diners and chefs in the Midwest are also evolving. For Alexa Alfaro, introducing her father's recipes for pancit rice noodles, barbecued skewers and sinigang soup to her hometown of Milwaukee has been challenging, first and foremost because she must explain to customers why they should try it in the first place.
"In the beginning, it was like, 'Well, I don't like Filipino food.' Well, have you had it? And they're like, 'No,'" said Alfaro, who started the Meat on the Street food truck with her brother, Matt, in 2014. "We constantly heard that, or 'Well, it's spicy." And just 'cause Matt and I don't have white skin, doesn't mean our food is spicy."
Alfaro had been working toward a mechanical engineering degree before she dropped out of school, quit an internship and decided to start her business with no formal culinary training. She and her brother now have a location in a historic building that was once the home of Pabst Brewing Company; Meat on the Street is located in its former barrel room.
The restaurant recently added a "Taco Tuesday" menu featuring Filipino-infused takes like the Mexipino (calamansi citrus fruit-flavored beef and cotija cheese) and an "adoborrito," a burrito filled with pork adobo, garlic rice and calamansi-Sriracha. She credits late celebrity TV chef Anthony Bourdain for bringing Filipino food into the spotlight and also social media with helping grow the palettes of Milwaukee diners; she is toying with the idea of doing a "secret" menu of more niche dishes, like balut (boiled fertilized duck eggs).
"We feel lucky that this is what we get to do every day. We feel lucky that we get to represent our culture and cuisine in this way. I don't know if I would have identified as much with my Filipino side had it not been for opening up the business," Alfaro said.
While Filipino and Vietnamese immigrant communities have been established in the U.S., Bhutanese immigrants are among the newest to arrive.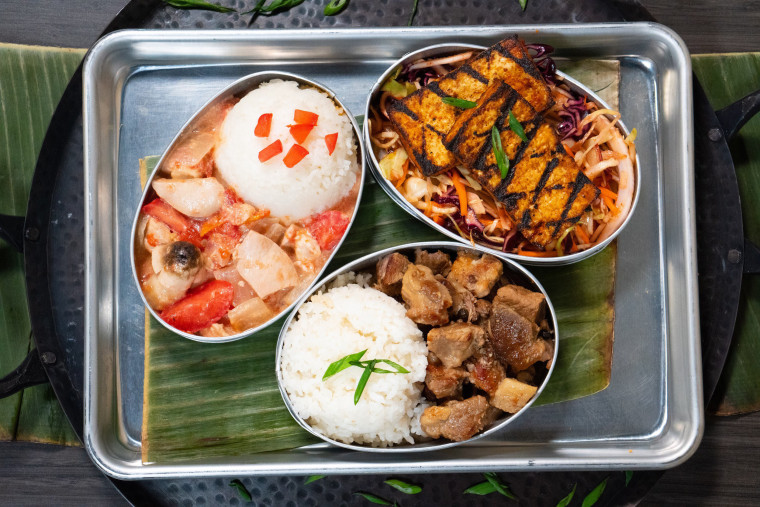 In the 1980s, southern Bhutanese of Nepali origin, known as lhotshampa, were expelled from the country; according to Amnesty International, 100,000 Bhutanese refugees have fled to neighboring Nepal since the early 1990s. Many have lived in United Nations refugee camps for more than two decades.
Eighty-five percent of those refugees have resettled in the U.S., according to a 2016 article by a White House Initiative on Asian Americans and Pacific Islanders, with a significant concentration in Pennsylvania.
Everest Kitchen, owned by former refugees, in Pittsburgh and Yak n Yeti are representative of the state's burgeoning Bhutanese community.
Tenzin Norbu opened Yak n Yeti with his wife, Sanya Yeh, in 2016 in New Cumberland, Pennsylvania. Norbu, who is of Bhutanese and Nepali descent, grew up in Bhutan's capital, Thimpu, before moving to the U.S. to pursue a master's degree.
"When you think of a cowboy, you think of a cactus, right? The yak and yeti are the two things you think of from the Himalayas," Norbu said of naming their restaurant, which features both Bhutanese and Nepali dishes like momo dumplings and aloo sag, a spinach and potatoes dish.
Yeh said she's particularly fond of introducing customers to ema datshi, a dish made of chilies and cheese. The Nepali fries (French fries in homemade sauce) was Norbu's idea, a fusion spin on aloo bajji potato fritters, one of his favorite snacks.
The couple relocated from New York City to central Pennsylvania where Yeh grew up and discovered the Bhutanese new refugee population, who, Norbu said, have taken to the cuisine, as have other diners previously unfamiliar with region and its food. In 2018, Yak n Yeti opened a second location about 20 miles away. Norbu said he hopes to open a third location in the future.
"This is food I grew up with. I'm happy that people are reacting to it. And it's very simple food to be very honest," he said.
The same goes for Alfaro. And while she said that she has no intention of making Meat on the Street a full-fledged sit-down restaurant, she's happy that her food can help bring people to the table, so to speak.
"If you've had Filipino food, it's an experience, it's a memory, it's nostalgia," she said. "It's that part of that I think makes it so much more than just being cool. It has so much history and love behind it."
Follow NBC Asian America on Facebook, Twitter, Instagram and Tumblr.