When Hokuao Pellegrino started farming in 1998, he made it a point to grow crops that his Native Hawaiian family would have grown a few generations ago.
So, on Noho'ana Farms in western Maui, you'll find wetland taro, kukui nut, bananas, coconut and — notably — breadfruit trees. For Pellegrino, growing breadfruit or 'ulu, is a matter of cultural preservation.
"We've lost, over the last 100 years, that connection to our traditional food crop," he said. "That's a big part of our mission."
A starchy, nutrient-dense tropical fruit that can be likened in taste and consistency to potato depending on when it is harvested and cooked, 'ulu was a staple of the Hawaiian diet and is believed to have been dispersed throughout the Pacific islands by voyaging Polynesians, according to the National Tropical Botanical Garden, a nonprofit working to preserve tropical plants.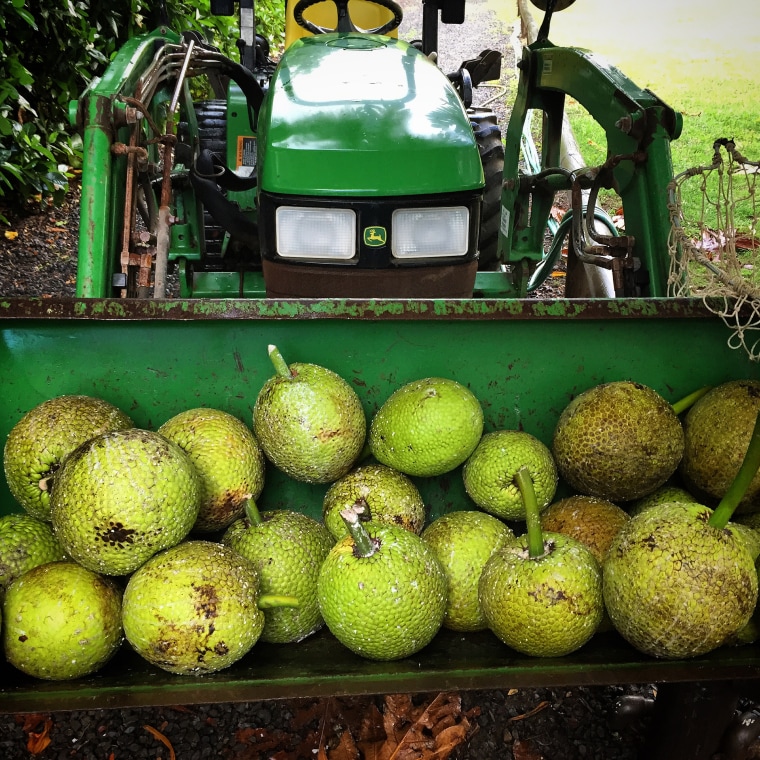 But the rise of plantation farming meant the loss of traditional agricultural production, a phenomenon exacerbated by the decimation of the Native Hawaiian population following European contact in the late 1700s. Growing and consuming breadfruit stalled, said Diane Ragone, director of the Breadfruit Institute — which the botanical garden established in 2003 to promote breadfruit — as 'ulu groves and other native fruit and vegetable crops were cleared and water sources diverted to make way for the lucrative sugar industry in the 1800s.
"By the 1920s, people were writing that they were concerned about the loss of breadfruit diversity, and people in Hawaii no longer really knew how to grow or cook or use breadfruit," Ragone said.
Ragone has worked to preserve the different 'ulu varieties (150 and counting) and revitalize its cultivation not just because of its cultural relevance but also because it could address the Hawaii's food insecurity issues, thanks to its versatility.
'Ulu can be consumed at various stages of its maturity. In its unripened stage, the flavor and consistency resembles that of artichoke hearts. Ripened 'ulu is more like a potato and can be roasted, baked or made into breads, pastas and desserts. A mature breadfruit tree can bear hundreds of fruit each year.
According to a 2018 report by the U.S. Department of Agriculture, some 35,000 Hawaiian households do not have access "at all times to enough food for an active, healthy life for all household members." And a 2012 strategic plan for food security released by the state noted that Hawaii imports 85 to 90 percent of its food, prompting efforts like the Sustainable Hawai'i Initiative to double the state's food production by 2020.
For the past decade, programs and organizations like Ho'oulu ka 'Ulu (a joint effort of the Breadfruit Institute and Hawai'i Homegrown Food Network) and the Hawai'i 'Ulu Cooperative have helped re-introduce growers to cultivating, selling and marketing the fruit. Ragone estimates that there are now close to 200 growers of breadfruit in the state.
"If you look at how breadfruit is traditionally grown in the Pacific islands, it's done in these beautiful, intricate, multi-plant agroforests and home gardens," Ragone said. "Most of the food in the world is produced that way. It's produced by small-scale farmers."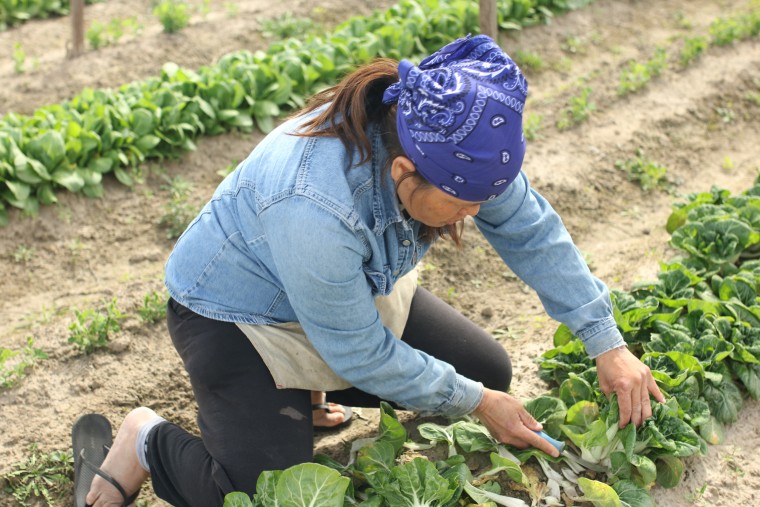 Those are the same type of farmers the Asian Pacific Islander Forward Movement (APIFM) works with through its Food Roots program.
Food Roots connects Asian American family farms in California growing crops traditionally found in various Asian cuisines and diets — like bok choy, mustard greens, ube, bitter melon and Japanese sweet potato — to communities and local businesses. Food Roots also hosts pop-up produce stands and programs like healthy eating workshops. The farmers they work with are within 400 miles of Los Angeles, where APIFM is based.
The goal, said program manager Kyle Tsukahira, is twofold: to help local farmers generate revenue by accessing the market for culturally relevant crops, and increase the availability of that fresh produce to various communities, especially low-income ones.
"Not everybody has access to a local farmer's market or Trader Joe's or Whole Foods. We believe that everyone has a right to healthy, fresh food," Tsukahira said.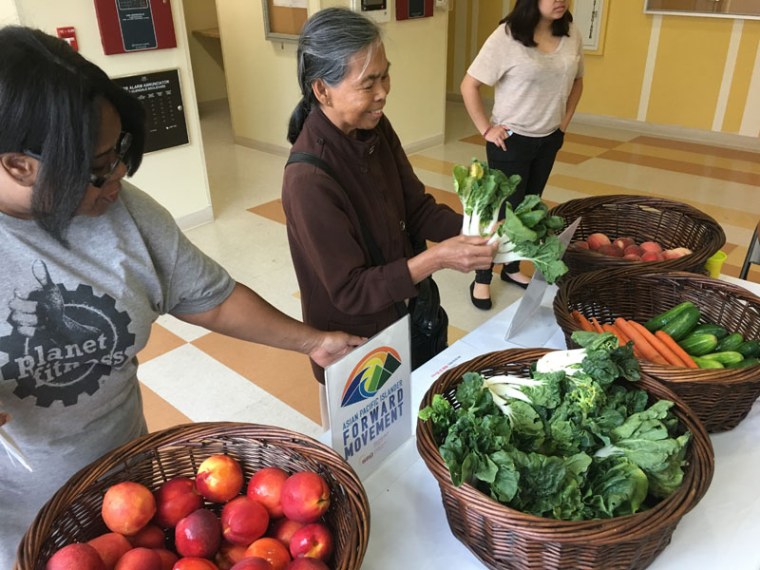 For Steven Nishimori and his family's 350-acre farm in Oxnard, California, the market for Asian vegetables has existed since at least the 1990s, when his father, Steve, started growing bok choy, gai lan, dau mue and yu choy sum, among others vegetables. Nishimori said that 30 to 40 percent of his family's farm is devoted to growing these vegetables, which require extra care.
"They're a lot more delicate and a lot more difficult to grow and then also to harvest," Nishimori, a third-generation farmer, said. Harvesting a critical volume that can be sold to a distributor can also be challenging.
"They don't take up as much space in the box. They don't weigh as much. So if you look at a field, you're going to be counting out 90 small little bok choys, but if you pack cabbage, you can pack 26 per box. So, Chinese vegetables are a lot more labor intensive," he said.
And part of that "labor" extends to educating consumers about the vegetables themselves. Food Roots, for example, has started a campaign centered on promoting Asian vegetables, starting with bok choy.
"We're working on a yearlong campaign to try to de-mystify the exotification of Asian produce and showing people it can be used in popular dishes as great replacements," said Farrah Su, Food Roots project specialist.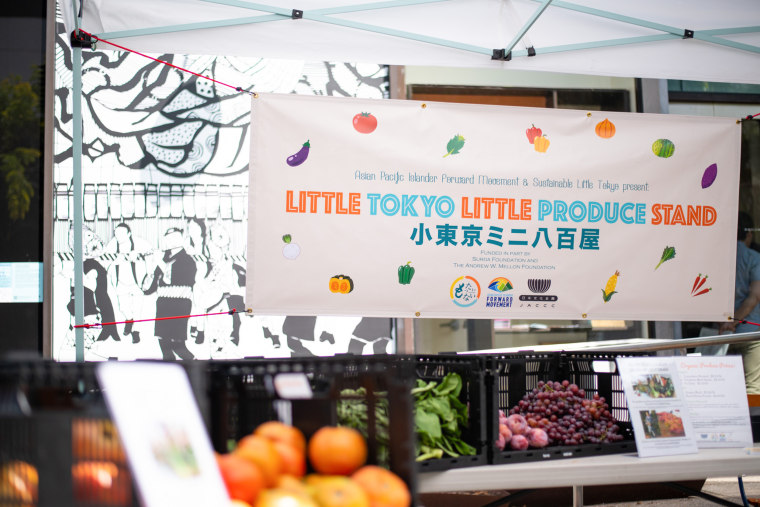 The same goes for breadfruit. Hokuao Pellegrino considers himself something of an 'ulu evangelist, leading workshops and seminars on growing it through traditional propagation methods and agroforestry. Both he and Ragone said that value-added products — desserts, breads and pasta, like the 'ulu gnocchi Pellegrino makes with his family — will be key in establishing it as a grocery store staple and viable replacement for imported starchy staples, like potatoes. But scaling breadfruit production will require more plantation-style growing, which concerns Pellegrino.
"What I'm nervous about — now that sugar is done and finished in Hawaii — is I don't want that to be replaced in the form of a thousand acres of breadfruit," he said.
For Pellegrino, it's important that growers new to 'ulu understand the history behind a fruit so intimately tied to Native Hawaiians, including their folklore: According to one legend, during a period of famine, the war god Ku sacrificed himself and transformed into a breadfruit tree to feed his family. His wife's tears from his passing helped grow other trees throughout the islands.
Pellegrino thinks the farm-to-table trend in fine dining and in the tourism industry will introduce visitors to the islands to locally grown crops, including 'ulu. He knows that the breadfruit revolution, though, won't succeed exclusively through small-scale farms like his own.
"Hawaii would not be Hawaii without Hawaiians," he said, "and part of that is our food."
Follow NBC Asian America on Facebook, Twitter, Instagram and Tumblr.
CORRECTION (May 30, 2019, 4:16 p.m. ET): An earlier version of this article misstated the first name of a program manager at Asian Pacific Islander Forward Movement. He is Kyle Tsukahira, not Kevin.