In the span of her 30-year career, Michelle Yeoh has done everything from jumping off rooftops to predicting the future. She's been a Bond girl, a geisha, and a sorceress — all roles that the Malaysian-born actress says show the "charming, weird roles" she wants to keep taking on.
"I hope that I keep surprising you," Yeoh told NBC News. "Otherwise, you will only be seeing Michelle Yeoh playing Michelle Yeoh, which is kind of boring."
Yeoh's latest role will take her to a new frontier as Captain Philippa Georgiou in the television series "Star Trek: Discovery" on CBS All-Access, the network's on-demand streaming service. The 15-episode series will be the first "Star Trek" series since 2005's "Enterprise" ended.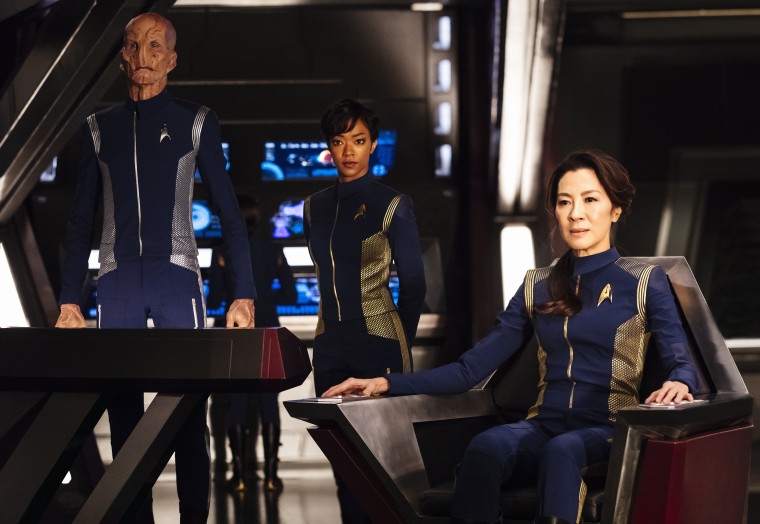 As Georgiou, Yeoh joins a diverse cast (which includes Sonequa Martin-Green and Maulik Pancholy) that continues the franchise's legacy of on-screen representation. When the series released its first promotional trailer in May, Georgiou was featured heavily, speaking with Yeoh's native Chinese-Malaysian accent, which fans praised Yeoh for.
"Do you think it's very strong?" Yeoh wondered, joking that she personally thought her accent was charming. "I think it is good that it received such positive reaction, because people are very aware right now. But what I'm really proud about is that we have an Asian female captain — all the boxes ticked right away."
She continued, "If you're given the opportunity to be able to play badass female roles, then why not? And when you say badass, I hope you mean that she's strong, she's smart, and she can be physical when need be. I'm very proud to play those roles, because I believe when more roles like that are seen by women, it empowers the young girls and other women who are watching."
Born in Malaysia, the 55-year-old actress got her start in Hong Kong films before making her U.S. debut in the 1997 James Bond film, "Tomorrow Never Dies." Since then, she's continued to appear in dozens of films, both in Asia and in the U.S., including the Academy Award-winning films such as "Crouching Tiger, Hidden Dragon" and "Memoirs of a Geisha."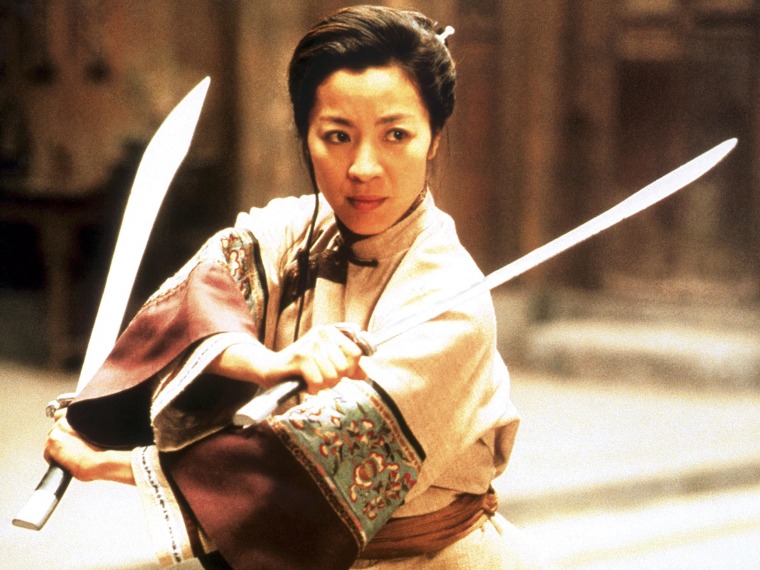 "I don't restrict myself to specifically, 'OK, this is the kind of roles I want to play,' but I do know what are the roles that I don't want to play," Yeoh said. "I want to make sure that when I take on a role, it is something I'll be happy to spend time on — and I'll learn from it, and I'll enjoy those precious moments or months that I will be working on it."
Her next big role is already generating buzz: Yeoh will appear in the upcoming film "Crazy Rich Asians" alongside "Fresh Off the Boat" star Constance Wu. The film, based off the novel by Kevin Kwan, doesn't have a release date yet, but it's already being praised for putting Asian and Asian-American faces on screen in Hollywood.
"It's an amazing film," Yeoh said, adding that her role of Eleanor Young was fun to play. "It's, what, the first [film] in 20-something years with an all-Asian cast? Isn't that a long time coming?"
Yeoh said that, even within the Asian community, it was special to see "an actress who was working in the western part of the world" and "an actor who was working in the eastern part of the world" learning about different cultural issues each faced, while filming.
"I hope that this will be gigantically successful," Yeoh said. "Because that will open up to producers understanding that the audiences want to see what's happening on the other side of the world — and that there are stories to be told."
Follow NBC Asian America on Facebook, Twitter, Instagram and Tumblr.