In 1998, Sesame Street wanted to redesign the iconic Hooper's Store to better reflect its contemporary urban setting. Enter Alan Muraoka, and his warm and welcoming character, "Alan," who has now been a part of the Sesame Street family for an entire generation of children.
Born in California, Alan Muraoka began acting as a child, performing the title role of "The Candy Man" at a movie theater in downtown Los Angeles, dancing and throwing candies to the audience during intermission.
Muraoka studied theatre at UCLA, worked at Disney World singing and dancing in front of Cinderella's Castle, then went to Broadway where he he hit the stage in performances including "The King and I," "My Favorite Year," "Miss Saigon," and "Anything Goes." He has worked on both sides of the camera for Sesame Street, acting and directing, directed theater productions around the country, and has been active in the East West Players and National Asian American Theater Company. He also received an Inspiration Award from the APEX for Youth mentoring group and Role Model of the Year award from Families with Children from China (FCC).
"Throughout his career as both a director and actor," Gladys Chen, President of Second Generation Productions, told NBC News, "Alan has been a leader in ensuring that the stories of America are being told in both television and theater." Muraoka recently spoke with NBC Asian America about his family, his career, and his time on one of America's most famous streets.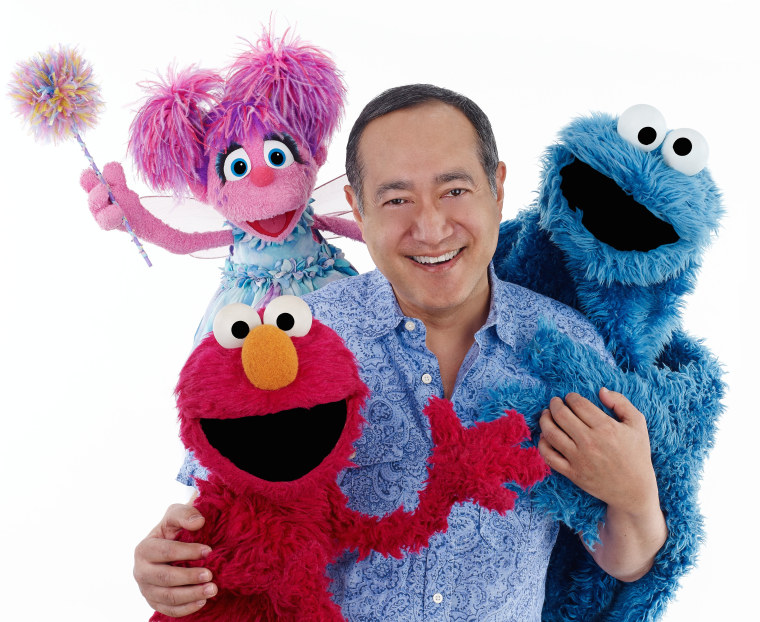 Acting and directing are not usually on the Asian Parents' Top Ten List of preferred professions for their children, but you had a young start. How did you get into acting?
My parents saw that I had an interest in the performing arts at a very early age. I was always cast in the school plays and was directing and creating shows by the time I was in Jr. High School. My parents were always supportive of my artistic endeavors. My Dad had a passion for singing as well, and his go-to song growing up that he performed for the family was "Danny Boy." I think he was very proud of the fact that I had his passion for singing, and that somehow I was living out a fantasy that he had as well. So they were amazingly supportive without being "stage parents." They let me do my thing and were financially supportive when I needed to get private training for voice lessons, dance classes, etc.
When I wanted to go to college as a theatre arts major, we mutually decided on UCLA since although it had a wonderful theatre department, if I decided to leave that major, there were other options as well. We had a backup plan, but luckily, it wasn't necessary. They allowed me to live out my dreams, although I know like every parent they worried how I would survive in a very difficult field. Remember, back in the 80's there were even less opportunities for Asian American actors, so they feared that I would be a starving artist. But, fortunately, I was able to find work.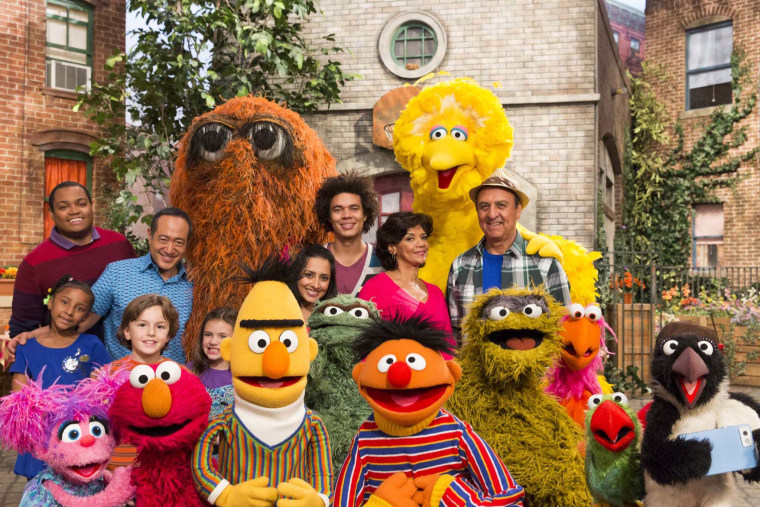 Most people know you from Hooper's Store on Sesame Street, but you also do quite a bit of directing. What does directing allow you to do that acting does not?
I started directing professionally in 1998, although I had started directing back in junior high school and all the way thru college. Directing allows you to use all facets of your imagination and intellect. Directing is as much using your head as using your heart. Acting is exactly the opposite. I like both, but as I get older, I find that I am enjoying the directing part of my career more. I like the idea of creating an entire world, and pulling actors and designers in to help make that world a reality. It's both terrifying and exciting, like skydiving or walking a tightrope.
What I love about Sesame is that it's a world of universal acceptance: where humans, animals, monsters, fairies, and Snuffleupaguses can live in harmony.
What is it like to work on the set of Sesame Street, especially as a major, Asian-American character?
I am so humbled and honored to be a part of "Sesame Street" and to be able to be a part of teaching children to become smarter, stronger and kinder human beings. It has been an amazing ride for the past 17 years, and I have been so lucky to be the Asian American representation on a show that has always been about inclusion and diversity.
What I love about Sesame is that it's a world of universal acceptance: where humans, animals, monsters, fairies, and Snuffleupaguses can live in harmony. I love that the show's writers create stories for me without having to point out my ethnicity. My ethnicity is apparent. They instead write for my humor and my heart, which I find much more rewarding.
I was at a Sesame event recently where a fan pointed out that I have been the owner of Hooper's Store longer than Mr. Hooper. I laughed, thinking he was incorrect. But then I did the math and he was indeed correct. Again, it was humbling, since I grew up watching the show, and Mr. Hooper was a role model for me. They are very big shoes to fill.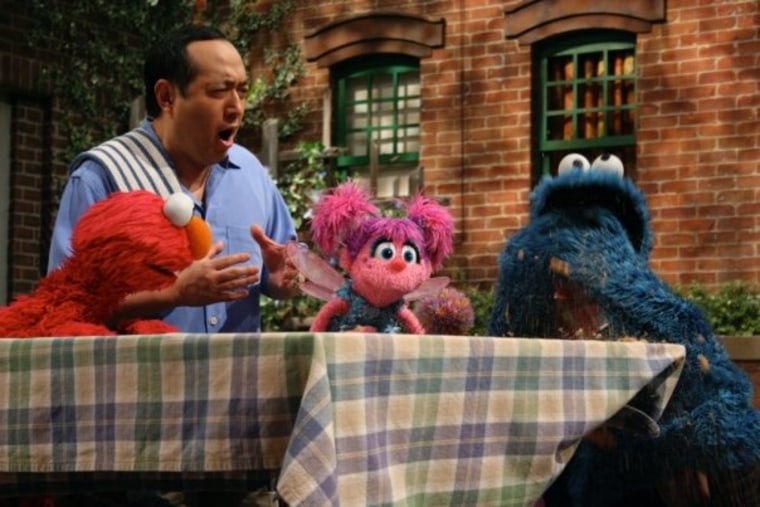 Are you able to address Asian American themes in your work or in the community?
I am very lucky, because early in my career I did two seasons at East West Players in Los Angeles, which is the oldest Asian American theatre in the country. I got to work with and meet some of the mavericks of the Asian American acting community. East West Players was founded by Mako, who is one of the few Asian American actors to be nominated for an Academy Award, and he directed me in a few shows. It was a wonderful training ground to risk, fail and grow as an artist. It was the first time I ever worked with other Asian American actors, and it gave me a true sense of community and taught me how to navigate and survive as a minority (we used that word so much back then) in the entertainment industry.
...honestly I have more in common with the flawed, crazy characters of "Falsettoland" than I do the Royal Court of Siam in "The King and I."
After I moved to New York and began to get cast in shows on Broadway, I again had the honor of working with many Asian American actors. I formed many friendships and collaborations that have lasted to the present day. My first directing job in New York was in 1998, and it was an all-Asian American version of the William Finn musical "Falsettoland" for the National Asian American Theatre Company. At that time it was hard to imagine seeing Asian Americans playing neurotic New York Jews, and there was a lot of skepticism about the project. But when we got a love letter from the New York Times, there was great satisfaction that someone got what we were trying to achieve.
What we were trying to achieve was a hope for roles of complexity and nuance that took us beyond the confines of "The King and I" and "Miss Saigon." Don't get me wrong, those are fantastic shows and I was in both of those productions on Broadway. But honestly I have more in common with the flawed, crazy characters of "Falsettoland" than I do the Royal Court of Siam in "The King and I." Anyway we were a hit that summer and our show had a sold out run, and that was the beginning of my directing career.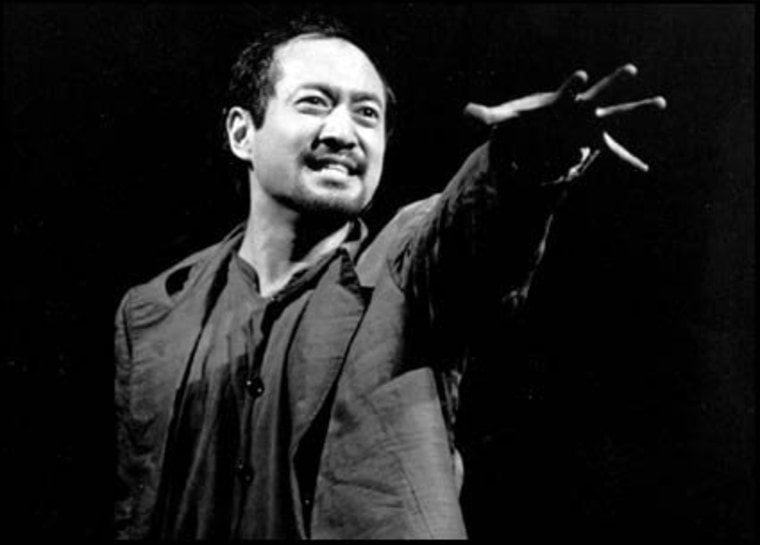 Do you have any advice for other Asian Americans who are interested in theatre and television?
I would say for any Asian American actor who is interested in being in the business that you are entering the world at a very good time. There is more representation on television and films than any other time that I can remember. But you need to be sure you are trained and ready for the call to action. Show business is relentlessly challenging, and you still have to be better trained even to get a tiny walk-on role with no lines. Take acting classes, voice lessons, dance classes, commercial classes, improv classes. Go to the gym. If you have an accent, be cognizant of the fact that that will severely limit your roles unless you take dialect classes to soften it. These days casting directors are open to seeing a variety of people for most roles, so it is up to you to be the best that you can be. Show business is all about preparedness and luck. If you are not ready when that opportunity arises, then this might not be the business for you.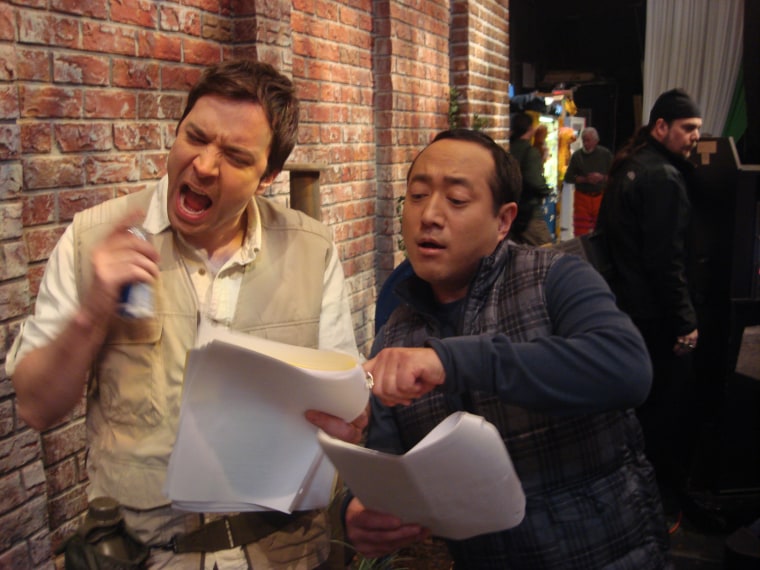 What's next?
I just finished filming of my 17th season of "Sesame Street."
Next up I'm directing the world premiere of Martin Casella's play, "The Report," which opens in mid-August at the New York Fringe Festival. "The Report" is based on the true story of the worst civilian disaster during WW2 when 173 people died in a London Underground Evacuation Center during an air raid in which no bombs fell. The questions of what really happened that night to cause these tragic events, and how the aftershocks of one disaster can resonate for generations after, are all explored in this play.
I am also in the stages of creating an evening called, "The Humans of Sesame Street," which will be an "Inside The Actor's Studio"-like event with the human cast of "Sesame Street." "Bob," "Maria," "Luis," "Gordon" and "Alan" are all household names that we have grown up with and trusted and loved. "The Humans of Sesame Street" explores the life of each cast member, and how all of us ended up on one of the world's most famous streets. This is an event we hope to travel around the country.
You can learn more about Alan on his website, or by following him on instagram [@alanathoopers].
Interview has been edited for clarity and length.