When George Salazar was in college, majoring in musical theater, he had a Puerto Rican professor who told him, more than once, "You're not going to work until you're in your 40s." Salazar is half Filipino and Ecuadorian, and was entering an industry with a lack of opportunities for people of color. To Salazar, that professor was preparing him "to get to New York and fail."
Now 32, that premonition is proving to be untrue. Since Aug. 9, Salazar has been starring Off Broadway in the hit musical "Be More Chill," which announced last week that it will transfer to Broadway in early 2019.
But even before the show was announced for the Main Stem, it was selling out its initial two-month run at the Pershing Square Signature Center. The show, which features music and lyrics by Joe Iconis and a book by Joe Tracz, was originally set to close Sept. 23, is now scheduled to end Sept. 30. It plans to begin performances on Broadway at the Lyceum Theater in February 2019.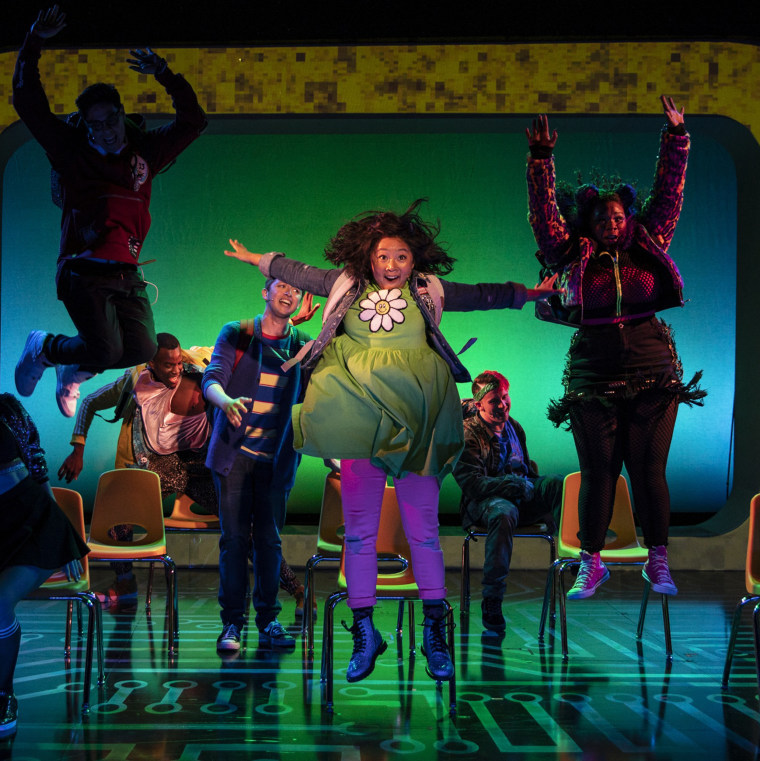 Based on the book by Ned Vizzini, "Be More Chill" tells the story of a teenage boy named Jeremy who takes a pill called a "Squip," which contains a supercomputer that promises to make him cool.
But "Be More Chill" isn't your typical Broadway-bound musical. Following a short run in New Jersey in 2015, the cast album of "Be More Chill" became a viral hit with teenagers around the world. It was the second-most-talked-about musical on Tumblr in 2017 (after "Hamilton" and ahead of "Dear Evan Hansen") and, to date, has more than 150 million streams on Spotify.
"The show's here because [the fans] demanded it," said Salazar, who also starred in the 2015 production.
The fans have also come bearing gifts: Salazar said he's received original paintings, letters, books, and handmade dolls during the Off Broadway run. There's also a #BeMoreChillfanart hashtag on Instagram, which has more than 10,000 posts.
"Be More Chill" has also caught the attention of fans for its diverse casting. Of the 13 cast members (several who are reprising their roles from the 2015 New Jersey premiere), four are Asian American: Salazar (Broadway's "Godspell"), Stephanie Hsu ("SpongeBob SquarePants: The Broadway Musical"), Jason Tam (NBC's "Jesus Christ Superstar"), and Troy Iwata ("The Lightning Thief: The Percy Jackson Musical" national tour).
For those four actors, the opportunity to play outside of stereotypes has been a welcome opportunity for an industry that still has a way to go when it comes to Asian American representation on the stage. "There's tropes that exist in the show but they're not about race; they're about [a] food chain, and 'who's who,' in a very 'Breakfast Club'-y way," said Hsu, who plays Christine, a drama geek Jeremy has a crush on.
"Be More Chill" joins Netflix's "To All the Boys I've Loved Before" as a story showcasing Asian-American teens who are not defined by their racial identity and who are fully flesh-out characters occupying center stage. Speaking in their dressing room, on the day that "Be More Chill" announced its Broadway transfer, Salazar, Hsu, and Tam were excited and optimistic for the future. (The official cast for the Broadway run has not yet been announced.)
"This moment feels like a pivotal moment where all these Asian people, the quiet ones, the 'model minority,' are saying, 'Hey I have a voice and I'm going to use it,'" Hsu said emphatically. "And people are ready to receive that."
To Salazar, that's been one of the most rewarding experience of "Be More Chill." As someone who never saw himself represented in entertainment growing up, he makes sure to spend a little more time with fans of color at stage door who ask him for advice or who just want a selfie.
"I am so thrilled to get to be someone, along with the rest of this cast, that young people are looking up to," he said.
Though the show is told through Jeremy's eyes (played by Will Roland), Salazar, Hsu, and Tam's characters are given copious chances to shine.
As Michael, Jeremy's best friend, Salazar sings the show's breakout hit song, "Michael in the Bathroom" – a song so popular that fans have sent Salazar animated videos set to the song. Hsu and Tam's characters also both have multiple solo numbers.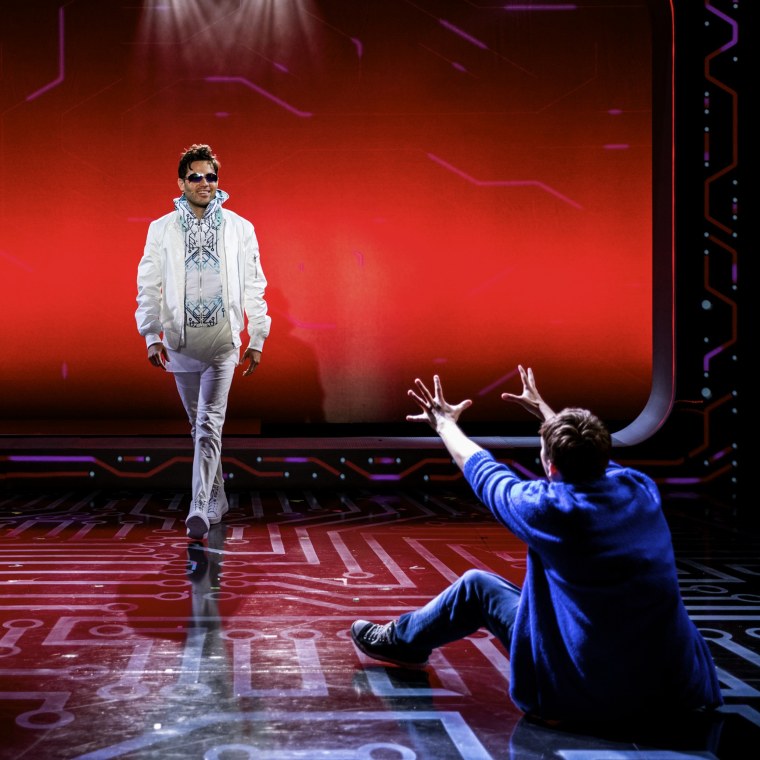 For Tam, who plays the Squip and whose entrance in the show receives rapturous applause, the viral appeal of "Be More Chill" lies within the audience's ability to relate to any of the characters: there's the awkward gamer, the drama geek, the jock, the bully — all of them connected by their insecurities.
"There's so much value in Christine's line, 'Everyone is hurting, even the ones who pretend they're not, they just show it less than other people,'" said Tam. "Everybody can relate a little bit to everybody. Even if you're not popular, you see the popular kid that's kind of hurting and you feel like you're not alone in pain."
And the fact that the fans are as diverse as the cast onstage is what makes the show special to Tam.
"I love that white people are starting to see themselves in people of color because it's been a lifetime of people of color trying to see ourselves in white people," he said.
Follow NBC Asian America on Facebook, Twitter, Instagram and Tumblr.
CORRECTION (Sept. 11, 2018 1:13 p.m. ET): An earlier version of this article misstated how many times the cast album has been streamed on Spotify. It is more than 150 million, not 150,000 million.