After a successful GoFundMe campaign last August, a new web series that aims to bring women of color and their stories will premiere this month on Open TV, a Chicago-based platform for diverse and independent artists.
"Brown Girls" written by Fatimah Asghar and directed by Sam Bailey, follows the lives of Leila and Patricia, two best friends living in the Southside of Chicago. Despite coming from completely different backgrounds, the series explores the protagonists' friendship as they work, party, and navigate the struggles of daily life.
NBC News spoke with Asghar about how her and Bailey assembled the cast and crew, the inspiration behind the series, and how the digital age has help enable artists of color able to share their stories to represent themselves in a honest and realistic way.
How did you approach Sam Bailey about working with you to direct and produce "Brown Girls"? Did the two of you know each other prior to this project?
Sam and I are friends through being a part of a few overlapping Chicago artist communities. Once I had an early draft of the script of "Brown Girls," I did an early reading for it and invited Sam to attend. I am a huge fan of Sam and her work. I think she's an incredible visionary. When I invited her, I secretly hoped that she would want to be a part of the project, and after the reading, she asked to direct.
"I wanted to see a show that reflects the relationships in my life that are most important to me."
Sam is an amazing artist and has taught me so much about film, and what is possible in this world. I really admire the way that she runs a set, how she stays true to the things that she values most, and how careful and lovingly she approaches the entire process of art making.
How did the rest of the cast and crew become involved with "Brown Girls"?
Sam and I talked about our visions for the series, and how we wanted the cast to be entirely made of people of color; and how we wanted the crew to have as many women, queer folks, and people of color as possible. Sam then worked with Nick Ward to cast the show. They both are super plugged into the Chicago acting scene, so they had really good ideas about actors who would be good fits for the different roles. Sam also assembled the crew together and, I think, knew a lot of them from other projects that she had worked on, as well as being plugged into the Chicago film community.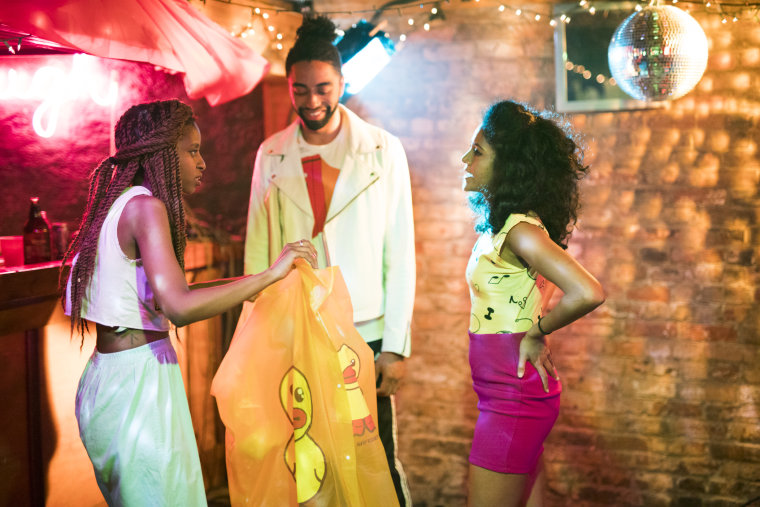 Leila [portrayed by Nabila Hossain] is a South Asian-American writer discovering and exploring her queerness. The series also closely follows her friendship with Patricia [portrayed by Sonia Denis]. How much of your own life inspired the characters?
Both Leila and Patricia are based off me and my best friend, Jamila Woods. They aren't exact matches; both characters in some ways represent aspects of both of us. What I wanted to capture the most was the feeling of our friendship. Often, our friends joke that we are each other's life partners, or "real wifeys." And in a lot of ways we are. Jamila gets me through everything. She's seen me at my worst, at my best, at my most insecure — everything. And she's always loved me, and encouraged me to be a better human.
I don't think I've ever seen a friendship so deep between women of color of different racial backgrounds reflected on television. I think women of color from different racial backgrounds are usually at odds with each other on television—they're usually there to tear each other a part or for some weird ass comparison. I'm tired of seeing that. I wanted to see a show that reflects the relationships in my life that are most important to me.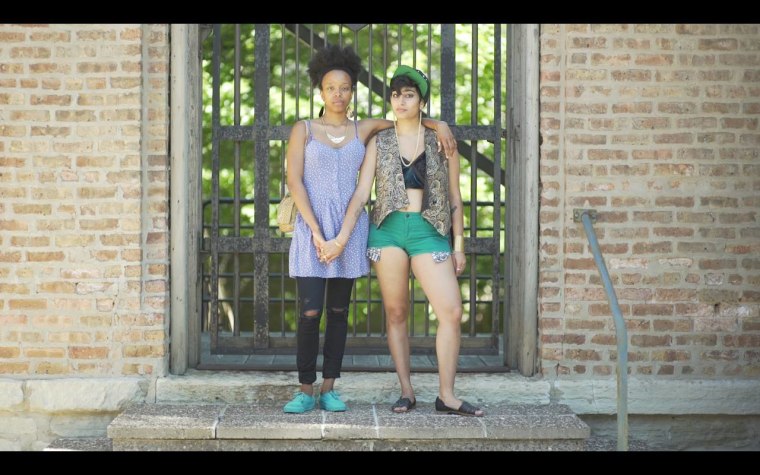 So far, the trailer of "Brown Girls" has been compared to shows such as "Broad City" and "Girls," but through a more intersectional lens. As you mentioned, the entire cast and crew is made up almost entirely of women of color. How important do you think is it for shows to represent queer women of color and portray them in a realistic way as well as have the platform to be able to share those stories?
"If we believe in our communities and lift up the people we know, we can make some really amazing work. We don't need permission from anyone else."
I think it's incredibly important, and an essential belief in my artistic philosophy. I'm tired of seeing women of color flattened into the "sidekick" or a background stereotypical character with no development. I think the lack of representation has serious effects on people. I know it did on me. Growing up, the only South Asians I saw in media were relegated to roles of terrorists or gas station owners. I spent a lot of my life not understanding my race and hating who I was because of rampant anti-South Asian and Islamophobic sentiment. Even now, people don't understand that I am queer and Muslim — both, at the same time, and that those things are not at odds with each other. I am a real, breathing, human being that does things like laugh and fall and cry and sleep.
I work with a lot of youth. I'm a teaching artist for Young Chicago Authors, a spoken-word education organization. I want to create art that makes the young people I work with feel seen, feel a little less like they have to hide parts of themselves because they exist outside of society's stereotypes. I want them to create their own art that tells their own stories, and to know that no one else can tell their story better then they can. I hope that "Brown Girls" opens the realm of possibility for people who see it, that people feel seen, that they can feel like their communities and friends are represented in a loving, joyful way.
Because of the emergence of digital media within the last few years, it seems like it's given artists and filmmakers more freedom to be able to share their stories the way they want to with the public. What do you want the audience and your viewers to take away from the series?
I created a show because I wanted to see my friends sitting around in a room, laughing. I think the world is, and has been, very hard for many different communities of color for many different reasons. It's hard, surviving in this. I literally just wanted to make something that the communities I love could watch and laugh at, and feel some sense of joy for a brief moment. I hope that viewers feel that. I hope that people feel seen. I hope that people also take away that its possible to create our own media. If we believe in our communities and lift up the people we know, we can make some really amazing work. We don't need permission from anyone else.
This interview has been edited for length and clarity.
Follow NBC Asian America on Facebook, Twitter, Instagram and Tumblr.