When Pope Francis finally arrives on American soil, John Sailon will say the name of the church leader in the same manner as his fellow Burmese-American Catholics.
"Pope Yahan Min Gyi Francis," Sailon said in his native tongue. The 56-year old Burmese immigrant and Catholic lay person from Columbus, Indiana, is also the founder of the National Conference of Burmese-American Catholics. Formed six years ago, Sailon was encouraged by the U.S. Conference of Catholic Bishops when there were just a few thousand Burmese-American Catholics. The number has more than tripled to upwards of 20,000.
The Burmese group is all part of the recognition that Asian Americans, though relatively small in number, are still a significant piece of a new multicultural American Catholic Church. And people—especially other Catholics--need to know their presence, Bishop Randolph Roque Calvo, the U.S. bishop in charge of shepherding Asian American diversity, told NBC News.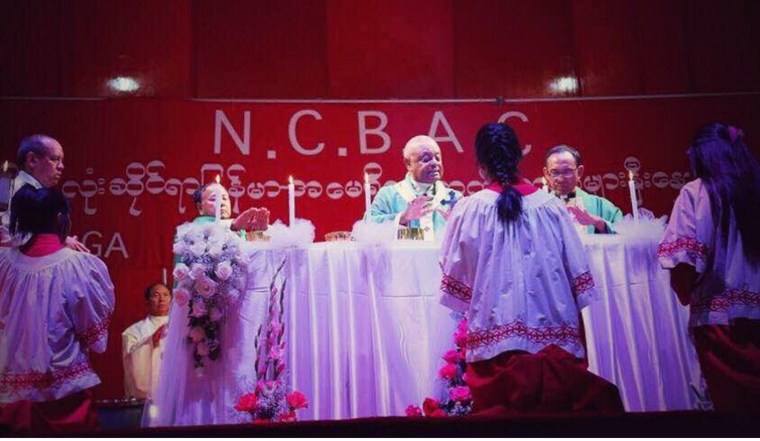 "In many ways the Asian Pacific American Catholics are present in their parishes, and they're involved, but sometimes they can be invisible to the rest of the population of the church," said Calvo, the Bishop of the Catholic Diocese of Reno, Nevada.
Calvo is in charge of creating a new pastoral plan due by 2017, which would lay out the best practices to assure the integration of Asian Americans within the national Catholic community.
"We're here, this is who we are," said Calvo, 65, born in Guam and whose background is a mix of Spanish, Chamorro, and Filipino. "There are cultural issues involved in addressing different needs, and that's why there's a desire for a pastoral plan."
Out of 71 million Catholics in the nation, there are nearly 3 million U.S. residents who self-identify as Asian, Native Hawaiian, or Pacific Islander (AANHPI) Catholics. This represents 19.1 percent of the AANHPI's in the country, according to a June 2014 report by the Center for Applied Research in the Apostolate (CARA) at Georgetown University.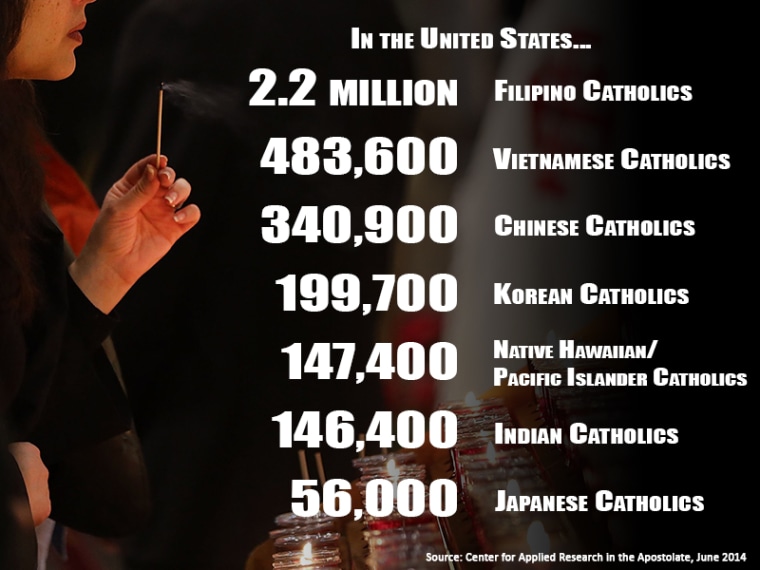 The CARA data found that 76 percent of Asian Pacific Islander Catholics identified as Filipino (alone or in combination with other identities).
As for other groups, the CARA data showed 42.5 million U.S. residents self-identified as non-Hispanic white Catholics; 29.7 million self-identified as Latino or Hispanic Catholics; 2.9 million self-identified as black or African-American Catholics; and 536,000 self-identified as Native American or Alaskan Native Catholics.
The top 10 dioceses with the highest number of Asians are New York City, Los Angeles, San Jose, San Francisco, San Diego, Honolulu, Chicago, Galveston-Houston, Oakland, and Philadelphia.
With the growing mix of Catholics, parishes are often slices of different ethnicities bringing their cultures and language to the whole. CARA identified nearly 36 percent of U.S. Catholic parishes (6,332) as multicultural parishes.
"In many ways their faith is a bridge. The church becomes their social and spiritual center and part of their identity."
That kind of diversity makes it a challenge for the modern parish that might find itself with sizable Asian, Latino, and Anglo worshipers.
One U.S. Conference of Catholic Bishops survey in 2011 found that mass is celebrated in more than 30 different Asian languages across the country.
"The United States has become a microcosm for the world, and the church in the United States similarly," Calvo said. "It's a huge school for learning how to work together and to share ministry and resources. It can be challenging, but when we figure it out it can be quite wonderful."
The Burmese are among the fastest growing Catholic groups among Asian ethnicities, mostly fueled by the constant wave of refugee arrivals--70,000 this year alone.
In big cities like San Francisco, there's enough for a 4 p.m. Sunday mass. But the refugees mostly live in smaller Midwest communities like Fredonia, Kansas, where Fr. Stephen Man Tha Pwa acts as one of the spiritual advisers for his small community, as well as the National Conference of Burmese-American Catholics.
Man Tha Pwa, 72, was one of the original protesters of the military takeover in Burma in 1988. "We just prayed the rosary and said, 'The Catholic Church is praying for democracy in Burma,'" he said. "We thought we could have another 'Peoples' Power,' but the military had other plans."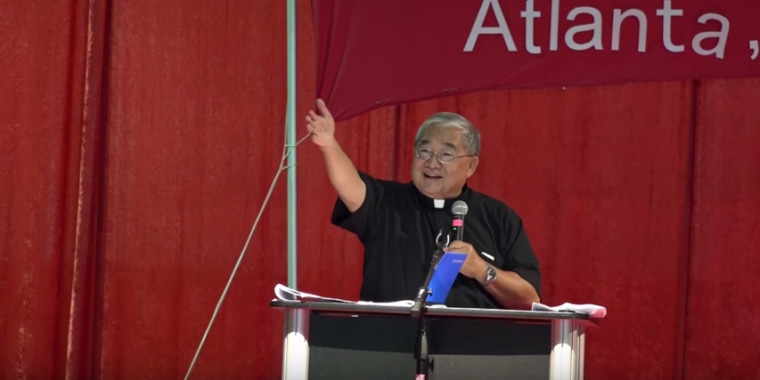 Now, once a year, Man Tha Pwa is part of the group's annual conference that connects the old country with the new. Earlier this month in Atlanta, more than 2,000 people from around the nation celebrated the mass, Catholicism, and their Burmese culture.
"I feel like I want to do something for the church and my people," said Sailon, the conference's founder. "I knew if my people come to this country, if we don't organize them, they might adopt western culture and then their faith might disappear in five, 10, 15 years. That's why I started this."
Calvo says the conference is in sync with part of the bigger plan, especially in immigrant and refugee communities that are growing.
"In many ways their faith is a bridge," Calvo said. "The church becomes their social and spiritual center and part of their identity."
Calvo will be in Washington, D.C., on Wednesday to hear Pope Francis speak to U.S. bishops and believes the pope will like the American church's vision of diversity.
"I think it's something he'd be very much at home with," said Calvo, who added the multicultural parishes--with Asian American Pacific Islanders as part of a whole--is where the real growth of the church is. "People are excited the pope is coming."