Over 80 Asian-American and Pacific Islander advocacy organizations in California are rallying for AB-1726, also known as the Accounting for Health and Education in API Demographics (AHEAD) Act, a data disaggregation bill authored and introduced by California Assemblyman Rob Bonta in January. The bill has passed the California Assembly Committees on Higher Education and Health, and was referred to the Appropriations Committee Tuesday.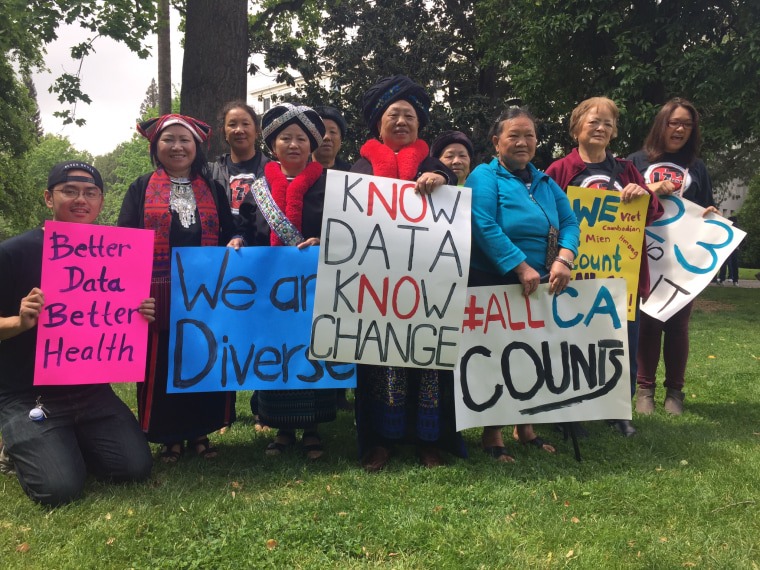 "AB-1726 would allow the needs and assets of Southeast Asian American communities to be revealed when they have been concealed and rendered invisible for too long," Quyen Dinh, executive director of Southeast Asia Resource Action Center (SEARAC), one of the bill's supporters, told NBC News. "In education, two in three Hmong, Laotian, Cambodian, and Vietnamese adults have never attended college, and one in three do not even have a high school degree. In health, our communities also face tremendous unique health disparities from survivors of war and genocide. Various research studies have shown that 62 percent of Cambodian adults have PTSD, one in two Cambodian youth have depression symptoms, and 49 percent of Cambodians have five or more chronic health conditions."
AB-1726 would amend current state code to require California state agencies, especially public institutions of higher education and public health, to expand the number of Asian American, Native Hawaiian, and Pacific Islander subgroups for which they collect and report data to also include Bangladeshi, Hmong, Indonesian, Malaysian, Pakistani, Sri Lankan, Taiwanese, Thai, Fijian, and Tongan Americans, among others.
Disaggregated data would allow resources and services to be targeted to the ethnic communities that need them the most, supporters of the bill said.
"Our communities have been systemically neglected by lumping us all under the 'Asian' umbrella," said Dinh. "This bill recognizes that beyond each race and ethnicity box is our community's fight for self-determination — for our community's needs and unique strengths to be revealed, not concealed, by transparent data systems."
Last October, California Gov. Jerry Brown vetoed Assembly Bill 176, which would have created new statewide guidelines to collect disaggregated demographic data for California's Asian-American and Pacific Islander populations to help address health and education disparities.
Follow NBC Asian America on Facebook, Twitter, Instagram, and Tumblr.
RELATED