A California city honored the first organized Korean settlement in the United States as a "point of cultural interest" Thursday.
The settlement, Pachappa Camp, was founded in 1905 by Korean independence activist Ahn Chang Ho and established in Riverside, a city 55 miles east of Los Angeles, according to researchers. The city installed a sign at the former encampment, which is now an operations base for a gas company.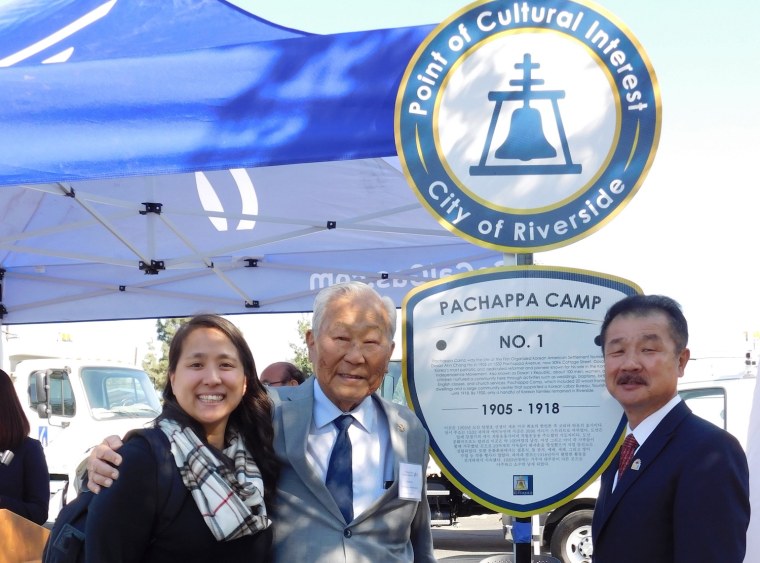 "The fabric and history of Southern California is just so rich, and there are so many hidden secrets and gems that we have yet to discover," Jimmie Cho, a senior vice president at Southern California Gas Co. (SoCalGas), told NBC News during the dedication ceremony. "It's just heartwarming to discover how rich this area was."
The process for attaining the designation began in 2014 when professor Edward Chang, director of the Young Oak Kim Center for Korean American Studies at the University of California, Riverside, came across an article with an unsubstantiated claim that Riverside was the first Koreatown in the United States.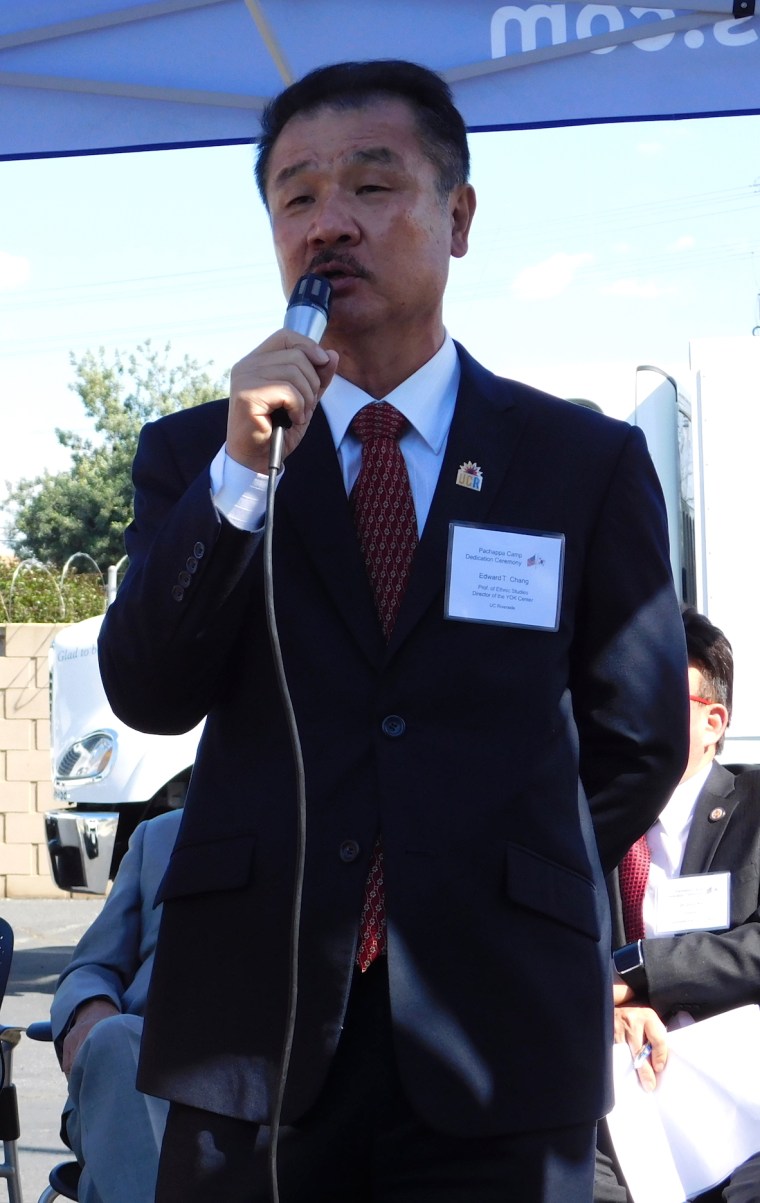 After piecing together old Korean and local newspaper articles, a membership list from a local Korean church, death notices, and checking tombstones at a local cemetery, Chang and his team concluded that Pachappa Camp had existed and was the first organized Korean settlement in the country, he said. In the community, people held activities including weddings, baptisms and church services.
While Korean immigration to the United States began in Hawaii, Chang said he can safely claim that Pachappa was the first Korean settlement because laborers in Hawaii lived and worked on plantations for at least three to four years before they began developing their own settlement.
In 1905, Ahn also established the Korean Labor Bureau to employ immigrants, according to Chang. Combined with good weather, abundant employment opportunities, and the fact that Ahn lived in Riverside, the city was an ideal place for Koreans to find a job and make a living, Chang said.
Pachappa Camp thrived until 1918 and was home to about 100 people. The settlement, originally established at 1532 Pachappa Ave., is now 3096 Cottage Street.
Following a review process, the Riverside City Council in December of last year unanimously approved Pachappa Camp as the city's first "point of cultural interest," a designation created to accommodate a recognition of an area where no historic structures remain.
"We felt it was important that we designate it, identify it and tell the stories from it so individuals have a broader awareness of who we are as a community," Riverside City Councilman Andy Melendrez told NBC News. "I think it's important that individuals understand that this group of individuals helped develop this city."
Ralph Ahn, Ahn Chang Ho's youngest son and only living child, said honoring the community that settled in Pachappa Camp was a meaningful moment to him. In Riverside, Koreans were introduced to American ideals including democracy and equality, which prompted them to encourage Ahn Chang Ho to return to Korea and fight for the country to maintain its independence, according to Ralph Ahn.
"He was heartbroken but the fight went on … and you can say that this community here was the initiator of that action," he said.
Ahn Chang Ho died in 1938 after being imprisoned by the Japanese. Korea gained its independence from Japan in 1945.
After a three-year process, Chang said he felt satisfied about Thursday's dedication of Pachappa Camp.
"It signifies that this is the birthplace of the Korean community and Korean settlement," he said. "And it gives meaning as you search for your identity. Roots are very important so I think we can teach this to the future generations. I think that's very fulfilling."
Follow NBC Asian America on Facebook, Twitter, Instagram and Tumblr.