California Gov. Jerry Brown signed a bill into law Sunday that will require the state Department of Public Health to break down demographic data it collects by ethnicity or ancestry for Native Hawaiian, Asian, and Pacific Islander groups.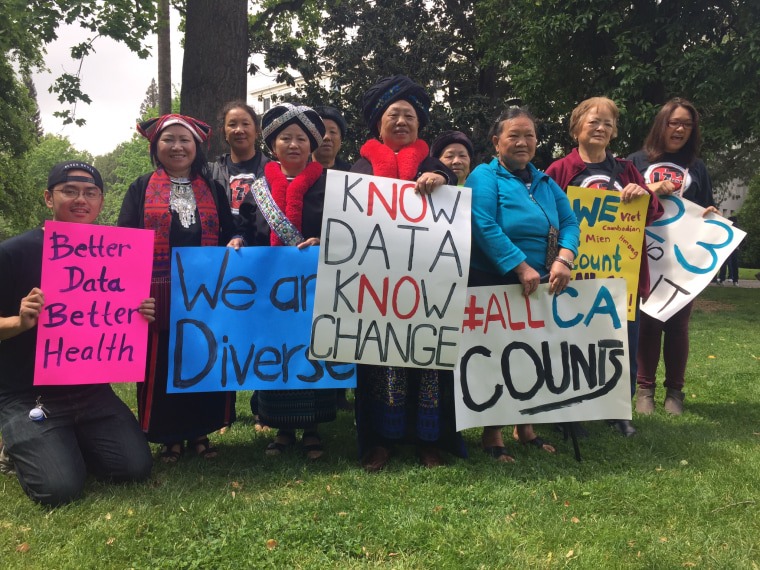 The news was a win for community and civil rights groups who say the bill, known as AB-1726, will help better expose disparities in healthcare, especially for Southeast Asians and Pacific Islanders, two groups that often get left out.
"Better data on the different needs of our communities translates to more effective public health strategies that save lives," the Asian & Pacific Islander American Health Forum, the California Pan-Ethnic Health Network, Empowering Pacific Islander Communities, and the Southeast Asia Resource Action Center said in a joint statement.
RELATED: California Advocates Push 'AHEAD' with Data Disaggregation Bill
Andrew Medina, California policy manager of Asian Americans Advancing Justice – California, told NBC News in an email that Asian American and Pacific Islander (AAPI) communities will benefit greatly from data broken down by ethnicity.
"For example, Advancing Justice's analysis of Census data found that in California, 14 percent of Asian Americans lack health insurance," he said. "But when we break down that data by ethnic groups, we find that 8 percent of Japanese Americans are uninsured compared to 27 percent of Korean Americans."
But some Asian Americans expressed disappointment over the bill's signing, saying it's unfair because AB-1726 applies only to AAPI ethnicities.
"I disagree with the way we finely divide the Asian community into specific subcategories when we don't do the same thing to the other ethnic groups," Lily Ding, a committee member of the Silicon Valley Chinese Association, told NBC News by phone Monday.
The bill's sponsor, Democratic Assemblyman Rob Bonta, said disaggregating data will yield information on rates of major diseases and leading causes of death for each AAPI ethnic subgroup.
"AB 1726 will give us a clearer pathway to formulate policy focused on positive outcomes for our specific API communities," Bonta said in a statement.
RELATED: California Data Disaggregation Bill Sparks Debate in Asian-American Community
Brown vetoed a similar bill Bonta introduced last year, writing in October 2015 that "dividing people into ethnic or other subcategories may yield more information, but not necessarily greater wisdom about what actions should follow."
Since the 1990s, California law has required state agencies, boards, and commissions to collect data for at least 11 AAPI categories, according to Bonta's office. AB-1726 extends this to the state Department of Health with 10 additional AAPI ethnic groups, bringing California's collection practices into line with that of the Census Bureau.
The new categories include Bangladeshi, Hmong, Indonesian, Malaysian, Pakistani, Sri Lankan, Taiwanese, Thai, Fijian, and Tongan Americans. Roughly 15 percent of California's population is Asian and 0.5 percent Native Hawaiian or other Pacific Islander, according to the Census.
California's Department of Industrial Relations and Department of Fair Employment and Housing already gather and tabulate data for the 10 additional AAPI categories covered in AB-1726.
The information collected and released under the new law will include rates for major diseases, leading causes of death, pregnancy rates, and housing numbers. It will take effect in 2022 and is contingent on funding.
Originally, AB-1726 had also asked the University of California system, and required California Community Colleges and the California State University system, to collect data on Native Hawaiians and Asian Pacific Islanders, including the 10 new ethnic groups, and also issue reports on student admissions, enrollment, completion, and graduation rates.
That led to vociferous protests from some in the Chinese-American community, who worried the bill was a backdoor way to revive affirmative action in California. State lawmakers later amended the bill, removing the education provision.
California eliminated race-based admissions at its public universities and colleges following the passage of Proposition 209 in 1996. Advocates of AB-1726, including Bonta, have said the bill's intention has nothing to do with affirmative action.
On his Facebook page, Bonta wrote that the University of California and California State University "have committed to releasing disaggregated educational data they are collecting to help us understand API admissions, completion, and graduation rates."
Ding, who organized a rally in August against Bonta's bill, said community members still worry that lawmakers, at some point, will try to reintroduce legislation to disaggregate data culled from public universities and colleges for AAPI ethnic groups.
She added they were still weighing their options about what to do next.
"We need to stop demonizing those of us who focus on education and focus on merit and focus on moving forward and put in the hard work to get ahead," Ding said.
Follow NBC Asian America on Facebook, Twitter, Instagram, and Tumblr.