A bill that would make California the first state to ban caste discrimination cleared another hurdle this week when it was unanimously approved by the state Assembly Judiciary Committee, with one crucial revision.
The legislation, SB 403, originally sought to add caste as a new category under the state's nondiscrimination law, but it now enumerates caste as one protected class under the larger umbrella of "ancestry." 
Opponents of the bill celebrated passage of what they see as a diluted version, but advocates said it was still a win. The legislation mentions and defines caste for the first time in California history, they said, and it's now one step closer to becoming law.
"There were so many attempts to just kill the bill and remove 'caste' entirely," Thenmozhi Soundararajan, a caste equity activist and founder of the civil rights organization Equality Labs, told NBC News. "For us to preserve it is an amazing win."
The bill, which passed 9-0 with two abstentions on Wednesday, was passed by the state Senate in May and now moves on to the state Assembly Appropriations Committee. If it passes there, it will go to the Assembly floor and ultimately Gov. Gavin Newsom for signature into law. 
The caste system, an inherited social hierarchy in South Asia, has been used for centuries to deny mobility and civil rights to those born into its lower classes. It's been made illegal in India, but advocates say its effects remain, including violence and exclusion on the subcontinent and in the diaspora.  
A growing movement in the U.S. spanning universities, companies and cities has sought to educate the American public on the harms of caste discrimination and pass legislation banning it. Seattle was the first city in the country to do so. 
"The process that we've built, the many leaders that have come forward, it's just been an incredible experience," Soundararajan, who also founded the Californians for Caste Equity Coalition, said.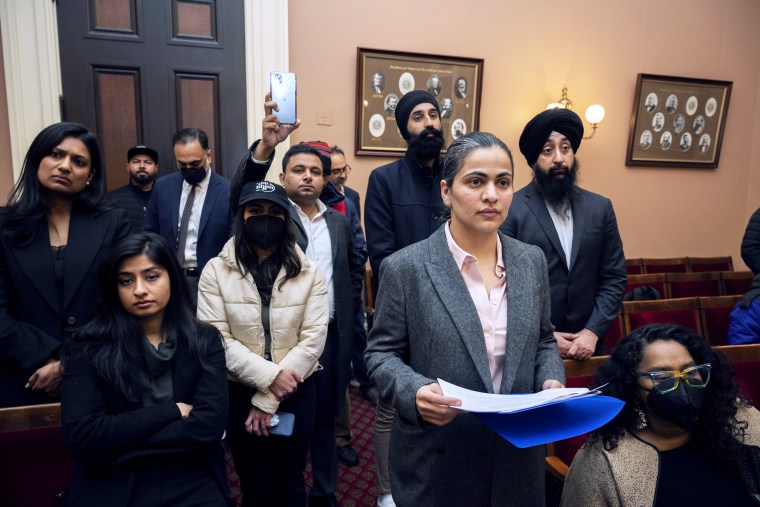 But a countermovement has grown in tandem with the push for caste equity, and other Indian American groups have shown up in numbers to protest bills like SB 403, maintaining that there's no reason to protect people in the U.S. born into lower castes and that doing so targets South Asians. 
After an analysis by the Judiciary Committee, the bill's proposal went from adding caste as a standalone protected category to specifying it as a subset of ancestry. 
Assemblymember and Judiciary Committee Chair Brian Maienschein and committee counsel Tom Clark did not respond to requests for comment. 
Proponents feel the revised version of the bill is something everyone can get behind. The Hindu American Foundation, which has been vocally against SB 403, praised the amendments, claiming they water down the emphasis on casteism. 
"But for 'caste' being added as a clarification of 'ancestry,' we're pleased to see suggestions and language we proposed being used to significantly defang the bill," the foundation's executive director, Suhag Shukla, said in a statement.
State Sen. Aisha Wahab, who wrote the bill, says this narrative is far from true. The amendments won't change how the bill can be applied if it becomes law, she told NBC News. 
"The amendments represent a concept of the bill my office discussed at length weeks ago, and these amendments ensure justice for those experiencing caste discrimination," she said. "We consulted with civil rights and discrimination attorneys on these amendments, and there is nothing here that dilutes the ability of anyone experiencing caste discrimination to file a claim."
Opponents still take issue with the fact that caste is mentioned at all, saying it unfairly targets South Asian communities by associating them with the caste system. But Soundararajan disagrees and says it's necessary to educate people on the history and harms of caste in order to bring justice and move forward. 
"The majority of the South Asian community and the majority of Californians do not want discrimination happening in the state," she said. "The bill in its current form — there should be no objections to it if our opponents are really coming in good faith to end discrimination."
"I'm so proud of us as we go into this moment," Soundararajan said. "It's shown how much we can build in a very quick time for our freedom. It's a glimmer of light in a time of a lot of darkness that we can still make some progress for civil rights."