A refugee who advocates say was wrongly deported became the fourth Cambodian deportee to return to the United States.
Thy Chea, 50, arrived in Massachusetts on Wednesday evening and reunited with his family after spending 18 months in Cambodia. He's the first deportee to return to the East Coast, advocates said.
"We're incredibly excited that Thy's able to come home after fighting for so long to get back to his family, and we're so excited for him to be able to see his now 1-year-old son who was born after he was deported," Bethany Li, an attorney with Greater Boston Legal Services who is representing Chea, said.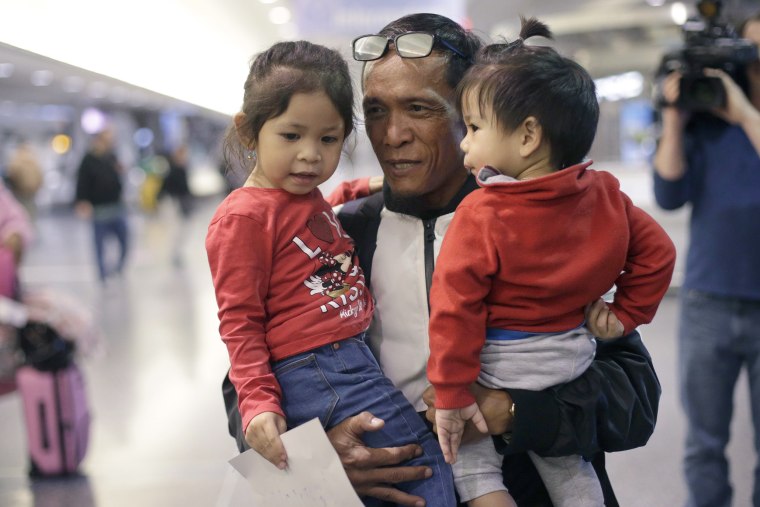 Chea was deported to Cambodia in August 2018 based on non-deportable offenses, Li said. He was convicted in 1999 of assault and battery and "threat to commit a crime."
After serving his sentences for those charges and after being held in immigration detention, he received a removal order in 2000. He was redetained without notice in April 2018.
Li said that 16 minutes after Chea's deportation flight took off in August 2018, he was granted a stay of removal, which would have prevented his deportation had it been granted before take off. His lawful permanent resident status was reinstated while he was in Cambodia and an immigration judge said he should be able to return. But the U.S. government refused to facilitate his return. The U.S. Embassy repeatedly refused to issue Chea a travel document, according to court documents, so he sued the federal government in December 2019.
The Department of Homeland Security – a defendant named in the case -- did not respond to a request for comment. Spokespersons for Immigration and Customs Enforcement and the State Department – also defendants in the case – declined to comment.
Chea, along with his parents and five siblings arrived in the United States in 1981, according to court documents. He told NBC News in 2019 that he had worked in a labor camp under the Khmer Rouge regime before fleeing with his family to the U.S. when he was about 10 years old.
He said being back in Cambodia was devastating and confusing, and brought back the terror and trauma he experienced there as a child. Chea was receiving mental health treatment for post-traumatic stress disorder before he was deported, but didn't have access to the medication or the counseling he needed in Cambodia, he said.
Advocates have said that deportees returning to the U.S. is rare, but Li said she hopes more people will see that it is possible to return.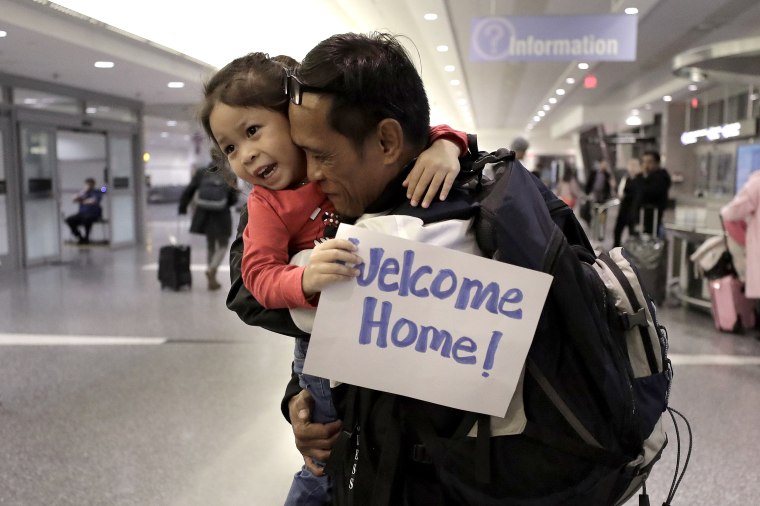 "Laws change," she said. "In Thy's case, things that were deportable offenses before became no longer deportable."
An immigration reform bill introduced in the House in December, if passed, would provide a pathway for certain deportees to return to the U.S.
Montha Chum, co-director of the Southeast Asian Freedom Network, said that the growing number of Cambodian deportees returning to America is giving the community hope.
The first Cambodian returnee, Phorn Tem, arrived in the U.S. in November 2018. Veasna Meth became the second Cambodian returnee last year, and Sok Loeun became the third when he returned in January.
But Chum added that it's important not to lose sight that the community remains a target of detentions of deportations, and that the fight against that continues.
Cambodian nationals saw a 279 percent increase in deportations between fiscal year 2017 and 2018, according to ICE data.
Earlier this week, advocacy group Asian Americans Advancing Justice – Asian Law Caucus issued an alert that ICE has begun arresting Cambodian community members for deportations.
Last month, ICE deported about 25 Cambodians in its first round of repatriations this year.
"This is really exciting for us to have our community members be reunited, but all of these deportations just need to stop, period," Chum said.
Efforts to bring deported Cambodians back to the United States began in 2016 when Southeast Asian American community advocates raised the possibility at a convention in Cambodia.
Among ongoing efforts to reunite more Cambodian families that have been separated by deportation is a petition spearheaded by a movement called the #Right2Reunite campaign. It urges the Democratic National Committee to urge the Democratic presidential candidate – if elected – to amend the U.S.-Cambodia repatriation agreement to allow refugees to remain with their families in America.