Voters in a New Jersey township were greeted Wednesday with flyers targeting two Asian-American school board candidates along with the tagline "Make Edison Great Again" in their mailboxes.
The mailer was sent anonymously to residents of Edison Township and featured photos of candidates Falguni Patel and Jerry Shi with "deport" stamps on their faces and the accusation that residents of Chinese and Indian descent are "taking over" the town.
"Chinese school! Indian school! Cricket fields! Enough is Enough!!" the flyer read.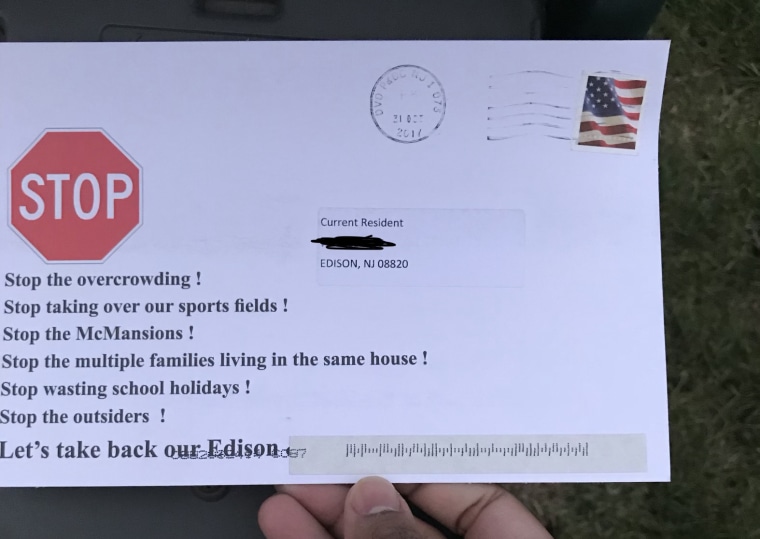 Speaking to The Associated Press, Patel said she was appalled by the flyer's content. "I was born and raised in New Jersey," she said. "To see the word 'deport' on my picture ... really it's just outrageous."
Because the flyers were sent anonymously and do not indicate who paid for them, they violate New Jersey law, according to a spokesperson for the office of the New Jersey Secretary of State. Several residents said they were shocked and offended by the mailer.
"My reaction in one sense was disbelief, but at the same time, this anti-Asian sentiment is nothing new in this country," Khyati Y. Joshi, an education professor at Fairleigh Dickinson University and a co-chair of the South Asian American Caucus of the New Jersey State Democratic Committee, said. "It's not just in Edison. It's a long line of anti-Asian sentiment that goes back to the 1800s."
Joshi noted that increased anti-immigrant and racist campaign rhetoric often coincided with demographic shifts. The U.S. Census Bureau estimates that approximately 47 percent of Edison residents are Asian.
Other candidates running for school board condemned the mailer.
Willie Araujo, the chair of a slate of three candidates that includes himself, said it was "horrible."
"Both my parents are immigrants, my mother is Brazilian and my father is Portuguese," Araujo, who said he has lived in Edison for about 15 years, said. "They are looking for who did it and I hope they find them and prosecute them to the fullest extent of the law. It should be treated as a bias crime."
Two additional candidates, Carol Bodofsky and Elizabeth Conway, said in a joint statement: "This apocryphal document, and any other examples of this genre of hate mail disguised as political communication, has no place in a civilized community. This type of bias and discrimination goes against everything we stand for, and have worked for throughout our personal lives and professional careers."
U.S. Sen. Robert Menendez, D-N.J., also condemned the mailings in a Facebook post.
"Diversity is exactly what makes Edison, NJ great and should be celebrated," the senator posted. "These mailers are disgusting, un-American, and belong in the trash."
Follow NBC Asian America on Facebook, Twitter, Instagram and Tumblr.
CORRECTION (Nov. 2, 2017: 5:12): An earlier version of this article misspelled the first name of an education professor at Fairleigh Dickinson who is also a co-chair of the South Asian American Caucus of the New Jersey State Democratic Committee. She is Khyati Y. Joshi, not Kyati.