For 12 years, Priya Soni watched as her father's health deteriorated.
Multiple doctors in the '00s were unable to diagnose his illness — which included losing motor control and the ability to speak, she said — and Soni, who was then in her 20s, found herself having to take care of him.
What made the process even more difficult was that Soni felt isolated because none of her friends were going through a similar experience.
"There was an alienating and isolating aspect to all of this, and I think as I was going through it, I didn't always know I needed somebody," Soni told NBC News. "It was very hard to stop and think about what [I] needed."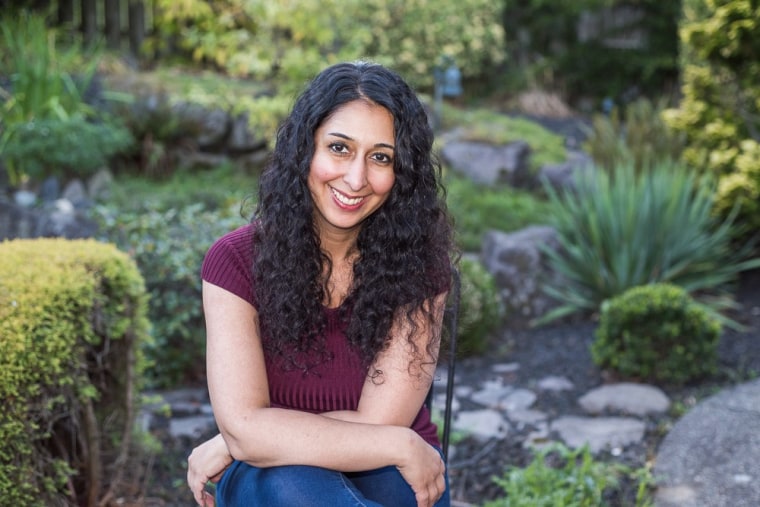 Soni is now working to spread caregivers' stories and teach them how to share their experiences to ensure no one feels as alone as she did. Through "The Caregiving Effect LLC," a project she started in 2016, Soni has mentored those currently caring for loved ones and shared their stories on social media.
She also writes and speaks about caregiving and is scheduled to give a presentation at the second annual National Caregiving Conference in November.
A 2015 joint study by the National Alliance for Caregiving and AARP estimated that there are more than 40 million unpaid caregivers in the U.S.
"To have that many people in this country alone caregive and then for so many of us to feel alone in the experience, that says something," Soni said.
"I had always envisioned a quilt of caregivers and their stories, but with a real intention focus to shift conversation."
Ruth Chung, associate professor of clinical education at the University of Southern California's Rossier School of Education, said that — consistent with broader demographics — many women are getting married later, having children later, and learning that their parents are living longer, thus taking on caretaking roles.
This may cause many women to feel "sandwiched" between caregiving of their aging parents and still having young children they are responsible for, she explained, adding that sometimes women may suffer in silence without seeking help.
"Women as a whole, especially working women, then feel this kind of triple burden of their role of being parents, wives, and children, and then as their parents age, stepping into a caregiving role," Chung told NBC News. "So it's putting a lot of strain and burden on middle-aged women and that's something that is becoming much more apparent and unclear, but that seems to be cutting across cultures."
Growing up in Maryland as the eldest daughter of South Asian-American parents, Soni learned about her father's experiences living in a village in the Punjab region where many generations of his family, particularly young women, would care for their elders.
Soni understood that education and respect for elders were of the utmost importance to her father and knew she had to honor that value system at home.
"Because of the Indian culture, one of the things we wanted to do was honor the fact that we grew up in a house and witnessed his family taking care of the elderly," Soni said. "We knew that was important to him and we knew it was important to be able to contribute back to him."
At one point during her father's last years of life, Soni realized her dad needed 24-hour, seven-days-a-week care, so the family decided to hire two caregivers who spoke Hindi and understood his cultural background, a story she later recounted to Women's Day magazine.
"They spoke Hindi, they had a Tibetan background, they understood what my father needed," Soni said.
Looking back, Soni wishes she sought more help from aging experts, social workers, and other advocates while taking care of her father.
"What I needed the most was a support group that focused on how to handle mystery illnesses when you don't have a diagnosis or trajectory of knowing what's going to happen around the corner," Soni said.
Caregivers are unsung heroes, according to Dr. Zaldy Tan, medical director of the UCLA Alzheimer's and Dementia Care Program, but their dedication can lead to increased stress.
Tan noted that third-generation Asian and Hispanic caregivers spent the most time looking after their charges, referencing a 2016 study released by the California Health Interview Survey.
"Asian Americans, we feel in our culture that caregiving for older family members or even younger family members is part of our responsibility as a family and that institutionalism perhaps is less acceptable culturally than in other cultures," he said.
"I think as I was going through it, I didn't always know I needed somebody. It was very hard to stop and think about what [I] needed."
"Asian Americans could conceivably spend longer durations of caregiving and therefore will be subjected to greater risk of stress and strain compared to other caregivers who may be more willing to seek respite care or hiring somebody," he added.
After the death of her father in 2015, Soni spent a year reflecting and communicating with others who had gone through similar experiences. Soni said she created the platform for these stories to live on, a way to honor the memory of those who have died and also pay respect to caregivers.
"I started to open up and have conversations with adult caregivers, people who had been through loss, people who were currently caregiving to different family members, and I asked them questions about what they have gone through, what do they need, how could I help, and what services would have helped them," Soni said.
Ultimately, the main goal of The Caregiving Effect is to support adult caregivers who have cared or are caring for their parents.
"I had always envisioned a quilt of caregivers and their stories, but with a real intention focus to shift conversation," Soni said. "I really wanted to shift conversations [from] sitting in pain and discomfort to one that is understanding of the sources of learning and knowledge we all walk from in this experience."
Follow NBC Asian America on Facebook, Twitter, Instagram and Tumblr.