Hong Thaimee's life almost took a very different direction.
Discovered in her 20's by a modeling scout in her native Thailand, Thaimee built her first career on her beauty, modeling in shampoo and coffee commercials.
"Back then, I did not feel that it was a path I wanted to be on," said Thaimee. "Modeling wasn't for me."
The transition from model to chef came by way of yet another career -- this time after earning an MBA and working for global pharmaceutical company Merck. Still, Thaimee felt, she lacked passion for her work.
A self-funded, soul-searching trip around the world brought her back to the place she started -- enthralled by the Thai recipes of her childhood and a passion to introduce them to others. After stints at famed Chef Jean-Jorges Vongerichten's restaurant, Spice Market, and the Mandarin Oriental in Chiang Mai, Chef Hong launched her own restaurant - Ngam - in New York's East Village, with a softer approach than most head chefs might have.
"I smile more than I yell. It adds soulfulness to my cooking that wouldn't otherwise be there."
Below, Chef Hong shares a summertime favorite, her Thai Burger recipe.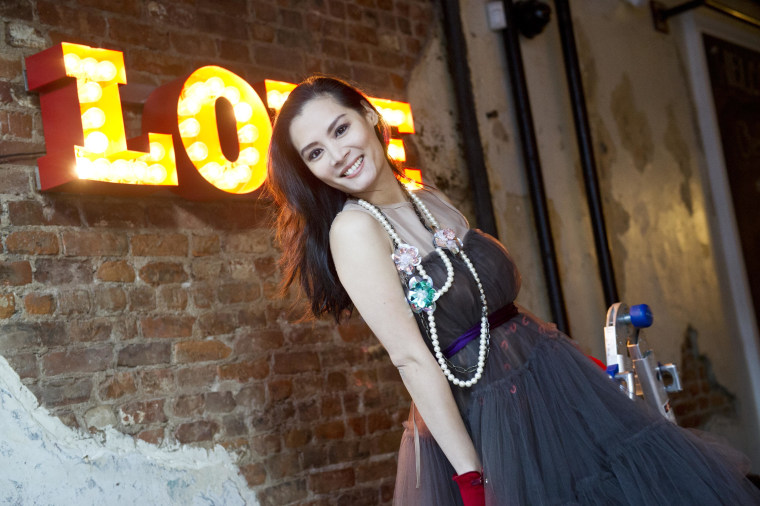 My memories of the kitchen are always colored by my grandmother, who was an amazing cook and who taught me to love and appreciate Thai ingredients. Throughout my youth, she showed me time-honored techniques that I use to this day in my kitchen at Ngam. She also encouraged me to be creative and take chances, and it is with this mentality that I moved from Thailand to cook in the US and bring a piece of Thailand with me. Though I love the more well-known cuisine of Thailand, I am also inspired by my surroundings and love to put a spin on traditional dishes!
The recipe here is a Thai twist on the traditional burger, and it has grown to become a signature favorite at Ngam. This recipe sums up my cooking philosophy perfectly, as it boasts some of my favorite Thai ingredients, in a form that Americans know and love. The "Sai Oor" Thai Burger is based on the flavors of Chiang Mai sausage, mixed with Sai Oor curry paste and topped with house-made cilantro-lime mayonnaise, and green papaya kraut. Like any burger, this pairs perfectly with a cold brew, and for me, I love the popular Thai beer, Singha, to enjoy alongside it.
--Chef Hong Thaimee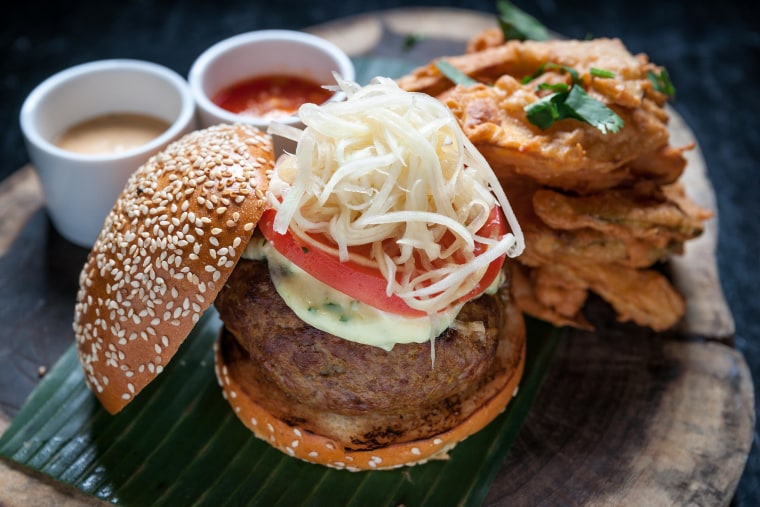 Thai burger
Makes 12 burgers
Ingredients (burger patties):
3 lbs ground beef
1 tbsp black soy sauce, like Dragonfly
2 tbsp Thai fish sauce, like Tiparos
9 whole Thai red chili, dried, de-seeded and soaked in water
1/2 tbsp salt
1 tbsp kaffir lime leaves
¼ cup lemongrass, sliced
¼ cup garlic
¼ cup shallots, roughly chopped
2 tsp turmeric, peeled and chopped
Ingredients (assembled burgers):
4 brioche buns
1 ripe garden tomato, sliced
Cilantro-lime mayonnaise (see recipe below)
Papaya kraut (see recipe below)
Directions:
Soak dried Thai red chilis in water for 10 minutes or until softened.
Mix all ingredients together, except for ground beef, and pulse in food processor for around 3 minutes or until it forms into a paste.
Combine paste with ground beef in a large bowl, put on a pair of plastic gloves and knead together with hands until well incorporated.
Once finished, divide mixture into 4 balls and flatten into patties with the heel of your hand. Place patties in the fridge and let marinate for at least two hours, preferably overnight.
Once ready to grill, remove patties from the fridge and let sit at room temperature for a few minutes to ensure even cooking later.
Heat grill, or if indoors fire up stove to medium-high and use a cast-iron skillet.
Place burger patties on the grill, or oiled skillet, and cover with a lid to keep the meat moist.
Once the burger is done to your liking, grill buns and assemble with cilantro-lime mayonnaise, sliced garden tomato and papaya kraut.
Cilantro-lime mayonnaise
Note: Instead of making the mayonnaise base yourself, you can use 1 cup of store-bought mayonnaise in place of the egg yolks and oil.
Ingredients:
2 egg yolks
1 cup canola oil
1 tsp salt
1 tbsp fresh lime juice
2 tbsp cilantro, finely minced
1 zest of lime
1 tsp ground black pepper
Directions:
Carefully separate egg whites from yolks and pour yolks into standing mixer bowl.
Beat eggs on highest setting for 2 minutes until it turns a light yellow color.
While mixer is running, slowly add oil, about half teaspoon at a time. Be careful to not add too much oil too quickly because the oil and egg will separate, giving it the appearance of scrambled eggs.
Once the mayonnaise looks fluffy and glossy, remove from standing mixer and fold in the rest of the ingredients.
Papaya Kraut
Ingredients:
½ cup tamarind concentrate
½ cup fish sauce
½ cup palm sugar
1 ½ cup shredded green papaya
Directions:
Stir together tamarind concentrate, fish sauce and palm sugar in a pot over medium-high heat until the sugar is completely dissolved.
Take the pot off the heat and let cool in an ice bath for about 5 minutes.
Once liquid is at room temperature, add shredded papaya and mix together.
Shopping note: You can find Thai ingredients at most Asian supermarkets.