No matter the culture, food is a central part of celebrating the Lunar New Year across the globe.
NBC Asian America spoke with chefs across the country to ask about their favorite recipes and memories in celebrating this important tradition.
Follow NBC Asian America on Facebook, Twitter, Instagram, and Tumblr.
Simpson Wong, Chef of Chomp Chomp in New York City
"Prawn (ha) in Cantonese sounds like 'laughter' and 'happiness,' and we eat this dish to usher in laughter and happiness during Lunar New Year," says Simpson Wong, the Malaysian chef who owns Chomp Chomp in Manhattan. "Not to mention, it's a delicious dish that is a great fit for any feast."
Laughing Prawns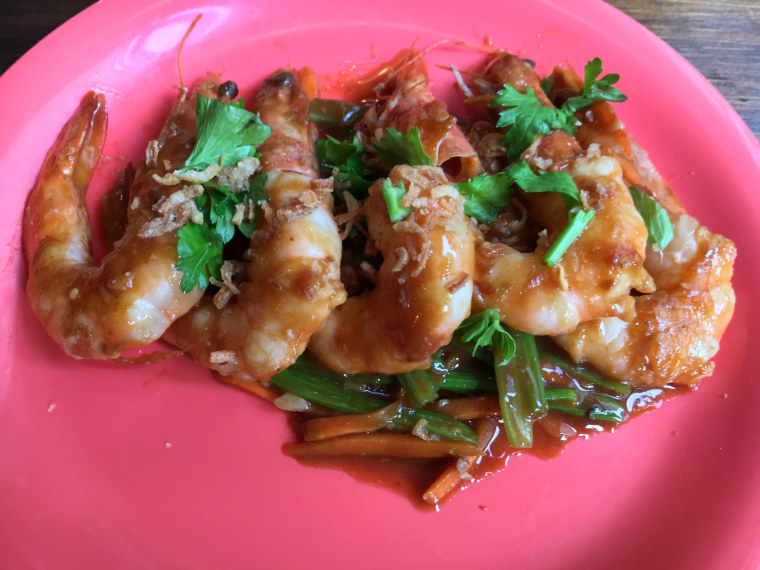 Ingredients
6 large head on prawns
1 teaspoon of minced shallot
1 teaspoon of minced garlic
1/4 cup of thinly sliced celery
1/4 cup of thinly sliced red bell pepper
1/4 cup of thinly sliced mango
3 tablespoons of oil
Seasoning:
1 teaspoon of Sriracha chili paste
2 teaspoons ketchup
2 teaspoons of plum sauce
1/2 teaspoon of soy sauce
1/2 teaspoon of oyster sauce
1 teaspoon of sugar
2 tablespoons of water
1 teaspoon of cornstarch mixed with 2 tablespoons water
Method
Shell the prawns, remove vein but leave the heads on. Heat oil in a pan to fry the prawns until half cooked, remove and set aside.
In the same pan: add shallot, garlic, mango, bell pepper and celery. Stir well for a minute, add the prawns and the seasoning, and let it braise for two minutes or until the prawns are cooked through.
Serve immediately with steamed jasmine rice.
Cecilia Chiang, 2013 James Beard Lifetime Achievement Winner and Chef of Mandarin in San Francisco
Long before Chinese food was a staple of the American diet, Cecilia Chiang opened the Mandarin Restaurant in San Francisco. It became known worldwide, and Chiang was described by some as the Julia Child of Chinese food.
She tells NBC News that this simple but delicious recipe for "Lion's Head" was a dish her mother cooked regularly. "Because the Lion's Head is round, it is always eaten for Chinese New Year because it symbolizes the family all being together — just like Christmas. The Chinese see round shapes as a symbol for happiness for the new year," she said.
Lion's Head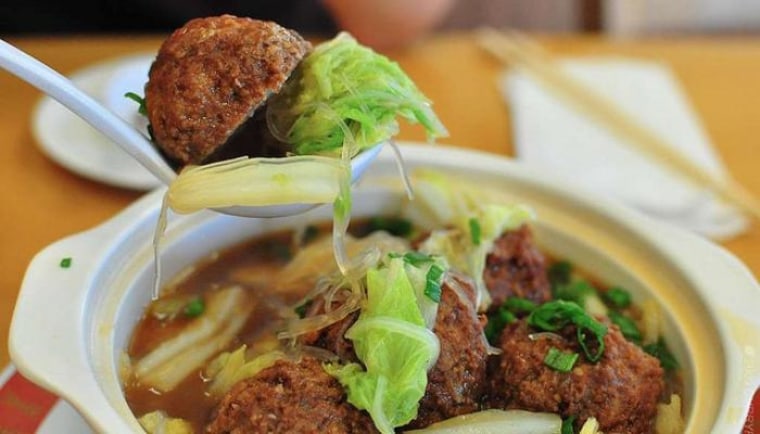 Ingredients
1 large head (about 1 1/2 pounds) Napa cabbage
4 ounces bean thread (cellophane) noodles
1 pound lean ground pork
1/4 cup (about 4 ounces) drained and finely-minced canned water chestnuts
1 tablespoon minced green onions, white part only
1 tablespoon peeled, minced fresh ginger
3 teaspoons kosher salt
3 tablespoons premium soy sauce
1 tablespoon Shaoxing wine
1/2 teaspoon freshly ground white pepper
Peanut or vegetable oil, for frying
1 1/2 cups chicken broth
1/2 cup water
Method
1. Trim off the root end of the cabbage head and reserve. Quarter the leaves lengthwise and then cut them again crosswise into thirds. Set aside. 2. To prepare the noodles, pour hot water over the bean thread noodles in a bowl, and let them soak until they are soft, about 15 minutes. Keep the noodles in the water until ready to use, as they tend to dry out quickly.
3. To form the meatballs, combine the pork, water chestnuts, green onions, ginger, 2 teaspoons of the salt, 1 tablespoon of the soy sauce, wine and white pepper in a bowl. Using your hands, gently mix all of the ingredients together until well combined. Don't overmix or the pork will become gummy. Lightly oil a rimmed baking sheet. Using a 1/2-cup measure, loosely form the pork into 4-ounce balls and place them on the prepared baking sheet. Set aside.
4. Line a plate with paper towels and have it ready near the cooktop. Heat a large non-stick skillet over high heat until a bead of water dances on the surface and then evaporates. Cover the bottom of the skillet with a thin film of the oil and swirl to coat. Arrange the meatballs in a single layer in the bottom of the pan, but do not overcrowd them (depending on the size of your pan, you might need to cook the meatballs in several batches). Decrease the heat to medium and cook the meatballs, turning with tongs to cook evenly, until all sides are well browned, about 6 minutes. Transfer the meatballs to the prepared plate. Repeat this process for as many batches as needed.
5. Put the reserved root ends of the cabbage in the bottom of a large saucepan. Gently place the meatballs on top and pour over the chicken broth and the 1/2 cup of water. Bring the pot to a boil over high heat, decrease the heat to medium-low and simmer the mixture, uncovered, until it has cooked down a bit, about 5 minutes. Add the cut up cabbage leaves and the remaining 1 teaspoon of salt. Cover the pot with a tight-fitting lid and continue to simmer until the meatballs are cooked thorough and the cabbage is tender, about 10 minutes more.
6. Drain the noodles, add to the saucepan with the remaining 2 tablespoons of soy sauce, and stir to combine well. Remove the pan from the heat.
7. To serve, arrange the meatballs on top of the cabbage and noodles on a platter. Serve immediately.
Erik Bruner-Yang, Chef of Toki Underground in Washington, D.C.
"I learned how to make my dish from my mother," says Erik Bruner-Yang, who shared this recipe from his Taiwanese upbringing. "It's one of our most popular dishes at Toki Underground. We sometimes serve it as a 'Fried Chicken Dan Dan Mien.'"
Chicken Karage (serves 6-8)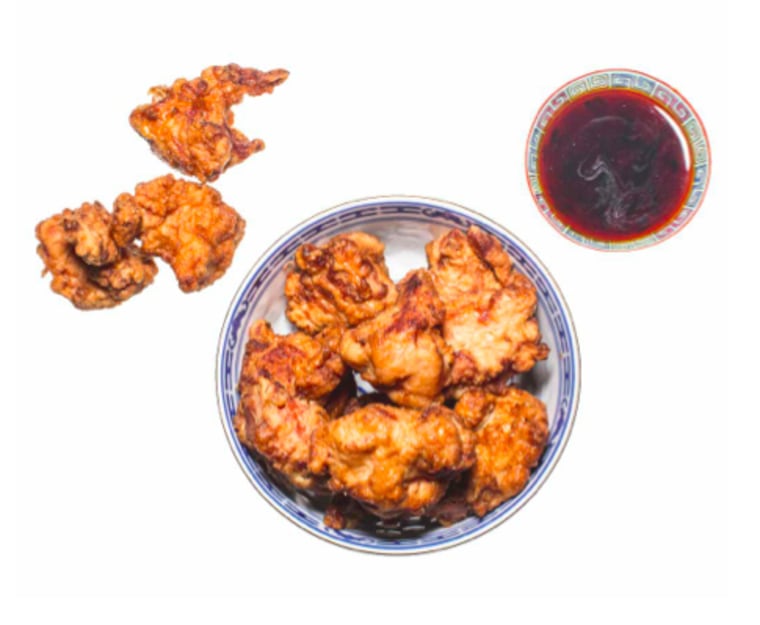 Ingredients
1 pound diced chicken
1 egg
1/4 cup soy
1/4 cup sake
1/4 cup minced garlic
1/4 cup minced ginger
1 cup togorashi
1 cup potato starch
Method
Mix all the ingredients except for the diced chicken and combine in a mixing bowl or container. Then add the chicken. Fry in a sauce pot with about 2 inches of vegetable oil at 375 degrees Fahrenheit or medium high heat for 4 minutes or until golden brown.
"I always love making potstickers for the Lunar New Year, as it reminds me of all the times my late mother made this for our family to celebrate while we were growing up," Katie Chin tells NBC News. "This is an easy and fun recipe which I now make with my seven-year-old twins. By getting them involved, it's a wonderful way to teach them about the Lunar New Year and our Chinese heritage."
Potstickers (serves 6-8)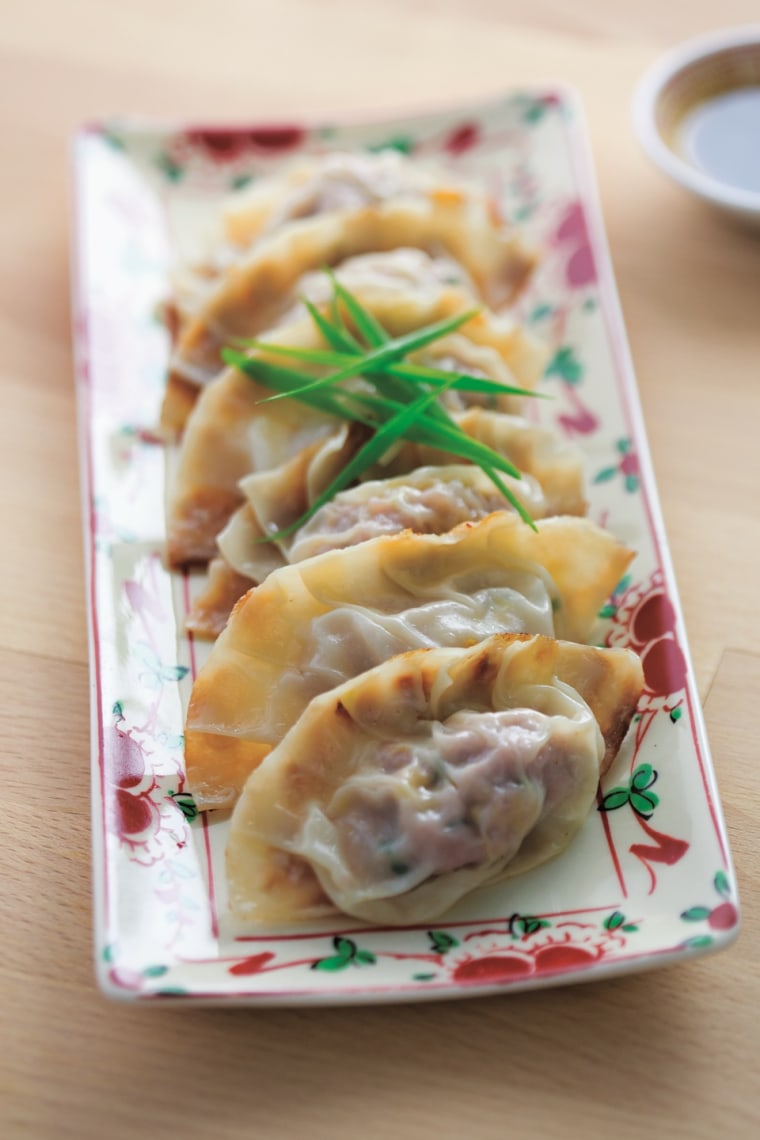 Ingredients
4 ounces (100 g) napa cabbage, cut into thin strips
1 1/2 teaspoons salt, divided
8 ounces (250 g) ground pork or chicken
2 tablespoons finely chopped green onion (scallion), white and green parts
2 teaspoons dry white wine
1/2 teaspoon all-purpose cornstarch
1/2 teaspoon dark sesame oil
Dash of white pepper
20 to 30 potsticker wrappers
2 to 4 tablespoons oil for frying
Dipping sauce
4 tablespoons soy sauce
1 teaspoon dark sesame oil
1/2 teaspoon sugar
Method
1. Toss the cabbage with 1 teaspoon of the salt and set aside for 5 minutes, then roll the cabbage up in a clean dry dish towel. Twist the dish towel to squeeze out the excess moisture.
2. In a large bowl, mix the cabbage, pork or chicken, green onion, wine, cornstarch, sesame oil, the remaining ½ teaspoon salt and the pepper.
3. Lay a potsticker wrapper on a clean work surface. Place 1 tablespoon of the meat mixture in the center. Lift up the edges of the circle and pinch several pleats up to create a pouch encasing the mixture. Pinch the top together. Repeat with the remaining wrappers and filling.
4. Heat 1 tablespoon of the oil for frying in a wok or skillet over moderately high heat. Place 12 dumplings in a single layer in the wok or skillet and fry 2 minutes, or until the bottoms are golden brown. Add ½ cup (125 ml) water.
5. Cover and cook for 6 to 7 minutes, or until the water is absorbed. Repeat with the remaining dumplings.
6. Make the dipping sauce: Combine the soy sauce, sesame oil and sugar. Serve alongside the dumplings.
Litesh Hosabettu, Chef de Cuisine of the Garden Court Café at the Asia Society in New York
While Litesh Hosabettu is a native of Mumbai, he considers Chinese food an adopted cuisine. At the New York-based Asia Society's Garden Court Café this year, he's cooking up a bento boxes to celebrate the holiday.
"Because it represents prosperity in Chinese culture, whole fish, in general, is a time-honored Lunar New Year tradition," Hosabettu says. "Since catfish symbolizes surplus, serving it is like reinforcing the prospect for prosperity in the new year. I also like the fact the dish even looks festive with the colorful vegetable garnish playing the role of confetti."
Steamed Whole Catfish with Black Vinegar Sauce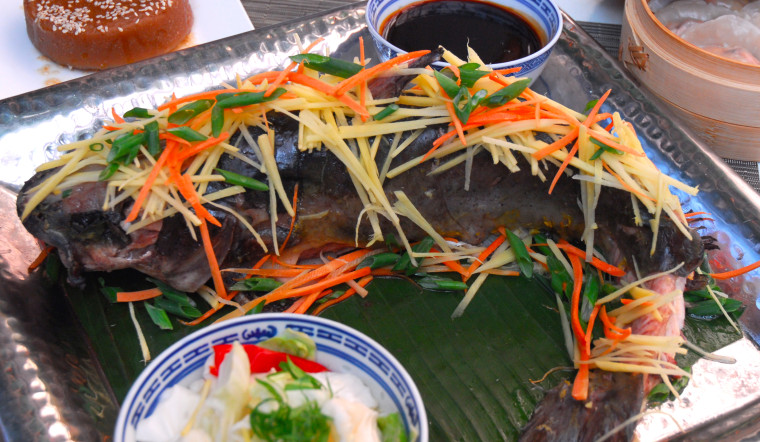 Ingredients
1 medium size catfish about 1 1/2 pounds, gutted and cleaned
3 tablespoons vegetable oil
6 thin slices ginger
3 scallions, cut into 2-inch pieces
3/4 cup Shaoxing wine
2 tablespoons sugar
2 1/2 tablespoons Chinese black vinegar
1 tablespoon dark soy sauce
2 teaspoons light soy sauce
2 teaspoons cornstarch
Garnish
2 inches ginger, peeled and julienned
1 stalk scallion, julienned and into 2 inch length
1 stalk scallion, rough chopped
1 small carrot, peeled and julienned in 2 inch strips
Method
For the fish:
Clean the fish in cold running water and pat it dry. Stuff the belly of the fish with half ginger strips. With the point of a sharp knife make four or five small slits down to the bone along sides of fish, which will help it to cook evenly. Place fish in steamer and drizzle ¼ cup of the Shaoxing wine on it.
Heat water in a wok or sauce pan and bring it to boil. Then place the steamer over water and cover. Steam it for 8 to 10 minutes or until flesh of fish is white.
For the sauce:
In a pan, heat oil until hot. Add ginger slices and scallion pieces. Sauté until fragrant, about 30 seconds. Add remaining wine and burn off the alcohol for 10 seconds. Add the vinegar, both soy sauces and sugar. Bring it to boil.
While sauce is reaching boiling point, make a slurry with the corn starch and 1 tablespoon of water. Reduce the flame to simmer and add slurry to the sauce, whisking continuously till the corn starch dissolves and the sauce thickens.
To serve:
Gently place the steamed catfish on a platter and garnish with ginger, scallions and carrot.
Sauce can be poured over the fish or served on the side.
Sunil Kumar, Chef of Marigold Maison in Chicago and Phoenix
"These lamb chops remind me of Kashmir, India," say Sunil Kumar. "When I was growing up, my father was in the military and stationed there. Whenever I would visit, he always cooked them for me. I remember grabbing each chop with my hands, relishing the flavors, and especially enjoying eating them with my hands."
These memories are connected to holidays, such as the new year, for Kumar, who also grills these lamb chops for his own family.
Lamb Chops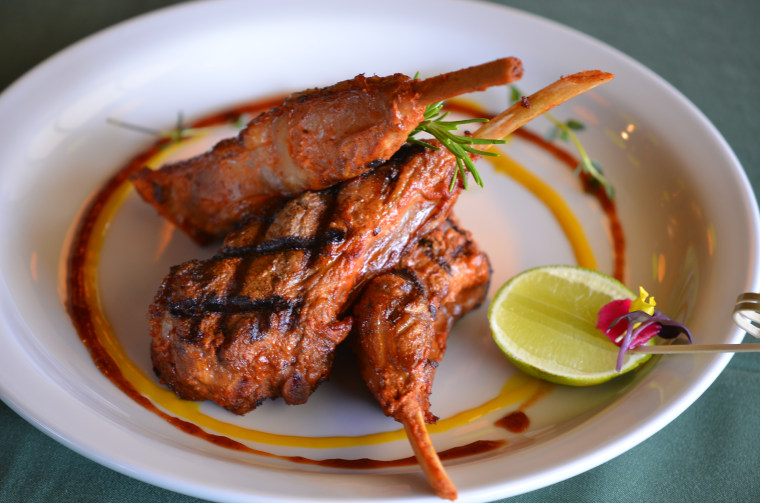 Ingredients
5 pounds lamb chops, 1-inch thick
1 ounce fresh garlic
1 once fresh ginger
1 cup plain yogurt
1 ounce fresh mint
1 ounce fresh cilantro
1/4 cup fresh lemon juice
1 1/2 tablespoons Kosher salt
1 tablespoon turmeric powder
1 tablespoon paprika powder
1 tablespoon garam masala
Method
Place yogurt, ginger, mint, cilantro, and lemon juice in grinder, and make smooth paste.
Place all the lamb chops in large bowl, add the paste. Mix together with hands, make sure all lamb chops are coated with marinade.
Cover the bowl and keep in refrigerator 2-4 hours or overnight.
Remove the chops from the refrigerator and let stand at room temperature for 30 minutes. Pre-heat the grill, 350 degrees.
Clean the grill with oil. Place the lamb chops on the grill 5 to 7 minutes on each side, or until cooked to desired temperature. Brush both sides with olive oil.
Serve chops with salad and lemon.
RELATED