As an Asian American woman, author Celeste Ng says she's always been painfully cognizant of how strangers may read her.
"In my case, it's often the expectation that I'm going to be very meek and submissive," she told NBC Asian America of the additional temperature check so many women of color take in less-inclusive situations.
Ng, whose book "Little Fires Everywhere" has been turned into a new miniseries on Hulu, explained that she tapped into this sensitivity to write the book, particularly the character Bebe Chow, an undocumented immigrant from China. While Bebe may not be the entire focus of the show, she doesn't have to be to make a statement.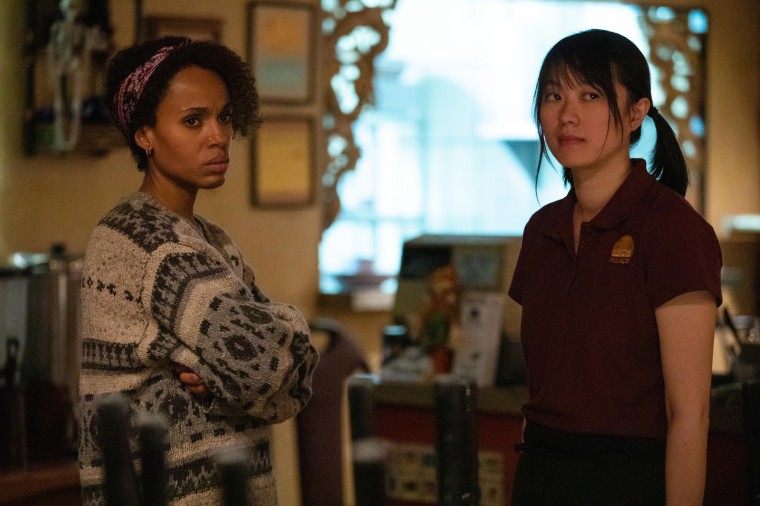 Much of what Chow confronts in her storyline is drawn from the uphill battle many Asian women fight when simply existing in different environments, the struggle to be humanized.
"If you go through life, at least in the U.S., as an Asian American woman, you become really hyper aware of how people are perceiving you even before they may even say something to you," Ng said. "Part of what I was thinking when I was writing this character Bebe, I was sort of thinking about all the preconceptions that people are probably superimposing onto her and how she was going to meet or more likely subvert those stereotypes."
Chow's story revolves around her fight to reclaim her daughter, May Ling, who she gave up during a period of difficult financial turmoil. The character, who makes a living working at the Chinese restaurant Lucky Palace and speaks in broken English, was deliberately written in a way that would buck "model minority" stereotypes. But Ng said that to develop a character many would consider subversive, she stuck to an authentic portrayal of a piece of Asian America.
"I have family members who work in service industries who are bus drivers, or who work in the restaurant industry, or who work in cleaning," she said. "The current narrative is like, 'you're a striving immigrant and our goal is to become either a banker or doctor,' It's not specifically just to even out the scale. This is a life that exists in the world, and it exists in my world. So I wanted to show it. And I tried to do justice to her as well as I could."
Ng explained she was careful to humanize the character by showing Chow's choices resulted from a "situation where she doesn't have control."
"I tried to show that ... this is not like she's stupid," the author explained. "She doesn't have power, and she's trying to do the best that she can with where she is, which is something that's very real to me."
Ng's book knits together an arc of emotions, particularly around one of the most intensely human experiences of all: motherhood. Though the feelings, both of joy and loss, trauma and healing, aren't necessarily topics that those raised in a predominantly Asian culture are taught to air, let alone fixate on, she said the writing process is where she works through these emotions.
By writing characters that, she describes, feel "farthest away from me," Ng says she is indirectly unpacking the unspoken thoughts and intentions behind some of her own parents' decisions, from demanding good grades to a hesitancy to talk about the past.
"A lot of it feels like coming out of a really intense therapy session. It is sort of processing things that we're encouraged to not process and we're encouraged to just try and leave behind," she said. "When I'm writing, I come out of this in a very raw emotional state. … It has sort of made me try to be much more deliberate and conscious of every parenting decision that I make."
Though Ng said the TV series isn't meant to be a carbon copy of the book, describing the show as existing in a "parallel" universe, she ultimately hopes viewers will take away one of the most important lessons from her novel.
"It's a different piece of art and it's a different medium," she explained. "Both the book and the show, I hope, will get people to just reconsider what first impressions they bring to any person or any situation. … That's the closest to the moral of the story that I ever put into it. Things are more complicated, and maybe there's more to other people than we thought there was."