CEBU CITY - The last time Rotaplast International went to the Philippines, an earthquake struck in the middle of surgery—and not just any earthquake, but the 2013 Bohol earthquake, the biggest and deadliest earthquake to hit the country in recent years. Today, one year later, doctors can laugh as they talk about the morning the lights went out, mid-surgery, and the rest of the building rushed to evacuate. With no electricity, working by battery-operated headlamps, they chose to stay behind, and finish the surgery.
Rotaplast International is a humanitarian organization founded in 1992 by the Rotary Club of San Francisco to provide reconstructive surgery free of charge around the world. With teams of volunteer surgeons, anesthesiologists, registered nurses, and pediatricians, they head for places like Bangladesh, India, Chile, Philippines, Ethiopia, and have completed almost 17,000 surgeries on 192 overseas medical missions.
One year after the Bohol earthquake, Rotaplast has returned to Cebu City for its twelfth mission to the Philippines, to continue its work.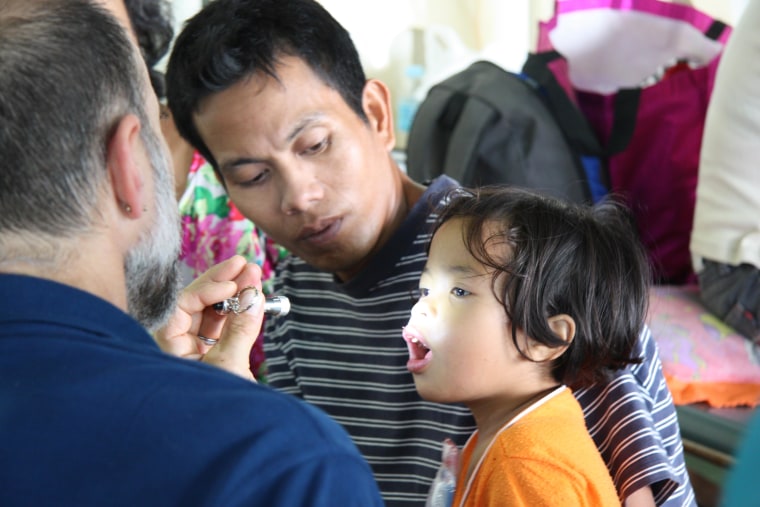 Not Simply Cosmetic
Cleft lip and cleft palate are among the most common birth defects here. "It is thought to be caused by some combination of genetics, nutrition, and environmental factors," said surgeon Dr. Frank Walchak.
For the American and international plastic and reconstructive surgeons who volunteer for these medical missions, the surgeries themselves take only an hour or two, but the difference for the child is lifelong. Not simply cosmetic, doctors say this procedure saves the child from bullying and discrimination -- thereby enabling education and improving future job prospects -- and helps the child thrive nutritionally and improve speech development.
"The procedure is simple, but profound," said recovery nurse Jean Patro, who said children's lives are changed almost immediately following the surgery.
Families travel great distances from remote rural location and from other islands to bring their children for treatment.
"Sometimes people say, why don't you help the people in the States," said Filipino-American anesthesiologist Dr. Daniel Ramos. "But people in the States can get help, somewhere, somehow. But in developing countries, there is no alternative."
In the United States, the CDC reports over 7,000 babies born each year with cleft lip and/or palate, however, those are mostly corrected immediately after birth, even for families without health insurance. In countries like the Philippines, families face economic barriers, long distances to travel for help, and a lack of medical professionals.
"Here, we're their last -- no, we're their first and their last -- opportunity," said Ramos. "And because my family is from here, I always think, 'it could have been me.'"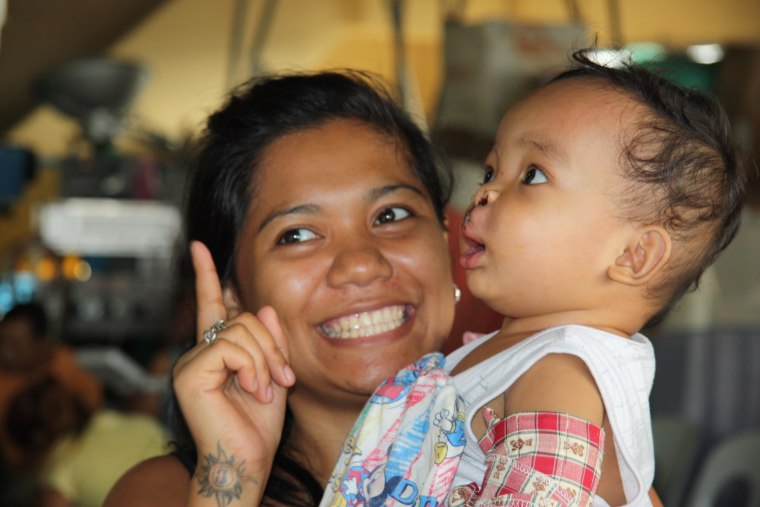 A Certain Sort of Personality
It takes a certain sort of personality to enjoy the creative challenge of working in unfamiliar and rustic conditions—let alone using all of one's vacation time to work 12-18 hour days. Yet many return to volunteer again and again.
Evelyn Abad is a dynamic and diminutive Filipina-American registered nurse living in San Francisco. Before emigrating to the United States, she once assisted a Filipino doctor on a medical mission to a remote area of the Philippines, where she saw firsthand the power of this simple surgery to transform children's lives. She went on to complete many medical missions while raising her family. Now that Abad has officially retired, she volunteers full-time as the medical team coordinator for Rotaplast, often working 40-60 hours a week.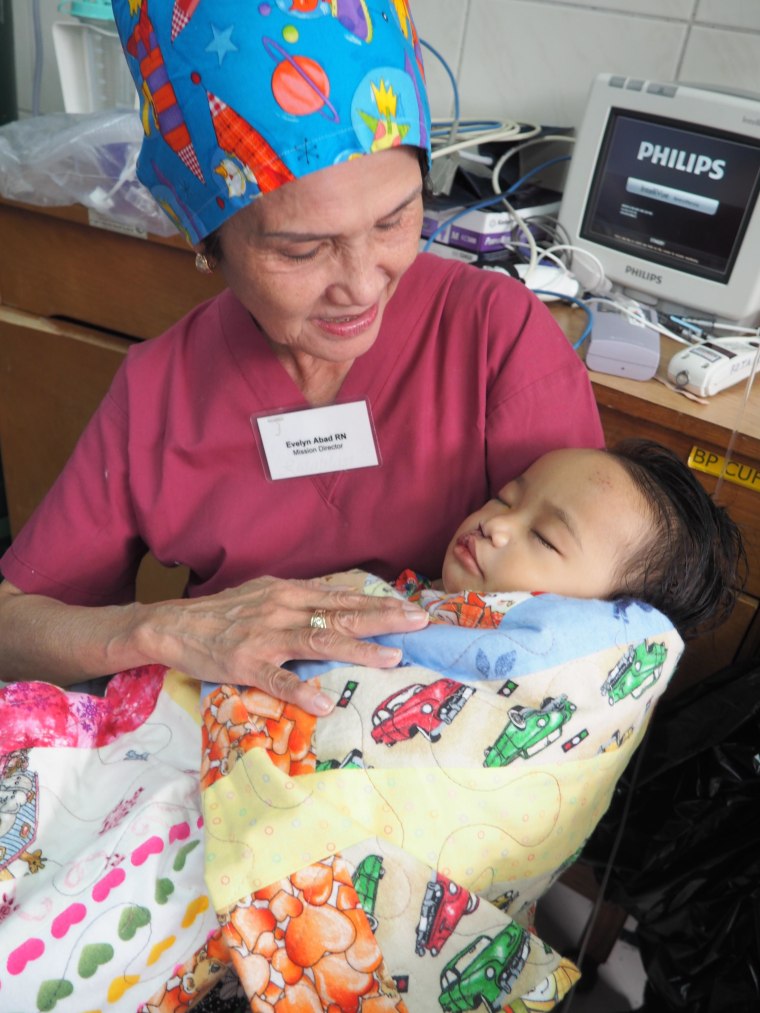 Originally, Rotaplast worked only in South America. However, Asia has the highest incidence of cleft lip and palate, with some estimates at 1.99 per 1000 live births. An estimated 4,500 babies each year (and 250,000 children and adults) need treatment in the Philippines alone. "So I asked, why not bring Rotaplast to the Philippines," said Abad, "and I wrote the proposal."
International Partnerships Through Family
Antoine "Anton" Florendo, whose wife Lili is Abad's cousin, first learned about Rotaplast when he and his wife visited the United States, and often found that Abad was not at her San Francisco home, but away in South America on another mission.
"I knew it was her dream to bring Rotaplast to the Philippines," said Florendo, "so I made it my dream, too."
Florendo worked with his Rotary Club of Cebu Port Center to bring Rotaplast to the Philippines -- planning, doing outreach to make sure that families in remote provinces know about the mission and are able to come, making connections, forging alliances, working out facilities and logistics, and helping with translations and cultural considerations. They even strategize who to accept as new Rotary club members in terms of whose business and connections can contribute to the success of the next medical mission. This local partnership is key.
"We treat each mission like it's our first," said Florendo. Rotaplast will treat their one-thousandth patient next year.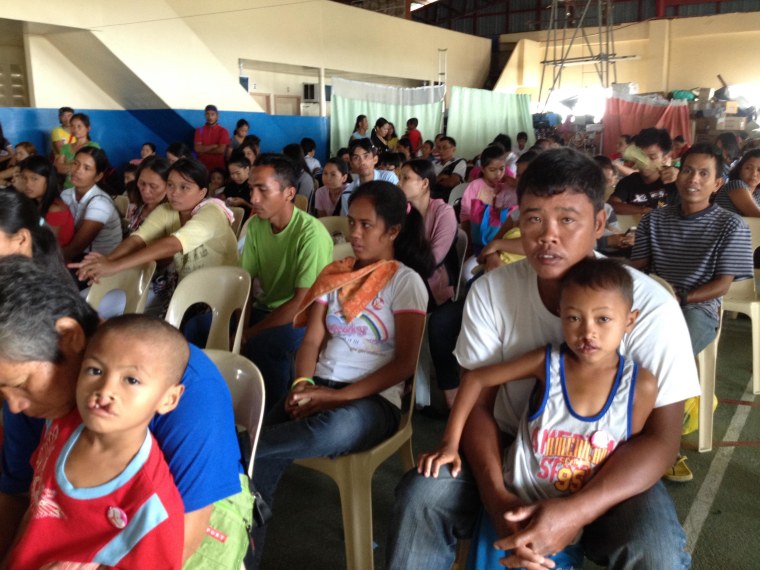 The international nature of the project, participants say, lends to its strength. Medical professionals from around the world volunteer to be on the team. Rotary clubs from around the world support the mission financially and by providing non-medical volunteers. The organization also partners with local nurses and dentists to help care for patients, as well as with local Rotary Clubs who smooth out logistics and get things done on the ground.
"All my first missions were to the Philippines," said Filipina-American operation room nurse Mia Pena. "Missions to other countries are no less important, but coming home to my country, my people, with the same black hair and same brown skin, has a special place in my heart. Because I grew up here, I know how hard it can be."
On this two-week mission, the medical team will screen about 125 patients and treat 80. "These procedures do not only help the child," said Abad. "But also the child's parents and siblings, the local nurses and doctors, the different rotary clubs and hospitals. There's a ripple effect, and you will be transformed too."
As the first small patient, only one year old, slowly wakes up after her surgery, operating room nurse Victoria Slama whispers in her ear, "Hello beautiful. Now go to school and have a beautiful life."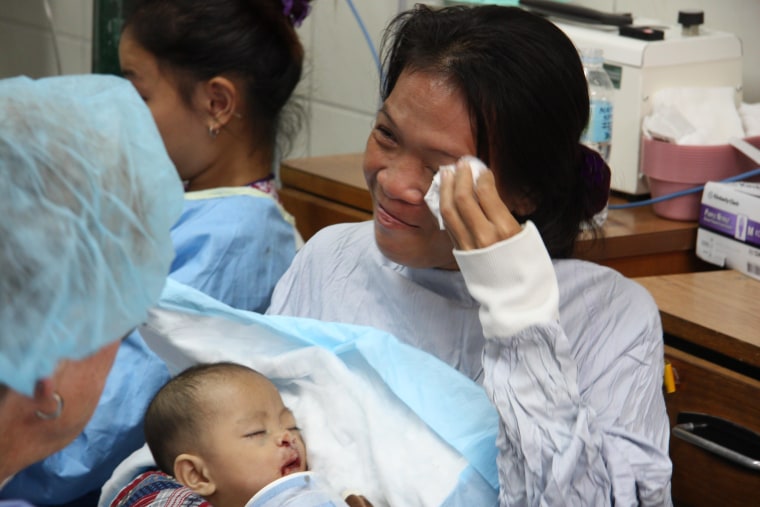 The reporting for this article was made possible by Rotary International. This Rotaplast International mission was made possible by the Rotary Club of Summerland BC Canada, Geyer Foundation, and Rotary Club of Cebu Port Center Philippines.