Three Filipina-American creatives are bringing a celebration of Filipino culture with art, music, and food, at this year's Burning Man arts and community festival in the desert of Nevada, traveling to the festival in a jeepney, a type of vehicle made from modified surplus jeeps with custom paint jobs popular in the Philippines.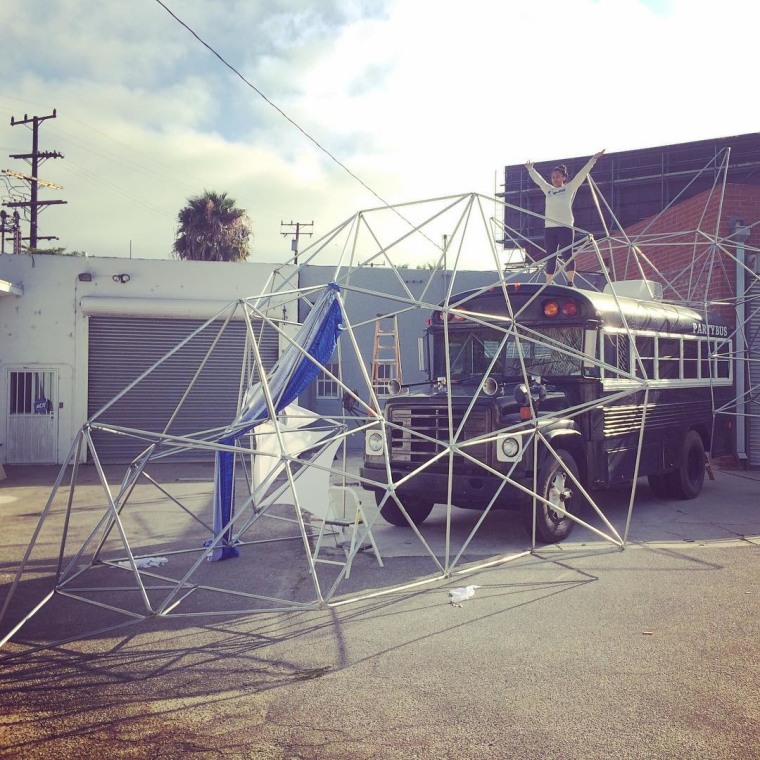 "This is the first time there will be a Filipino pop-up dinner in the ultimate pop-up city: Burning Man," Yana Gilbuena, a chef and creator of the SALO Series of Filipino pop-up dinners, told NBC News. "We're so excited to bring an official Filipino-themed camp featuring the Philippine eagle jeepney art car, which Andrea [Aguilar] has been conceptualizing and building for the past year to represent the heart of Filipino culture: community."
RELATED: Fifty Dinners: Chef Takes Filipino Food Across America
"In the spirit of community, I'll be doing my SALO, which is the traveling Filipino kamayan pop-up dinner focused on communal dining and regional Filipino cuisine," she added. "Then we're also sharing tribal music traditions fused with electronic and hip hop beats by the Filipina DJ/musician: Gingee."
Burning Man is an eight-day-long arts and culture festival that takes place in the desert of northwestern Nevada in August of each year. The event is guided by the community's ten principles: radical inclusion, gifting, decommodification, radical self-reliance, radical self-expression, communal effort, civic responsibility, leaving no trace, participation, immediacy. This year, the even takes place from Aug. 28 to Sept. 5.
Aguilar, the artist behind the jeepney, was a television producer and filmmaker when she attended a Burning Man and decided to leave her job in order to reconnect with her culture through art and building a creative community.
She traveled through the Philippines and spent the past year creating the jeepney art car in the image of the endangered Philippine eagle. She is also making a documentary film about the project and hopes to also bring attention to the endangered Philippine eagle as well as to environmental issues facing the Philippines.
"We will show how active participation in your life, embracing your culture and creating something beautiful can help give meaning to your world," Aguilar wrote on the project's Indigogo crowdfunding page. "I want to show what injecting an underrepresented demographic at Burning Man will do for the event and see the reaction from our Filipino campers who have never experienced something like this."
Follow NBC Asian America on Facebook, Twitter, Instagram, and Tumblr.