For this year's Asian Pacific American Heritage Month, NBC Asian America asked chefs across the United States to share with us recipes they learned from their home kitchens or that were inspired by family recipes.
From Saigon-style pho and chilled udon to North Indian stuffed okra and a variation on chicken adobo, here are family recipes that chefs have taken inspiration from and adapted.
Do you have dishes of your own that you're proud of? NBC Asian America is creating a digital cookbook of family recipes. To submit yours and possibly have it included in a list at the end of May, fill out this form.
Also, share pictures of your family kitchen creations on social media using the hashtag #MyFamilyStyle for us to see them!
Follow NBC Asian America on Facebook, Twitter, Instagram and Tumblr.
Edward Kim, Chef of Mott Street in Chicago
For his dish based on a family recipe, the James Beard Award semi-finalist Edward Kim, chef of Mott Street in Chicago, shared with us his mussel hot pot, based on the soon do bee he ate growing up, which he said "provided much comfort" during coldweather.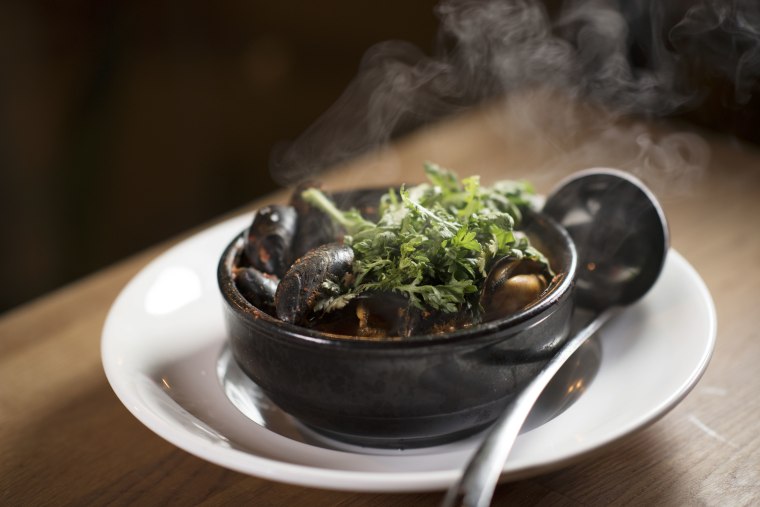 Mussel Hot Pot Recipe
Serves One
Ingredients
3 dried anchovies about two inches long, de-veined and heads removed
12 ounces water
2 ounces high-quality bacon, preferably hickory smoked
1/3 cup silken tofu
4 4-inch rice sticks (dduk), cut in half to create 8 2-inch pieces
8 ounces fresh mussels (roughly a pint in volume, shell and all)
1/4 cup zucchini, medium dice
1/4 cup white onion, medium dice
1 garlic clove
1 tablespoon Korean chili flake
1 teaspoon sesame oil
1 egg
8 sprigs fresh chrysanthemum
Method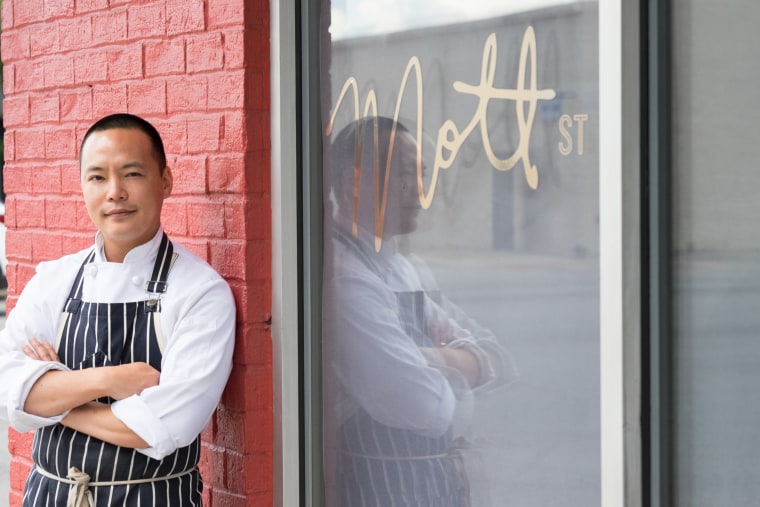 In a mortar and pestle, add Korean chili flake, garlic, and sesame oil and mash into a homogeneous paste.
In a quart-sized pot, add the water and anchovies and bring to a boil. Let steep for 15 minutes.
Pull out the dried anchovies, or leave them in, however you like.
Add a tablespoon of the chili paste and mix with the anchovy broth until homogeneous. Taste, and if you'd like the finished product spicier, add some more of the chili paste
Add the second set of ingredients, and bring to a boil, roughly 10 minutes, when the mussels open up, let them boil for about a minute more to cook through.
Taste the broth and season with salt. Mussels vary in salinity, so sometimes you will need a good amount of salt to bring out the flavor, sometimes you won't need any.
While the pot is still boiling, crack the egg into the boiling pot, and remove the pot from heat, the residual heat from the broth will gently poach the egg.
Top the dish with fresh chrysanthemum leaves.
Enjoy
Ross Pangilinan, Chef of Mix-Mix Kitchen Bar in Santa Ana, California
For his family recipe, Ross Pangilinan, the chef behind the recently opened Mix-Mix Kitchen and Bar, shared a version of chicken adobo that he learned from his maternal grandmother topped with chimichurri and fried shallots. In his restaurant, he serves a version of it made with pork.
"Growing up, my grandparents on my father's side lived with us and I grew up eating the Filipino food they cooked," Pangilnan told NBC News. "I always had an interest in cooking and being a chef, but I never spent much time in the kitchen with them (something I still regret)."
"My grandparents moved back to the Philippines my freshman year in high school, so the opportunity to cook with them and learn their recipes were gone," he added. "My grandma on my mom's side moved here later after I was already a chef and I didn't want to miss the opportunity to learn some of her recipes. One of them was the most popular Filipino dish Chicken Adobo."
Chicken Adobo
Serves up to six
Ingredients
4 to 5 pounds chicken legs and thighs with skin on
1 cup Filipino cane vinegar (I like Datu-Puti)
1 cup Filipino soy sauce (I like Datu-Puti)
2 heads of garlic, crushed
2 tablespoons black pepper
6 bay leaves
2 table cooking oil
Method
Combine all ingredients and marinate for 2 to 4 hours in the refrigerator.
Place in large pot and bring to simmer.
Simmer until tender, 30 to 45 min.
Take out the chicken and strain the sauce.
Pat the chicken dry.
Heat a non-stick pan with the cooking oil, brown the chicken on all sides a few pieces at a time.
Drain fat from pan.
Deglaze pan with sauce and reduce, add chicken back in the sauce and baste chicken with sauce.
Serve with a lot of rice.
My addition:
Top dish with chimichurri and crispy fried shallots.
Chimichurri
Ingredients
1 bunch parsley, chopped
1 bunch cilantro, chopped
2 tablespoon garlic, chopped
2 jalapenos, finely chopped
2 lemons, juice and zest
1 orange, juice and zest
1 cup olive oil
Method
Mix ingredients together.
Crispy Shallots
Method
Slice thin shallots coat in seasoned flour and fry till golden brown.
Drain on paper towel and season lightly with salt.
Justin Khanna, Former Sous Chef at Lysverket in Bergen, Norway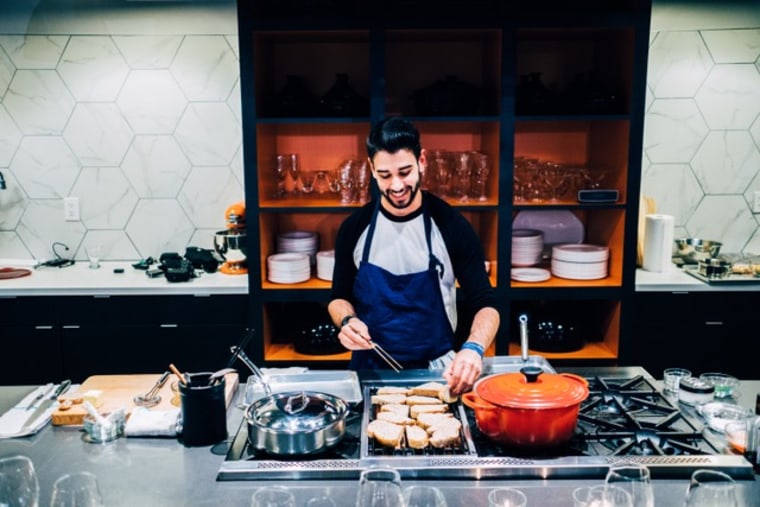 Chef Justin Khanna recently finished a stint traveling the world and working as a sous chef in Norway. He shares one of the best okra dishes he's ever had, which was made for him by his aunts in India.
"It's definitely my favorite way to enjoy the vegetable, plus it's super simple!" he told NBC News. "Really classic North-Indian recipe."
Bharwan Bhindi (Stuffed Okra Masala)
Ingredients
1 pound okra
2 tablespoons canola oil
1 tablespoon dry mango powder
2 tablespoons coriander power
1 teaspoon fenugreek power
1 teaspoon red chili powder
1 teaspoon star anise powder
2 teaspoons turmeric powder
1 teaspoon cumin powder
Salt, to season the spice mix as well as the okra after it's fried
Method
Wash okra well and remove the stem and bottom tip. Dry okra well.
Slit okra vertically so it can be folded open. Don't break it in half!
Mix the spice ingredients in a bowl with desired salt.
Sprinkle and fill insides of okra with spice mixture. Close up okra pieces so they're now stuffed okra.
Heat oil in a pan until hot but not smoking. (Use a wok if you have one!)
Add okra and cook on low until slightly colored but cooked thoroughly.
Plate and serve! This recipe goes great with chapatis or a fresh yoghurt dip.
Tatsu Aikawa, Chef of Ramen Tatsu-Ya in Austin and Houston
For his dish, Texas chef Tatsu Aikawa, a former hip-hop DJ who co-founded his restaurant in 2012 after some time at the Michelin-starred Urasawa in Los Angeles, shares a warm weather noodle dish in this chilled udon.
"This was my family's favorite lunch as the months got warmer," Aikawa told NBC News. "It's light and cold but has enough depth to satisfy the tastebuds from the dashi. Hints of bitterness from the daikon, freshness of ginger and sudachi (or key lime) makes this dish perfect for family gatherings, and it's fun to make the noodles with family."
"Most of the Japanese ingredients can be found in your local Asian supermarket," he noted.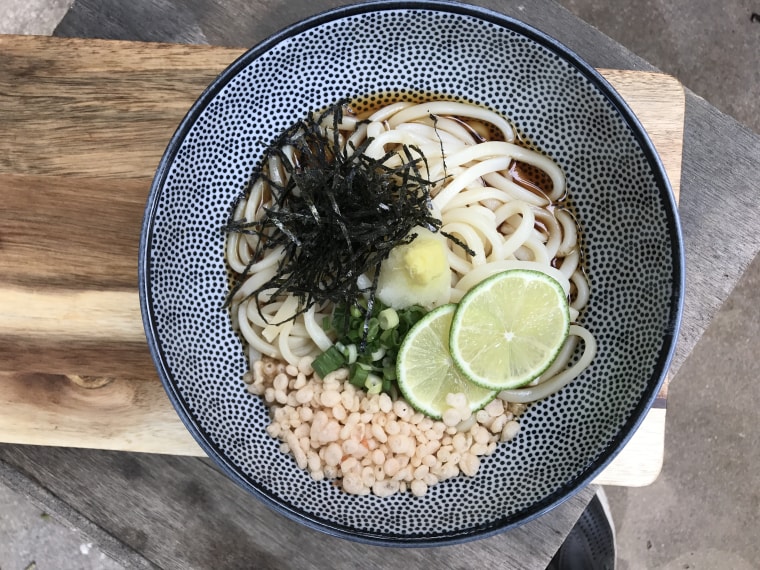 Hiyashi Udon (Chilled Udon Noodles)
Udon
You can make udon from scratch or you can buy any frozen pre-made udon.
Please note: Cook the noodles right before serving.
Ingredients
3.5 ounces Kyorikiko flour (higher gluten content than all-purpose flour)
2.5 ounces water
.5 teaspoon teaspoon salt
Method
Dissolve the salt into the water in a bowl, then add the flour.
Mix until the dry flour is no longer visible, then make a ball.
Using a circular motion, knead until the dough ball is firm.
Wrap the dough ball in plastic wrap for 15 minutes.
Roll out the dough with a rolling pin, dust it with flour, cut to 4 to 5 inches long, then cut the pieces to about .25-inch width.
Boil water, cook noodles for 10 to 13 minutes depending on the thickness of the noodles.
Rinse noodles under cold water to get the gluten off, shock in ice cold water bath and strain.
Mentsuyu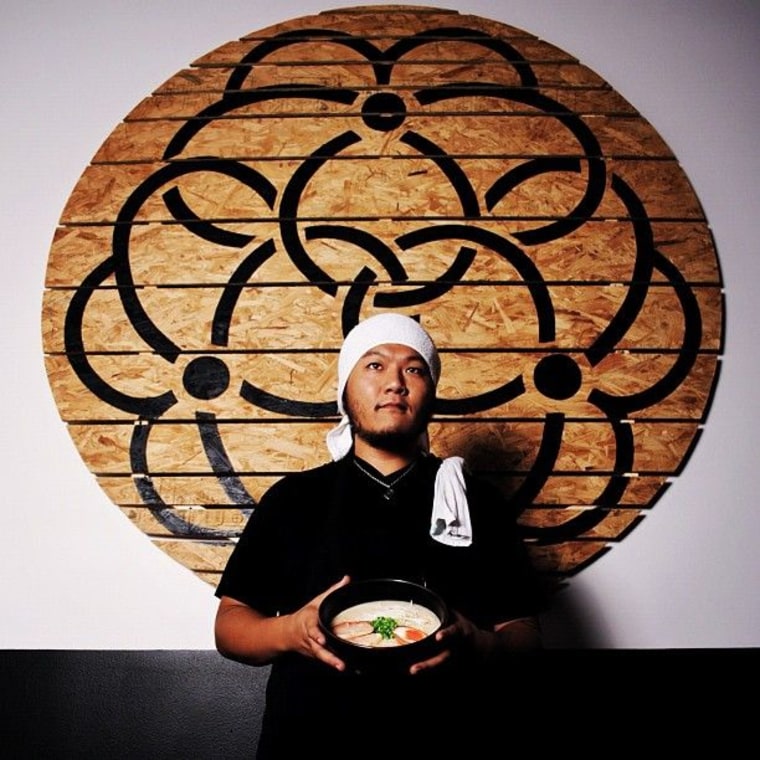 Mentsuyu is a dipping or noodle sauce.
Ingredients
3.5 ounces soy sauce
2.75 ounces mirin(sweet cooking sake)
1 ounce sake
1 tablespoon sugar
0.2 ounce bonito shavings
1 4-inch square of kombu kelp
1 piece dried shiitake mushroom
3 piece dried anchovy (optional)
Method
Mix all of the ingredients in a container and leave it in the fridge overnight.
The next day, put the ingredients in a pot, bring the heat up until it's slightly under boiling for 5 minutes.
Strain the mixture and chill the sauce in the fridge.
Garnishes
Add as much as needed
Daikon radish, grated
Ginger, grated
Green onion
Tenkasu(temura crumbles)
key lime or lime, halved
Cut nori
Putting it all together:
In your favorite bowl, add noodles, sauce, and garnishes with side of key lime or lime wedge. Slurp away!
Chef Jet Tila
For his dish, celebrity chef Jet Tila shares one of the first dishes he learned how to make at the beginning of his career — pineapple fried served in a hollowed-out pineapple — taken from his upcoming cookbook.
"Pineapple Fried rice was the first dish I learned how to make on the wok as a young cook at my family restaurants!" Chef Jet Tila told NBC News.
Pineapple Fried Rice from "101 Asian Dishes You Need to Cook Before You Die"
Serves 4
Ingredients
1 large pineapple
3 tablespoons vegetable oil
2 tablespoons Thai dried shrimp
4 to 6 garlic cloves, coarsely chopped
3 tablespoons shallots, diced
1/2 tablespoon ginger, finely chopped
1/2 cup chinese sausage, sliced thin.
4 to 6 medium shrimp, peeled and cleaned
4 cups day-old rice
2 to 3 tablespoons fish sauce
1 to 2 tablespoons thai soybean sauce
1 tablespoon sugar
1/2 tablespoon curry powder
2 to 3 green onions, chopped
pinch white pepper
3 tablespoon cilantro leaves
Method
Cut the pineapple in halves lengthwise and cut pieces out of the middle and carve out the middle creating a bowl. Cut about 1 cup of pineapple pieces into a medium dice for making the fried rice.
In a large skillet or wok, heat the oil for about a minute or until whisps of white smoke appears. Add the dried shrimp, garlic, shallots, ginger, and Chinese sausage and cook stirring constantly until sausage starts to crisp, about 3 minutes.
Stir in the shrimp and cook until the shrimp starts to turn pink, about 1 minute. Fold in the rice; making sure not to break the rice grains. Stir pushing down with the flat side of the spatula in small circular motions. This will separate the grains without breaking them. Cook for an additional minute until rice start to get hot.
Stir in the fish sauce, soybean sauce, sugar, and curry powder. Continue to stir it for another minute until well combined. Fold in the pineapple and incorporate it well for another 1 to 2 more minutes.
Fold in the green onions and white pepper. Transfer the fried rice into the halved pineapple. Garnish it with some fresh cilantro.
Chef Andrea Nguyen
From chef Andrea Nguyen's newest cookbook, she offers a recipe for Southern Vietnamese pho, which her parents, both from the northern part of the country, adopted.
"Here's the beef pho that I grew up with," she wrote. "My mother brewed it from memories and flavors that spanned decades, as well as the Pacific Ocean."
Saigon-Style Beef Pho (phở bò sài gòn) from "The Pho Cookbook"
Serves 8
Takes about 1 hour, plus 3 1⁄2 hours to simmer and cool
Ingredients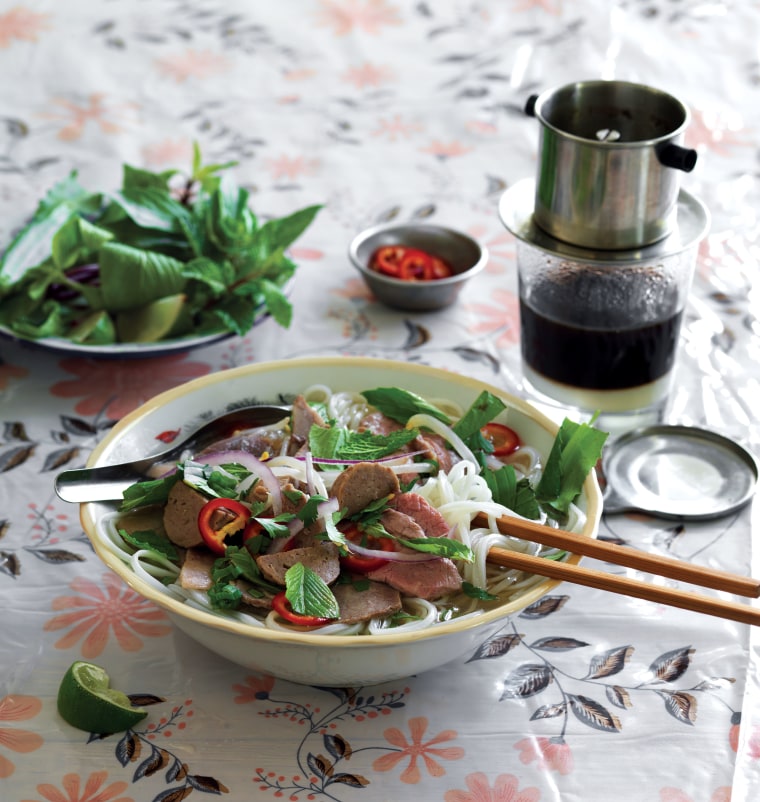 Broth
Chubby 4-inch section ginger, unpeeled
1 pound yellow onion, unpeeled
6 pounds beef marrow, knuckle, and neck bones
5 1⁄2 quarts water
5 star anise (40 robust points total)
6 whole cloves of garlic
1 husky 3-inch cinnamon stick
1 1⁄2 pounds boneless beef brisket, chuck, or cross-rib roast, cut into 2 pieces
1⁄2 ounce Chinese yellow rock sugar
1 1⁄2 tablespoons fine sea salt
About 1⁄4 cup fish sauce
Bowls
1 1⁄4 pounds dried narrow flat rice noodles, or 2 pounds fresh pho noodles
Cooked beef from the broth, sliced about 1⁄8 inch thick
Thinly sliced Steak for 8 (recipe follows), 16 beef meatballs, or some of each (optional)
1⁄2 medium yellow or red onion, thinly sliced against the grain and soaked in water for 10 minutes
3 or 4 thinly sliced green onions, green parts only
1⁄2 cup chopped fresh cilantro, leafy tops only
Pepper (optional)
Method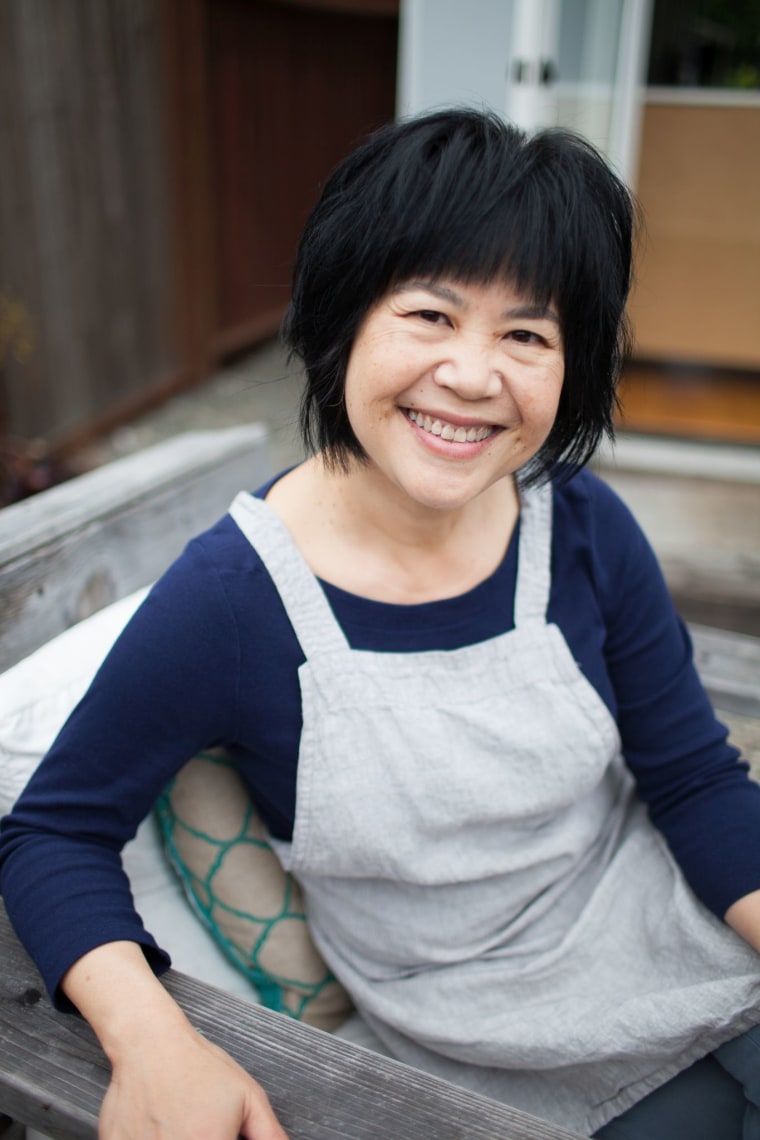 Make the broth: Char, peel, and prep the ginger and onion: Use medium heat on a gas or electric coil burner, medium-hot heat on an outdoor grill or barbecue, or the broil setting in an oven (have the rack in the top or second position). Regardless, let the skin get a little splotchy with black; use tongs to occasionally rotate the ginger and onion (or shallot) and to grab and discard any flyaway skin. When working indoors, turn on the exhaust fan and open a window. To steady the aromatics on the stove, use a small grilling rack, heavy-duty broiling rack, or oven-safe cooling rack.
Monitor the aromatics because they char at different rates due to their uneven size and shape. After 10 to 15 minutes, they'll have softened slightly and become sweetly fragrant. Bubbling at the root or stem ends may happen. You do not have to blacken the entire surface. Remove from the heat and let cool for about 10 minutes.
Remove the charred skin from the cooled onions or shallots, and as needed, rinse under running water to dislodge stubborn dark bits. Trim off and discard the blackened root and stem ends; halve or quarter each and set aside.
Use a vegetable peeler or the edge of a teaspoon to remove the ginger skin. Rinse under warm water to remove blackened bits. Halve the ginger lengthwise, cut into chunks, then bruise lightly (use the broad side of a knife or a meat mallet). Set aside to add to the stockpot.
When shopping, select firm, solid onions or shallots. If using shallots, big ones endure the charring best. Choose ginger that's relatively straight; side knobs and little branches make it harder to char and peel. To avoid feeling rushed, char and peel the aromatics a day in advance and refrigerate; cut and bruise before using. Set aside.
To achieve a clear broth, parboil and rinse the beef bones; use a medium stockpot, about 12-quart capacity. After rinsing off the impurities and scrubbing the pot, return the bones to it.
Pour in the water, partially cover, then bring to a boil over high heat. Uncover and lower the heat to a gentle simmer. Use a ladle or skimmer to remove any scum that rises to the top. Add the charred ginger and onions, plus the star anise, cloves, cinnamon, boneless beef, rock sugar, and salt. Bring to a simmer, adjust the heat, and gently simmer, uncovered, for 3 hours.
At the 1 1⁄2-hour mark, remove the boneless beef, which should feel firm (it will be easier to thinly slice later). Transfer to a bowl, add water to cover, and soak for 10 minutes to prevent dry, dark meat. Drain and set the meat aside, partially covered, to cool completely before using, refrigerating for up to 3 days, or freezing for up to 3 months. Meanwhile, maintain the broth at a steady simmer for the remaining 1 1⁄2 hours.
When the broth is done, let rest for 20 minutes to settle the impurities and further concentrate the flavor. Use tongs to remove bones and any large, retrievable bits. To save the bones for pho broth and bones or to salvage edible bits from them, soak the bones in water for 10 minutes, then drain, prep, and store accordingly. Otherwise, discard the solids.
Skim some fat from the broth, then strain it through a muslin-lined mesh strainer positioned over a large pot. You should have about 4 quarts.
If using the broth right away, season it with the fish sauce and with extra salt and rock sugar. When cooking in advance, partially cover the unseasoned broth, let cool, then refrigerate for up to 3 days or freeze for up to 3 months; reheat and season before using.
Prep and assemble the bowls: About 30 minutes before serving, ready ingredients for the bowls. Soak dried noodles in hot water until pliable and opaque; drain, rinse, then let drain well. If using fresh noodles, untangle or separate them and snip as needed. Divide the noodles among 8 soup bowls.
Cut the cooked beef as directed. If using sliced steak and/or meatballs, prep them as directed in their recipes. Cover and set aside if not using in 15 minutes.
Place the onion, green onion, and cilantro in separate bowls. Line them up with the noodles, beef topping(s), and pepper for a pho assembly line. Set the broth on medium heat to reheat and bring a pot of water to a boil for the noodles.
For each bowl, place a portion of the noodles in a noodle strainer or mesh sieve and dunk in the boiling water. When the noodles are soft, 5 to 60 seconds, lift the strainer from the pot, shaking it to force excess water back into the pot. Empty the noodles into a bowl. Top with the cooked beef and any other beef topping. Shower on the onion, green onion, and cilantro. Finish with a sprinkle of pepper.
Check the broth flavor once more, then raise the heat to bring it to a boil. Ladle about 2 cups (480 ml) broth into each bowl. Serve immediately with any extras at the table.
Thinly-Sliced Steak
Serves 4 to 8, depending on recipe
Takes about 20 minutes
For 8 servings: 8 to 10 ounces well-trimmed beef steak
For very thin slices, use a sharp thin-blade knife such as a Japanese santoku. As needed, cut the steak into chunks the size of a Roma tomato, about 2 by 3 inches (5 by 7.5 cm). Place on a plate and freeze for 15 minutes, or until firm on the outside. Identify the grain of the meat (which direction the muscle fibers are running), then cut across the grain to create slices a scant 1⁄8 inch (3 mm) thick. If the steak softens as you cut, return it to the freezer for a few minutes.
The sliced beef is best used at or near room temperature so it will be cooked by the boiling broth. Cover it to prevent drying if you don't use it within 15 minutes of cutting. It can be refrigerated for up to 24 hours; let it warm up to room temperature for bowl assembly.
Notes
To render thick slices thin or to tenderize the beef, do as cooks in Vietnam do: whack each slice one or two times with the broad side of a heavy cleaver or chef's knife.
For extra aroma, add a little peeled and minced ginger to each bowl along with the onion and cilantro garnish. For thinly sliced Wagyu beef or rib eye, shop at a Japanese or Korean market.
Reprinted with permission from The Pho Cookbook: Easy to Adventurous Recipes for Vietnam's Favorite Soup and Noodles by Andrea Nguyen, copyright © 2017. Published by Ten Speed Press, an imprint of Penguin Random House LLC.
RELATED