Home-cooked food is integral to growing up. In celebration of Asian American and Pacific Islander Heritage Month, NBC Asian America asked chefs across the country to share their favorite childhood recipes, from Vietnamese omelettes to chicken curry.
Beverly Kim, Chef of Parachute in Chicago
"Kyeran Jjim, or steamed eggs, was one if my favorite dishes my mom would make," Beverly Kim, chef-owner of Parachute and Top Chef finalist, told NBC News. "She would make a huge bowl of it that everyone would share out of. I really liked the silky, umami flavor of the eggs that was very comforting with a hot bowl of rice. This is great for breakfast or for dinner as a side dish. This is one of my son's favorite things to eat now!"
Kyeran Jjim
Serves two to three people
Equipment
Steamer
Medium ceramic bowl
Ingredients
3 eggs whole
3/4 cup anchovy broth or water
1 tablespoon minced onion
2 tablespoon finely julienned carrot
1/2 teaspoon dried chili threads
1 tablespoon finely sliced green onion
2 teaspoon toasted sesame seeds
1/8 teaspoon salt
1/8 teaspoon salted shrimp juice
1/8 to 1/4 teaspoon fish sauce
1 teaspoon sesame oil, half for mix and half to wipe in bowl
Method
Prepare the ceramic bowl by greasing it with half of the sesame oil and a paper towel. Prepare the steamer with water and boil. In a separate bowl, whisk eggs together with anchovy broth until smooth.
Add the rest of the ingredients until fully incorporated. Transfer to the ceramic bowl.
Once the steamer is ready, place the ceramic bowl of eggs in and cover. Steam for 12 minutes or until set.
Serve communally with hot Korean rice. Often times, we would scoop the silky egg custard into our rice bowls and smash the eggs into the rice until it became well mixed.
Cris Comerford, Executive Chef at the White House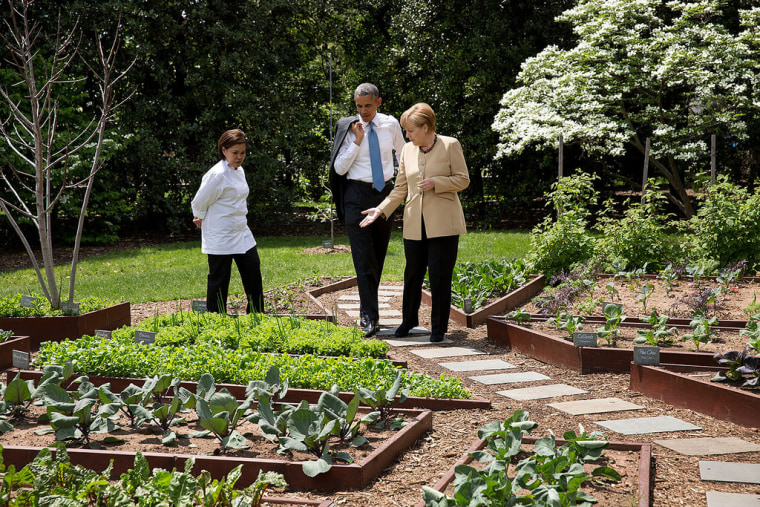 "My mother, or 'Nanay' as we fondly called her, was a woman of many talents and abilities," Cris Comerford, executive chef at the White House, told NBC News. "While managing a dress shop that employed multiple seamstresses and helpers, she would cook the family meal in between. Coming from a large family of eleven children and a few cousins, she cooked this dish, which was ample and sufficient for everyone while still saving on food costs."
Pork and Shrimp Dumpling Soup (Pancit Molo)
Ingredients
1 pack molo (wonton) wrappers
Filling
1/2 pound ground pork butt
1/2 pound shrimp, chopped
1/2 cup minced scallion
1 small onion, finely minced
1 teaspoon finely minced garlic
1/2 teaspoon ground white pepper
1 tablespoon fish sauce
1/2 teaspoon sesame oil
1 egg white, beaten for brushing the wonton
Broth
2 tablespoon oil
6 cloves of garlic, finely minced
1 small onion, finely minced
1 cup chopped country ham
2 cups julienned cabbage (Napa or regular cabbage)
6 cups chicken broth
salt and pepper, to taste
chopped spring onions for garnish
fried garlic chips for garnish
chili oil or sesame oil for finishing (optional)
Method
Mix all the ingredients for the filling, and pan fry a small patty to sample. Lay out the wonton wrapper on a cutting board or work table and place a spoonful of filling in the center. Brush around the edge of the wrapper with egg wash. Fold the wrapper, to make the two ends meet to seal and set aside.
In a medium size saucepan, heat oil. Sauté garlic and onions until fragrant.
Add the country ham and cabbage. Cook for a few minutes and then add the broth.
Bring the broth to a boil and then drop in the stuffed wontons. Let the soup simmer for a few minutes until the dumplings are cooked. Serve immediately. Garnish with spring onions and fried garlic.
If desired, drizzle with chili oil.
Chef Geeta Bansal, Chef at the Clay Oven in Irvine, California
"A version of this sauteed potato dish is made probably in every home in India," Geeta Bansal, chef at the Clay Oven in Irvine, California, told NBC News. "There may be regional variations in the spices used, but the taste is always memorable. As a child I loved this potato curry with a hot chapati or paratha after school. It is very simple and easy to prepare and since potatoes are available year round and especially in summer when there were not many choices of vegetables in the market it was an easy option."
Jeera Alu
Serves four
Ingredients
1 pound halved lengthwise parboiled fingerling potato such as Butterfinger or Red Thumb
1/2 teaspoon cumin seeds
1/2 teaspoon chili powder
1 tablespoon coriander powder
1 teaspoon cumin powder
1/2 teaspoon dried mango powder (optional)
1/2 teaspoon turmeric
3 tablespoons olive oil
2 tablespoons chopped cilantro
1 non-stick pan
Salt to taste
Method
Heat oil in a pan on medium heat. Add cumin seeds, sauté until slightly browned, about 30 seconds. (If it burn, start over.) Then add all dry spices. (Tip: Mix all dry spices together in a little water to prevent burning when added to the pan.)
Add potato pieces and stir carefully until the spice mixture coats all the pieces. Add salt, then add chopped cilantro and fold the mix. Serve hot or cold.
This is a versatile dish and easy variations can be done by adding spinach, arugula, dandelion greens, shelled green peas, tatsoi, cherry tomatoes, or pomegranate arils while sautéing.
Anita Lo, Owner and Executive Chef at Anissa in New York City
"This is a recipe my mother used to make," Anita Low, chef-owner at Anissa in New York City, told NBC News. "She was from Malaysia (although she was Chinese) and her family would send her a special curry powder from a little shop in Melacca once a year. This was one of the first recipes I learned to make –she sent me off to college with a box of her easiest recipes written on index cards."
My Mother's Chicken Curry
Ingredients
6 chicken thighs, skin on
1 onion
3 to 4 tablespoons Malaysian curry powder for chicken
2 tablespoons oil
1 bay leaf
2 Idaho potatoes, peeled and cut into golfball sized pieces
3 tablespoons coconut milk
salt and pepper to taste
Method
In a pot, sweat the onion in the oil until translucent. Then, add the curry powder and stir until fragrant. Add the chicken and bay leaf and cover with water. Add some salt and bring to a boil. Skim off the fat and then bring the pot to a simmer. Cook 30 minutes until chicken is cooked through and tender. Add the potatoes, bring the pot back to a simmer, and cook until done, about 5 minutes. Add the coconut milk
and season to taste with salt and pepper. Serve with white rice.
Hop Phan, Chef-Owner at Dos Chinos and Sit Low Pho in Orange County
"My grandma used to make these Vietnamese omelettes," Hop Phan, the chef-owner of Dos Chinos in Orange County, California, told NBC News.
Vietnamese Omelettes
Ingredients
1/2 pound ground pork
3 large eggs
4 minced scallion whites
1 minced small shallot
2 minced garlic clove
1/2 teaspoon kosher salt
1/2 teaspoon fresh cracked black pepper
1/2 teaspoon fish sauce
1 teaspoon oil
Method
Mix everything. Then, heat a small nonstick pan on medium-low heat. Add 2 tablespoons of oil. When the oil is hot, add the omelette mixture. Level the mixture out until flat and cook untouched on one side until the bottom is golden brown. Then, flip the omelette and cook other the side golden brown. You should see the edges foaming and frying until crispy.
Cut the omelette into triangles and eat with hot jasmine rice and maybe some fresh crushed chilies in fish sauce if you're so inclined.
Louis Tikaram, Executive Chef at E.P. and L.P. Restaurants in Los Angeles
"This dish is very close to my heart!" Louis Tikaram, executive chef at E.P. and L.P. restaurants in Los Angeles. "It is one of the earliest dishes I learned to cook with my grandma in Fiji. Nama is a type of seaweed, and we hand squeeze coconuts to make a beautiful sauce to compliment the salty flavor. It is a very traditional Fijian dish and it is also very popular at E.P. Restaurant as it is a great vegan option for guests to start their meal with instead of seafood sashimi or ceviche."
"This is a traditional Fijian seaweed dish served as part of a shared meal though delicious by itself as a starter or snack," he continued. "In LA I use a Hawaiian seaweed similar to what I used to buy from Suva Markets in Fiji on Saturday mornings."
Nama Sea Pearls
Serves two
Ingredients
100 grams Nama sea pearls
1 Roma tomato
1/2 lime
1 mature coconut
1 red shallot
Salt
1 long red chili
Pinch of salt
Method
To make the fresh coconut milk, crack open the coconut by using the back of a heavy knife or cleaver, aiming right down the center to split it in half. Discard the coconut water, which spills out once crack the coconut. (You can drink it, though drinking coconuts are usually from the young fruit that are much sweeter and more nutritious).
Using a coconut scraper (these are found in your local Asian super market), scrape the white flesh out of the coconut, stopping when you reach the brown membrane. Place the grated coconut flesh into a bowl with 1/4 cup of water and mix. Then place the mix into some cheesecloth and squeeze out the milk like a tea bag. You can repeat this process to maximize the yield of coconut milk, resulting in about a cup. Set aside until ready to serve.
Then, cut the tomato into quarters, deseed, and dice it into small cubes. Finely dice the red shallot, cut the long red chili into rounds, and discard the seeds.
Now you are ready to put the dish together. All the previous steps can be done in advance, though once you combine the components, you must serve straight away.
In a bowl, gently rinse the Nama for 20 seconds under running cold water until they are bright and plump, being careful not to wash the sea flavor off completely. Mix the Nama with the rest of the ingredients and serve immediately in a small bowl or, as I like to serve it at the restaurant, back into the grated coconut 1/2 shell. Add a little more salt or lime juice if needed. The flavor should be hot and rich from the chili and fresh coconut cream and the Nama will burst with sea like salty flavor when eaten.
Follow NBC Asian America on Facebook, Twitter, Instagram, and Tumblr.
RELATED