What was supposed to be a quick trip to the grocery store Tuesday evening ended in the brutal attack of Sikh American Inderjit Singh Mukker, 53, in Darien, Illinois, a suburb just outside of Chicago.
"We believe Mr. Mukker was targeted and assaulted because of his Sikh religious appearance, race or national origin," said Harsimran Kaur, Legal Director for the Sikh Coalition and spokesperson for the Mukker family. Sikhs wear a turban and beard as articles of their faith and to show their commitment to justice, equality, and the rights of all.
Kaur told NBC News that Mukker, a U.S. citizen and father of two, was in one of two left-turn lanes when the driver of the car next to him started yelling obscenities and racial slurs, including "Bin Laden," "Terrorist," "Go back to your country," and "Why are you driving that small Prius, I've got a big SUV."
After the light changed, the other driver continued to drive aggressively. Finally, Mukker pulled over to let the other car pass, but instead, the other driver stopped in front of him, came out, and began repeatedly punching Mukker in the face through the open car window until Mukker lost consciousness for 10 or 15 minutes.
Passers-by called police and paramedics, and Mukker was rushed to Hinsdale Hospital, where he was treated for a fractured cheekbone, a laceration to his cheek which required six stitches, a black eye, bruising, and swelling. He was released that night.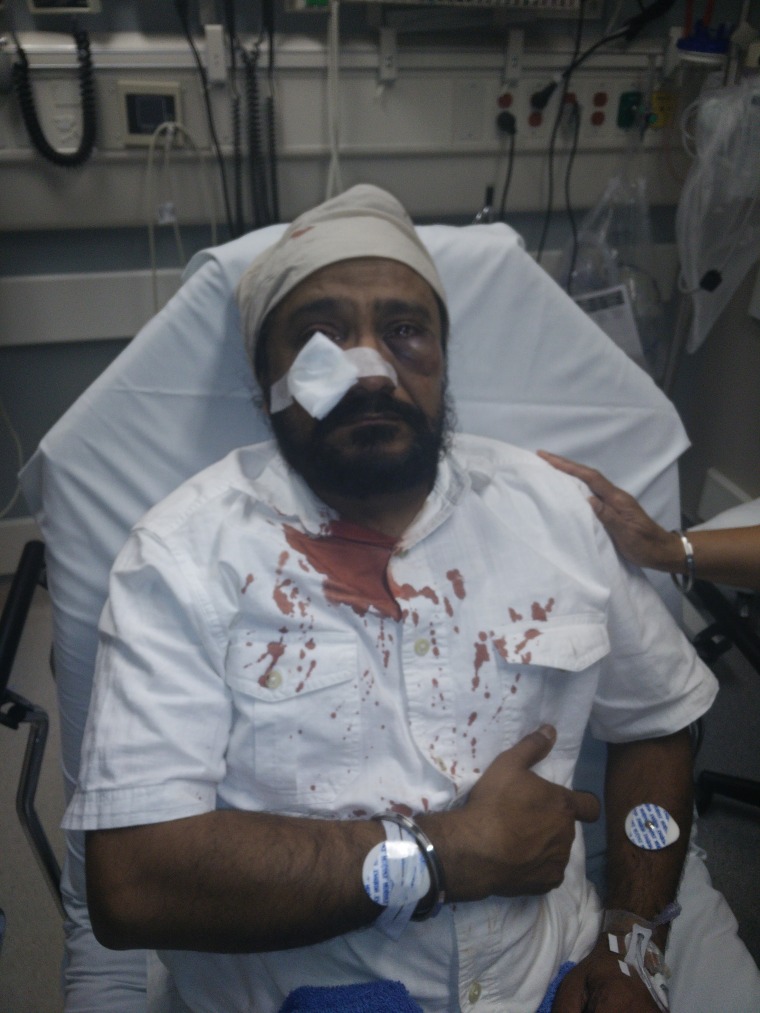 READ MORE: Police Investigating Hate Crime in Darien
According to NBC Chicago, Darien Police Chief Ernest Brown confirmed that the police department was considering the attack a hate crime, that a suspect had been identified, although no charges had yet been filed, and that the suspect was in the hospital for unknown reasons.
Paul Darrah, DuPage County State Attorney's Office spokesperson, confirmed that no charges have yet been filed, "There is still more investigating left to do."
"No American should be afraid to practice their faith in our country," said Mukker in a statement. "I'm thankful for the swift response of authorities to apprehend the individual, but without this being fully investigated as a hate crime, we risk ignoring the horrific pattern of intolerance, abuse and violence that Sikhs and other minority communities in this country continue to face."
2015 marks the first time hate crimes against Sikh, Hindu, and Arab Americans were tracked by the federal government following years of lobbying by community advocates to change the Department of Justice and FBI guidelines on how hate crime statistics were recorded. Kaur told NBC News that although there have been no official statistics in the past, anecdotally there has been a huge surge of hate crimes and bullying since 9/11, including the attack on the Oak Creek Gurdwara in Wisconsin in 2012.
"We unfortunately have this burden to explain who we are," Kaur said. "We have a responsibility to reach out to people in our communities—whether it's your PTA or police office board or city library. Most students who come here are busy doing the immigrant hustle, just trying to get by, and we [at Sikh Coalition] try to remind the [Sikh] community that they need to reach out. There is so much misunderstanding about the Sikh community and who we are."