While Pope Francis' first visit to the United States this fall has stirred excitement among many Catholics in America, the historic trip comes at a time of mixed emotions for some in New York's Chinese Catholic community.
In August, the Archdiocese of New York shuttered and merged churches in parts of New York City, including St. Joseph's in Manhattan's Lower East Side.
Speaking in Mandarin, Rocco Wong, a Chinese-American parishioner of St. Joseph's, told NBC News, "In many instances, Chinese are afraid to say something, to speak out."
That, however, has not been the case with Wong and hundreds of fellow Chinese-American Catholics, many of them immigrants from the southeastern Chinese province of Fujian, who have made St. Joseph's their spiritual home for the last two decades. On one Sunday afternoon, in early August before the 2 p.m. Mandarin-language mass began at nearby St. Teresa's, parishioners from St. Joseph's took a moment to reflect on the closure of their church and what it means to be Chinese and Catholic in America.
"I was shocked and I actually cried and said, 'How did it happen?'" said 29-year-old Kosina Wong, a medical student who is also Rocco Wong's daughter.
Talk of parish mergers first surfaced around three years ago, when plans were floated to close and consolidate one or two of the four churches that serve Catholics on the Lower East Side, according to Rocco Wong, who said he participated in meetings about the proposed re-configurations. Wong, who had worked as St. Joseph's superintendent since 2010, explained he wasn't necessarily opposed to the idea.
"This plan, as far as I'm concerned, was a good thing," said Wong, whose family is fifth-generation Catholic. "We can save resources and not be wasteful. I very much agreed with it."
"Even though the church is closed, we still have to carry on and live on with our faith."
But St. Joseph's congregants were baffled, he said, when the Archdiocese of New York decided last August that their church and nearby St. James, which merged with St. Joseph's in 2007, would be consolidated with the Church of the Transfiguration on Mott Street, a parish that has long been home to Chinatown's Cantonese-speaking Catholics.
St. Joseph's church-goers were confident that their parish, which was once largely Italian-American, had met all the requirements to remain open, Rocco Wong said. It offered masses in Mandarin and Spanish. It held weddings and funerals. People were being baptized, and the church was able to pay its own expenses, he said.
And while Italian Americans were no longer the majority, Wong said, there were some 1,500 Chinese-American Catholics who were active in the 91-year-old church.
"It's not discrimination, I wouldn't say that," Xinqiang Li, a longtime St. Joseph's parishioner, said in Mandarin as he waited for mass to begin at St. Teresa's. "It's just bureaucratic."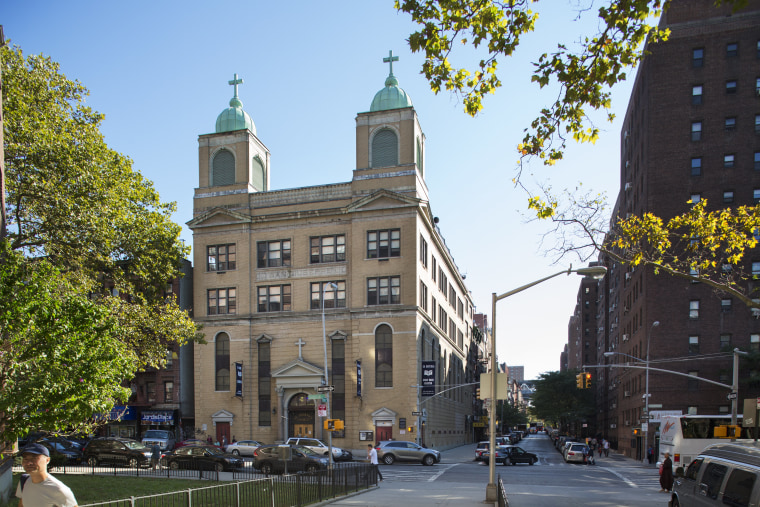 St. Joseph's was one of nearly 40 church buildings closed throughout the Archdiocese of New York, which serves 2.8 million Catholics and includes Manhattan, the Bronx, and Staten Island, as well as six counties north of the city. A decree posted on the archdiocese's website cited--among other things--a shortage of priests, a decline in Sunday mass attendance, and an increase in archdiocesan loans covering parish expenses as reasons for the merger.
Wong said St. Joseph's Chinese-American congregants had petitioned the archdiocese to reconsider its decision, but were unsuccessful. They also tried to get the pope to hear their case while a delegation of St. Joseph's parishioners was on a trip in Europe, but the pope did not respond to their request as well.
Congregants later sought help from New York City Council Member Margaret Chin, a Chinese-American Catholic who represents the community that encompasses St. Joseph's. On July 17, Chin wrote a letter to archdiocese head Cardinal Timothy Dolan, asking that representatives meet with St. Joseph's parishioners to explain the rationale behind the closure and merger.
Although the archdiocese had not responded to her letter, Chin said she did have an informal meeting with an archdiocese representative, during which she reiterated the importance of hearing directly from parishioners.
All of this comes as the pope, a guest of the Archdiocese of New York, prepares to visit New York City on September 24 and 25.
"This is an exciting time for Catholics and the Fujianese community," Chin said. "They're there for the pope's visit, but this kind of dampens their spirits when the church they love is no longer available to them."
Reached by phone, the Archdiocese of New York asked NBC News to send its questions about St. Joseph's in an email. The archdiocese, however, did not respond to that email.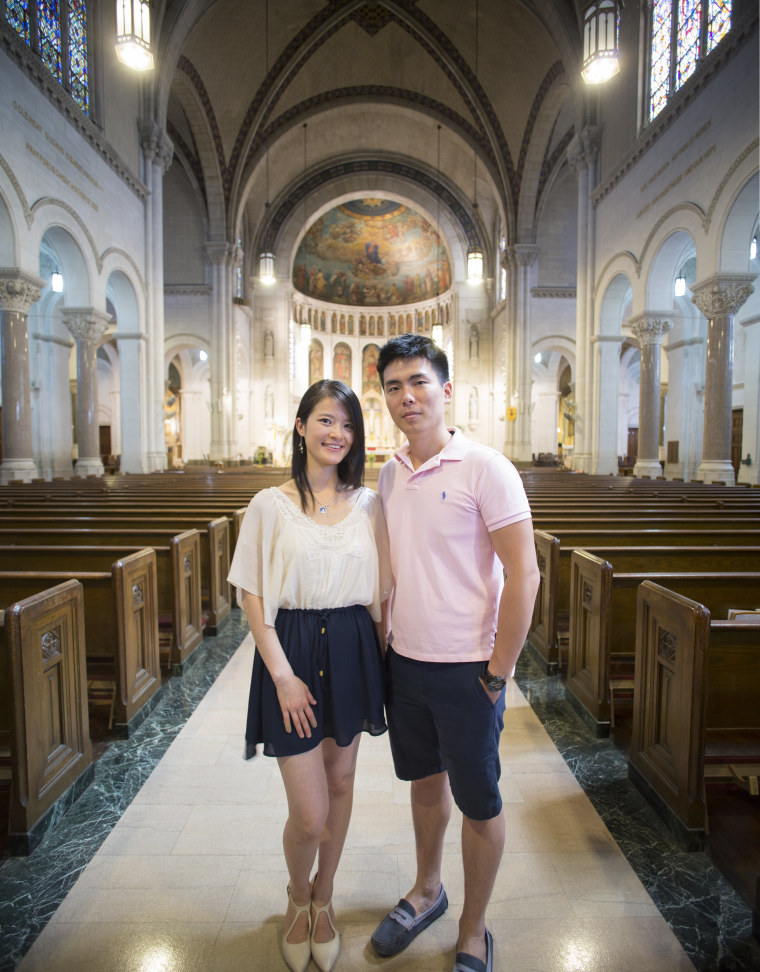 In the United States, Asians are a minority among Catholics. As of last year, just 3 percent of adult Catholics were Asian American, compared to 59 percent who were white and 34 percent Latino, according to the Pew Research Center's 2014 Religious Landscape Study. Among Chinese Americans, 8 percent identified as Catholic, a 2012 Pew Research Center report said. That's in contrast to 52 percent of Chinese Americans who said they had no religious affiliation at all, the study showed.
Despite those numbers, Chinese-American Catholics maintain that their congregations are vibrant and active. Mass is often celebrated on Sundays at churches in New York City's Chinese communities in both Mandarin and Cantonese, and some of the churches have seen an increase in Chinese Americans, including immigrants from Fujian who are drawn to Catholicism.
"We feel like we're a family," said Kosina Wong, who met her first friend and future husband Joseph Chen at St. Joseph's when she immigrated to the U.S. at age 17.
"I was shocked and I actually cried and said, 'How did it happen?'"
That feeling of belonging is especially important to many Fujianese worshippers, who in China have had difficulty practicing their faith freely under the watchful eye of government. "When you struggle for something, like religious freedom, you appreciate it more than if it's just given to you," Chen said.
While many of the older Chinese-American Catholics still attend mass regularly, Wong and Chen belong to a wave of younger Chinese parishioners, fluent in both English and Mandarin, who put their Catholic faith front and center at a time when U.S. churches have generally seen a drop in attendance. In 2011, the couple founded a St. Joseph's youth group called Youth Unity, which now has 30 members. In its inaugural year, Youth Unity celebrated World Youth Day in Madrid and represented St. Joseph's Church.
But Chen said he thinks the church can do more to spread the Catholic faith, and it can learn from the successes of St. Joseph's Church, which parishioners say was very active in increasing its ranks of Chinese-American Catholic faithful through community outreach.
"I feel Catholics have grown too powerful in a way that we've lost contact with the outside world," Chen said.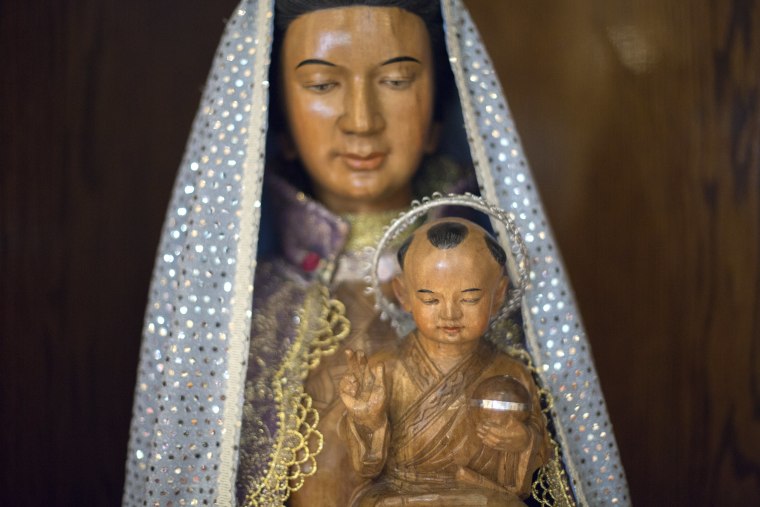 As the pope prepares to visit the U.S. later this month, St. Joseph's closure and merger still weigh heavily in the hearts of Chinese-American parishioners. Many now attend mass at nearby St. Teresa's, as well as at churches in Queens and Brooklyn, including Our Lady of Perpetual Help. And while Chinese-American congregants say St. Joseph's closure is indeed upsetting, many are able to separate their feelings from their faith.
"It doesn't really stop us," Chen said, "but it's more of a short-term pain."
The closure and merger has, however, taken a toll on some of St. Joseph's Chinese-American parishioners who were recently baptized, Kosina Wong noted. "It's a big hit to them [about] why they are closing us and why the leaders of the church are making these kinds of decisions," she said.
St. Joseph's parishioners say they would like nothing better than to have their church reopened. And while many continue to seek out new houses of worship throughout the city, especially ones that offer Mandarin-language mass, they still remain strong spiritually.
"Even though the church is closed, we still have to carry on and live on with our faith," Chen said.