From the moment he landed on the beaches of Normandy in 1944, Randall Ching was ready to fight to defend freedom — with his rifle, with his knife, and sometimes with his bare hands.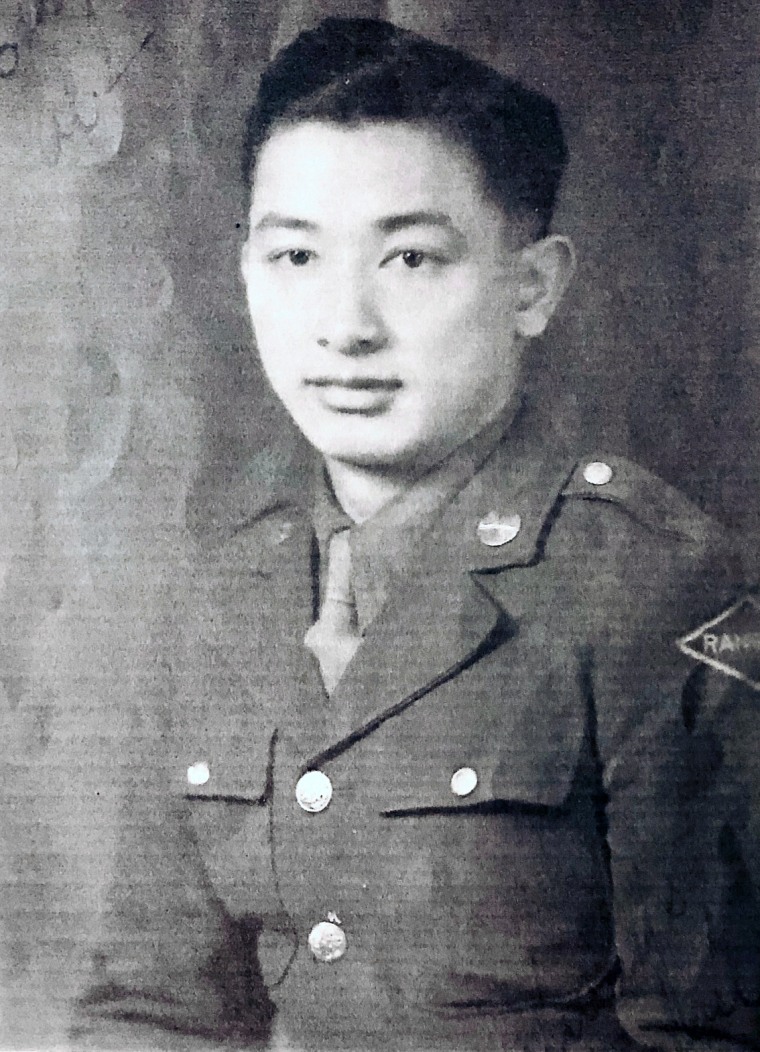 Part of the Army's elite and highly decorated 5th Ranger Infantry Battalion, Ching, 95, is believed to be the only Asian American of Chinese descent among the 6,000 rangers who fought in World War II.
"They treated me as an equal," Ching told NBC News. "If anybody is a ranger, you've got to be good."
As Veterans Day approaches, and with the 75th anniversary of D-Day this past June, his supporters have petitioned the French government to induct Ching into its prestigious Legion of Honor, France's top award for military and civil merit.
There have been other living American veterans who were so honored for the service in France in World War I and II. But Ching, who expressed pride about possibly being a recipient himself, had other thoughts about who should merit consideration.
"He thinks the people who died in battle deserve it more than he does," said Calvin Louie, who is married to one of Ching's daughters.
Born in San Francisco's Chinatown in 1924, Ching spent the early part of his childhood growing up in America. But he and his parents, all U.S. citizens, moved back to China in the 1930s to escape the Great Depression, according to Montgomery Hom, a filmmaker who interviewed Ching for his remastered PBS film "We Served With Pride: The Chinese American Experience in World War II," which first aired in 2000 and is scheduled for re-release next year.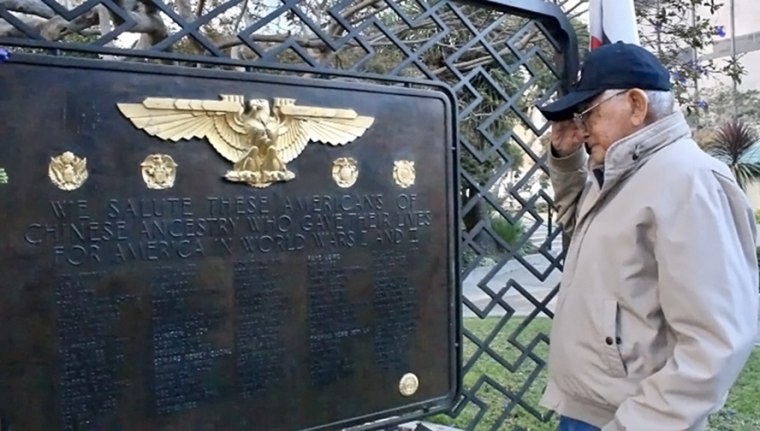 With China embroiled in the Second Sino-Japanese War, Ching's parents later urged their son to go back to America. He did so before Japan bombed Pearl Harbor in 1941, Hom said.
Soon after, Ching was drafted into the Army. The higher-ups saw him perhaps serving as a cook, but Ching set his sights on the infantry. He impressed a recruiting sergeant with his marksmanship, hitting a bull's-eye seven out of eight times, and signed up to become a ranger, Ching recalled.
When he landed on Omaha Beach on June 6, 1944, he quickly grasped the gravity of what was unfolding around him.
"They fired real bullets," Ching said with a chuckle.
"But I didn't lose my mind or panic," he added.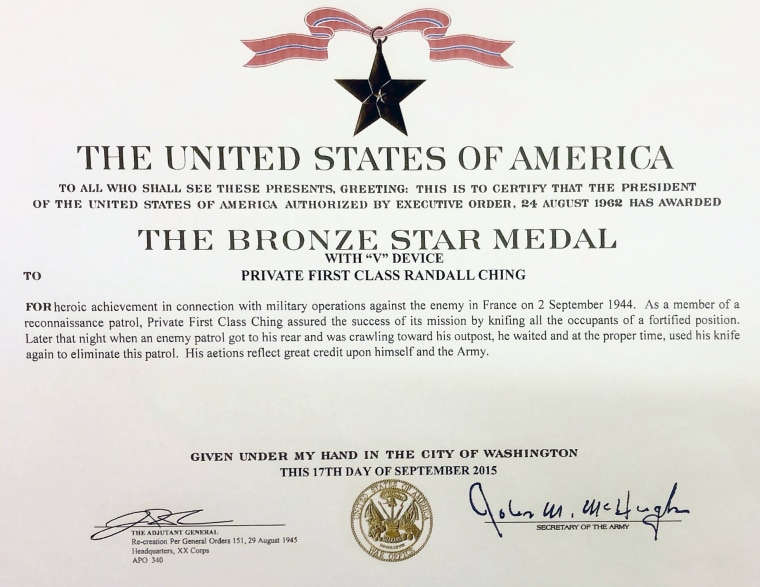 Hom said Ching, a private first class, was a master at hand-to-hand combat and was "one hell of a knife fighter." At 5 feet 4, Ching put those skills to work in wiping out a German patrol on Sept. 2, 1944 — for which he was awarded a Bronze Star.
"He said, 'You know, when I'm out there and with these men, especially the officers, I want them to see me as this Chinese guy who can stand with the best of them,'" Hom recalled Ching telling him. "'I want them to understand that I could do the job just as an equal or better.'"
Ching fought with the rangers until the end of World War II. After returning home, he worked as a stock clerk manager in a general store owned by relatives in San Francisco's Chinatown. He later went to night school, was certified as an electronics technician and became a maintenance manager. He retired in 1990, according to Hom and Ching.
Ching didn't talk much about the war. Louie said it wasn't until Ching's son, now a retired Navy captain, enlisted and was headed to Vietnam that Ching began to share his experiences.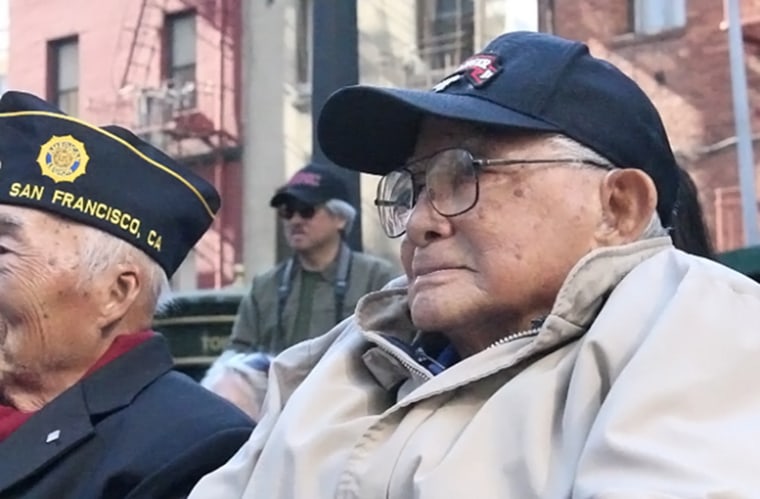 Louie said that in the 15 years after he married Ching's daughter Bonnie in 1980, all Ching offered about his wartime experiences was that he had been a ranger.
"It was his way of shielding them from understanding the horrors of war, and seeing the horrors of war," Hom explained. "Randall really did not want the kids to have that type of traumatic experience."
Hom said Ching told him that to some degree he had suffered from post-traumatic stress disorder.
"But one day, he just said to himself: 'Enough of this. I've got to move on. I've got kids, I've got a wife, mouths to feed. I can't relish in the past any longer,'" Hom said.
These days Ching lives in San Francisco's Chinatown. Earlier this month, he attended a ceremony at a war memorial in St. Mary's Square, honoring Chinese Americans who gave their lives in World War I and II.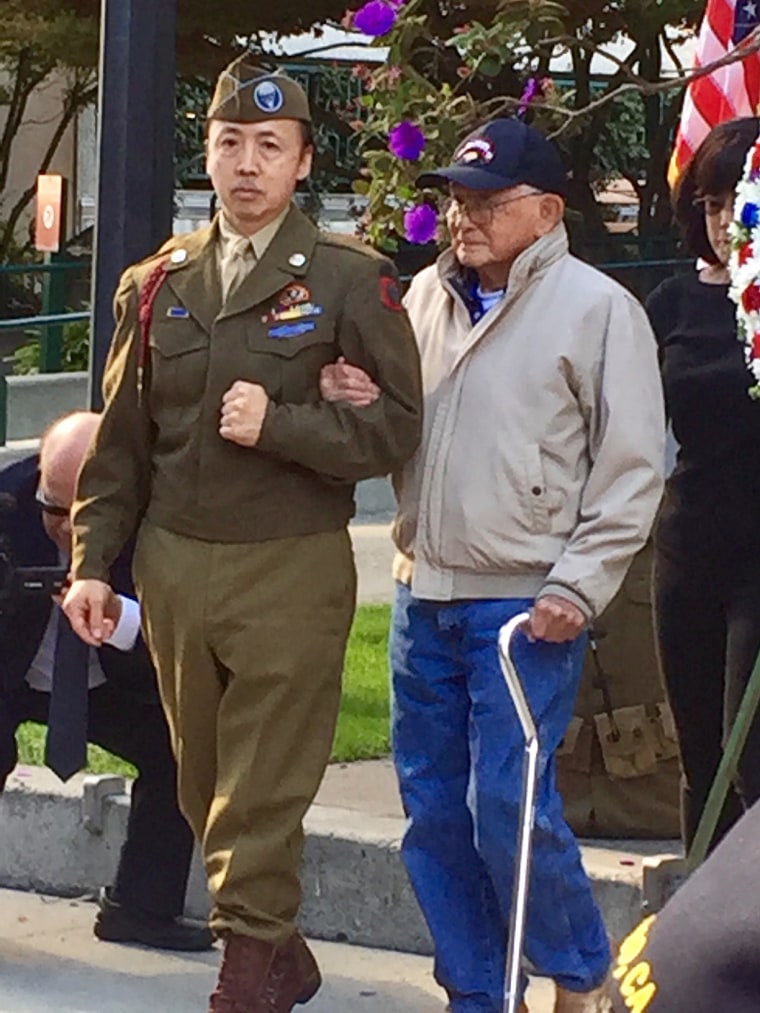 Retired Lt. Col. Robert W. Johnson of the Air Force, a volunteer liaison officer supporting the French government with its veterans recognition programs since 1998, said Ching is eligible to receive the Legion of Honor because he served with distinction in France during World War II, particularly during the Normandy campaign.
He said Ching's recommendation was submitted to the French consulate in San Francisco in July. Based on past experience, Johnson said it could take six months to over a year to approve.
In all, there have been around 93,000 Legion of Honor recipients. Johnson said anyone interested in applying should contact their nearest French consulate.
Ching is excited about another award that Chinese American World War II vets will receive — the Congressional Gold Medal.
These men and women will join the ranks of other Asians and Asian Americans, including Filipinos and Japanese, who fought for the U.S. in World War II and have already received this highest civilian honor for their service.
"I am very proud," Ching said. "It's about time."