If one Chinese billionaire and the NHL's Los Angeles Kings have their way, ice hockey will be flourishing in China well beyond 2022.
That's the year Beijing will host the Winter Olympics. When China won the bid, President Xi Jinping pledged to get 300 million Chinese involved with winter sports by 2022 — a bold commitment for a normally summer sports-focused nation.
Aiding in that effort is billionaire Zhou Yunjie, who's the chairman of ORG Packaging. Zhou, more than even the National Hockey League itself, has driven the growth of hockey in China. Fans may recognize ORG Packaging from the Chinese advertisements on the boards at a number of NHL arenas. Improbably, Zhou fell in love with the sport as a teenager in Beijing in the 1970s.
"There's no tradition of hockey in China," Richard Zhang, who works directly with Zhou and is president of Ocean 24 Sports and Entertainment, told NBC News. He added that it has a relatively small following in the country, particularly compared to basketball or soccer.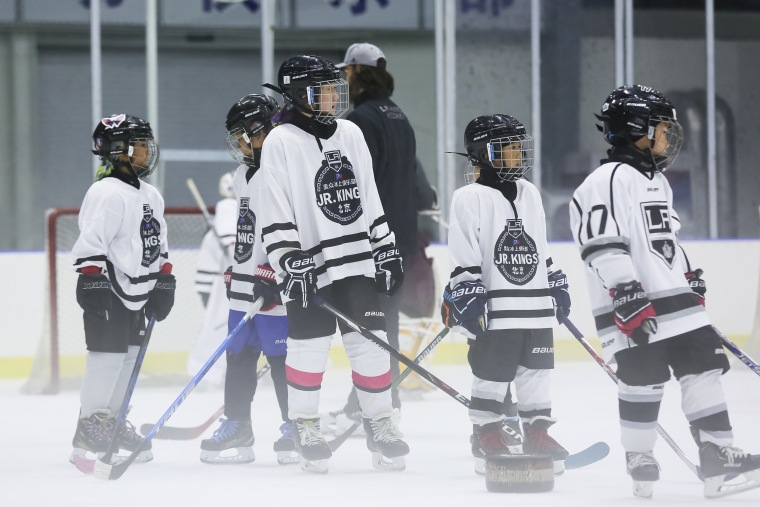 "We always joke with [NHL commissioner] Gary Bettman and the owners when we meet them, it's like a unicorn to find a Chinese businessman who loves hockey," Zhang said. "Mr. Zhou is that unicorn. We feel lucky that there is a Mr. Zhou who's willing to spend his resources and energy and connections to grow the sport."
Last year, ORG Packaging partnered with the Kings to establish the Beijing Jr. Kings, the NHL's first full-time youth development program in China. In August, the Kings hosted the inaugural Beijing Jr. Kings Camp, sending Goaltending Coach Bill Ranford, along with alumni Peter Budaj and Derek Armstrong, to China to work with 30 hockey players 14 or younger. Resident Beijing Jr. Kings coaches Tim Watters, Hannah Westbrook and Nick Lehr were also in attendance.
"I was quite surprised how many kids play hockey in Beijing and in China," Watters, a former Kings defenseman, said. "The overall skill level is better than what I thought it would be."
Westbrook agreed, "I have been blown away by not only the amount of youth hockey players involved in the sport, especially the numbers below the age of 8, but by how talented and skilled these individuals are."
Zhang said it was Zhou's goal to provide kids in Beijing with the best youth hockey programs available.
"We could potentially have a hundred [registered players] by this time next year," offered Josh Veilleux, senior vice president of AEG Global Partnerships. AEG owns the Kings.
While the kids involved in the camp won't be old enough to play for Team China by the 2022 Games, that's not the aim.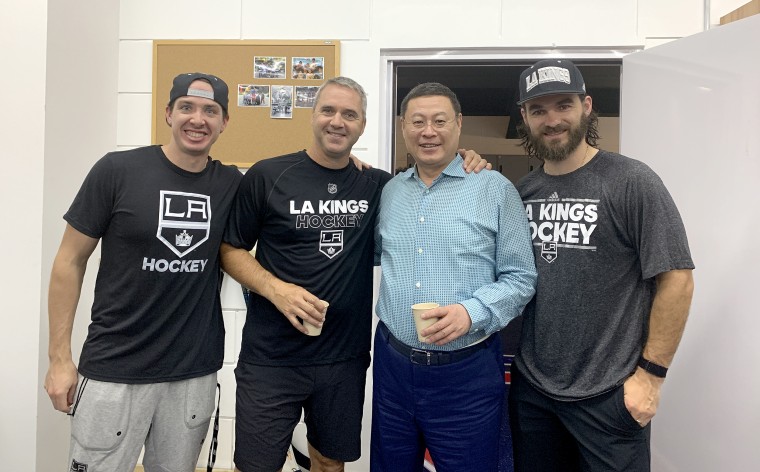 "The front line is to start with young fans, get them on the ice or off the ice," Zhang said. "The NHL, for example, has been working with local schools to give them ball hockey. So, it's not necessary to get them on the ice first."
However, Kings President Luc Robitaille said that there was a solid foundation for the sport in Beijing. "Technique-wise, the kids have always been really good skaters," he said. "But what was missing was a little bit of the coachability as far as the structure in how the game is played."
Robitaille, of course, knows a little bit about how the game is played. The Hockey Hall of Famer explained how Beijing Jr. Kings coaches are teaching an unfamiliar sport.
"Soccer's played worldwide. Our game is a lot like soccer, where if you want to be successful, you have to do a give-and-go, you have to give up the puck and skate to the next hole. That's what we're trying to teach," Robitaille said. "We use that, especially when we know the kid has played soccer. It's an easy example to give them. Like the way you regroup in soccer, you can do the same in hockey."
Like soccer, the goalie is also the backbone of a team's success. China, however, is still far behind in terms of developing world-class keepers. But according to goaltending guru Ranford, they're on the right track.
"It starts from creating a foundation of basic skills that all goalies must learn. The Beijing Jr. Kings have hired a goalie coach to help develop their young goalies, which is a huge step in the right direction to develop future goalies in China," Ranford said. He added that there's still a need for higher-level goaltending instruction for those who are 16 and under.
This isn't a plan for 2022, it's a plan for 2042.
"Our deals with teams and the league are all long-term, multiyear, it stretches after 2022," Zhang said. "We want to see the growth of the sport in the long run, after the Olympics. The Olympics serve as a springboard, we call it the golden opportunity. We see it as a boost, not a final destination."