A Chinese national is scheduled to be arraigned Thursday in federal court in White Plains, New York, on a six-count indictment that accuses him of stealing computer source code from his employer to benefit himself and the Chinese government.
Jiaqiang Xu, 30, was charged with three counts of economic espionage and three counts of theft of trade secrets in connection with passing along proprietary code to two undercover law enforcement officers last year, according to a statement from the U.S. Department of Justice.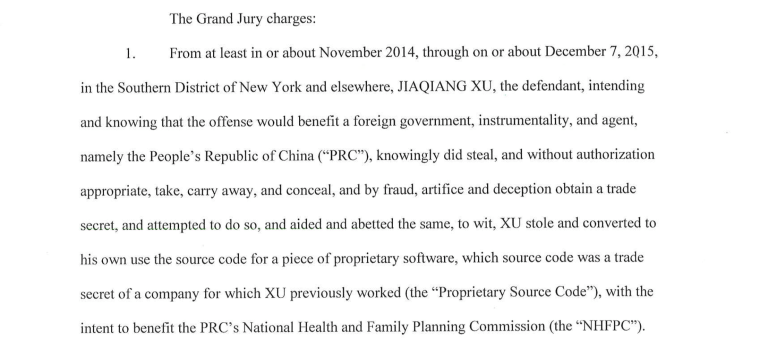 Xu allegedly used the code to replicate software — without permission from the company that owned it — to help develop a data storage system set up by the undercover agents, one of whom posed as a financial investor, the Justice Department said. Xu allegedly told a second officer, who pretended to be the project manager, that he had sold software he made with the source code to customers, the Justice Department statement reads.
The FBI initially arrested Xu on Dec. 7, charging him with one count of theft of trade, but the rewritten federal indictment filed on Tuesday includes the economic espionage charges. Xu is accused of stealing, duplicating, and possessing proprietary source code with the intent of benefiting the National Health and Family Planning Commission in China.
"Economic espionage not only harms victim companies that have years or even decades of work stolen, but it also crushes the spirit of innovation and fair play in the global economy," U.S. Attorney Preet Bharara of the Southern District of New York said in a statement.
RELATED: Espionage Charges for Asian-American Scientists Prompt Calls for Investigation
Authorities did not identify the company where Xu worked, but multiple news outlets have reported it as IBM. Xu voluntarily resigned from the company he allegedly stole the source code from in May 2014, authorities said.
IBM did not return a phone message Wednesday requesting comment.
Xu has been in federal custody since his arrest in December, a spokeswoman for the U.S. Attorney's Office Southern District of New York told NBC News.
"Economic espionage not only harms victim companies that have years or even decades of work stolen, but it also crushes the spirit of innovation and fair play in the global economy."
Three attorneys, including a federal public defender, who were listed as representing Xu did not immediately return voicemails left Wednesday seeking comment.
If convicted, Xu faces a maximum of 10 years in prison for each count of theft of trade secrets and a maximum of 15 years for each count of economic espionage.
Xu's indictment comes seven months after 42 members of Congress wrote to U.S. Attorney General Loretta Lynch, asking her to investigate whether race or ethnicity played a role in espionage accusations against two Chinese-American scientists.
Last May, the FBI arrested then 57-year-old Chinese-American Xiaoxing Xi, who was the physics chair at Temple University in Philadelphia. Xi, a naturalized citizen, was accused of wire fraud and sharing sensitive information with China. Those charges were dropped in September following a presentation that Xi, who has since returned to teaching at Temple, and his attorney gave to investigators.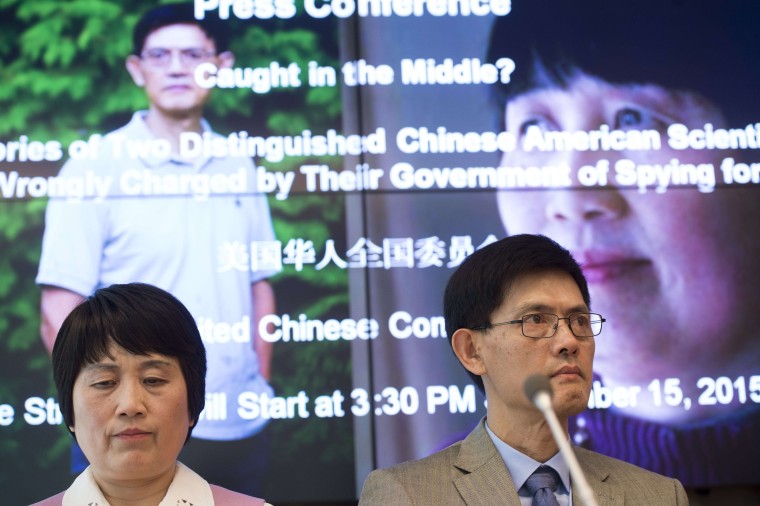 Sherry Chen, a Chinese-American hydrologist employed by the National Weather Service in Ohio, was arrested in 2014 and accused of using a stolen password to download information about U.S. dams and lying about a meeting with a high-ranking Chinese official. Federal prosecutors dismissed those charges a week before Chen, a naturalized citizen who was 59 at the time of her arrest, was scheduled to head to trial last March.
The Justice Department, in response to a request last May by U.S. Rep. Ted Lieu (D-CA) and 21 other House representatives for an investigation into Chen's arrest, wrote in a July letter to Lieu that the U.S. Attorney's Office for the Southern District of Ohio and the FBI both gave assurances that race did not play a role in Chen's case.
Follow NBC Asian America on Facebook, Twitter, Instagram, and Tumblr.