Chloe Kim's snowboarding triumph at the Olympics crowned years of practice and focus on the sport.
But it also put an exclamation point on her family's quintessential immigrant story, turning the teenager's beaming father into a breakout star of the PyeongChang Games.
Jong Jin Kim, who moved to the United States from South Korea in 1982, won over spectators around the world with his charming homemade signs ("Go Chloe!") and irrepressible pride.
As his 17-year-old daughter wowed the judges in the women's snowboard halfpipe competition on Tuesday morning, scoring a gold medal, Jong Jin reportedly pointed to himself and shouted "American dream!"
"My dad has definitely sacrificed a lot for me, and I don't know if I could do it, if I was in his shoes," Chloe told reporters.
"Leaving your life behind and chasing your dream because your kid is passionate about this sport," she added. "I think today I did it for my family, and I am so grateful to them."
Jong Jin prodded Chloe to jump on a snowboard when she was 4. And nearly a decade ago, he quit his job as an engineer to help his precocious daughter reach snowcapped glory.
He and his wife, Boran, frequently drove Chloe from their home in Torrance, California, to Mammoth Mountain, where she trains — a six-hour car ride.
But he has reportedly waved off his sacrifices as "normal for all parents."
Photos: Snowboarding star Chloe Kim takes gold and more
Chloe's extended Korean family was on hand for her big moment — her parents, two sisters, sister's fiance, three aunts, two cousins, and her 75-year-old grandmother, Moon Jung Ae.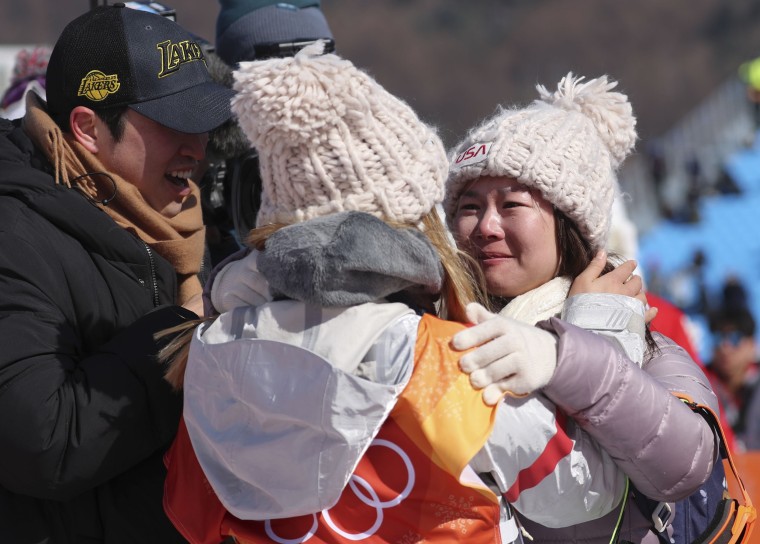 They all cheered when she landed back-to-back 1080-degree spins on her second and third jumps, a combination no other woman has done in competition.
"I learned after the second run that my grandma was in the finish," Chloe said, according to NBC Sports. "I said, 'This one's for you, Grams.'"
Chloe is partial to calling herself "the California girl," but she went into her victorious day with Korean folklore at the front of her mind.
"Today is the day imugi turns to dragon," Jong Jin said he texted his daughter; an imugi is a snake-like creature of lore, and Chloe was born in the Korean year of the dragon.
"She said: Hahahahaha, thank you very much."