LOS ANGELES — Civil rights groups are suing the California Secretary of State alleging that he is depriving 80,000 Californians with limited English proficiency of voting language assistance.
The lawsuit, filed April 23 in San Francisco Superior Court, contends that a directive issued in December by California Secretary of State Alex Padilla falls shorts of providing language minority groups in California the assistance in voting as required by state law.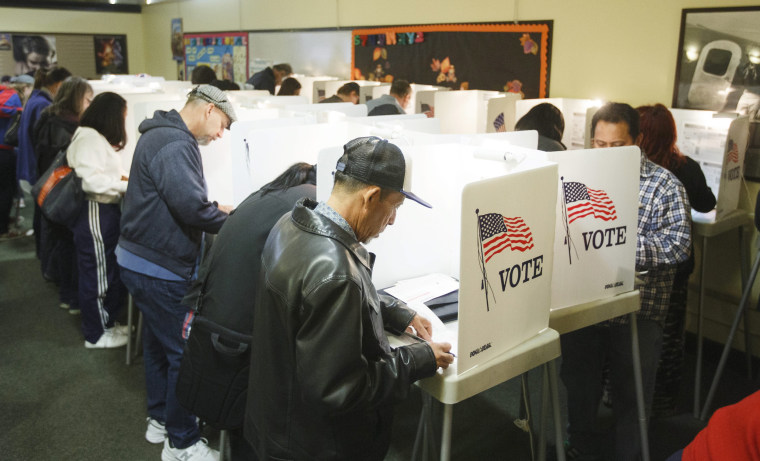 Thirty-four language groups are significantly affected, the lawsuit asserts. Of those languages, 15 are from Asia, including Hindi, Japanese and Laotian. Voters who speak Spanish, Farsi and Arabic are among the most severely affected groups, the groups alleged in a news release.
Under the Federal Voting Rights Act, if a non-English language community constitutes more than 10,000 people or 5 percent of all voting age citizens within a jurisdiction, materials and information pertaining to the electoral process must be provided in that language in addition to English.
California language communities are so diverse and robust in size that they may not be large enough to trigger protections under federal law, said Jonathan Stein, staff attorney and voting rights program manager at Asian Americans Advancing Justice-Asian Law Caucus, one of the groups who filed the lawsuit.
In California precincts or counties where minority language voters account for at least 3 percent of the voting-age population, state law requires the secretary of state to provide certain voting materials in those languages.
The lawsuit alleges that Padilla used an improper methodology in determining which jurisdictions require language assistance, mandating assistance only in individual precincts where the 3 percent trigger was met despite state law also requiring language assistance in counties, which may be comprised of multiple precincts.
The complaint also claims that the secretary's mandatory coverage determinations were limited to languages spoken by only seven ethnicities considered California language minorities under federal law — American Indian, Cambodian, Chinese, Filipino, Hispanic, Korean and Vietnamese — despite no such requirements existing in state law.
"The secretary of state has to take Census bureau data and use that data to determine which language communities receive the language access protection promised in the state law," Stein said. "We believe that the secretary of state got those determinations wrong and provided the language assistance in voting to tens of thousands fewer limited English speaking Californians than he should have."
The complaint was filed by Asian Americans Advancing Justice-Asian Law Caucus, Asian Americans Advancing Justice-Los Angeles, the American Civil Liberties Union Foundation of Northern California, and the law firm Wilson Sonsini Goodrich & Rosati.
Sam Mahood, Padilla's press secretary, did not directly address the lawsuit when reached for comment. In an email, he said that the California Secretary of State's office has taken a leading role in removing barriers for limited English proficient voters.
"In December 2017, our office announced that translated sample facsimile ballots must be provided to voters in six new languages in identified precincts in 14 counties, to better meet the needs of California's diverse population. Our office will continue to expand voter access," Mahood said.
As of Monday morning, the secretary of state had not filed a response in court to the lawsuit.
Karthick Ramakrishnan — a public policy professor at the University of California, Riverside and the director of research firm AAPI Data — said language support is critical for Asian Americans because the community is predominantly comprised of first-generation immigrants.
According to AAPI Data, about 33 percent of Asian American and Pacific Islander (AAPI) eligible voters in California speak limited English. A 2012 post-election survey found that turnout for limited English proficient voters was 9 percent lower than non-limited English proficient registered voters.
Asian Americans have historically had lower voter turnout rates compared to other racial groups in the country. Among the barriers the community faces is low English proficiency, according to AAPI Data. But research has found that Asian Americans will use voting language assistance if provided, Stein said, citing surveys of L.A. County, which found that 30 percent of Chinese-American voters, 33 percent of Filipino-American voters, 60 percent of Korean-American voters, and 50 percent of Vietnamese-American voters used language assistance in the 2008 general election.
Ramakrishnan said the Asian-American vote can make a difference in close elections, such as in statewide ballot propositions and this year's congressional races.
A 2017 report by the Public Policy Institute of California found that the state has 24.9 million adults eligible to voter. Data from Asian and Pacific Islander American Vote and AAPI Data showed that in 2016, the state's AAPI electorate consisted of more than 3.7 million voters, with Filipinos, Chinese, Indians, Vietnamese, Koreans and Japanese constituting the largest ethnic groups.
"It's hard to know beforehand where they would make a difference, but I think everyone is expecting the gubernatorial race as well as federal congressional races to be very competitive," Ramakrishnan said. "And that's where the Asian-American vote — and by extension language support — for Asian Americans could make a critical difference."
Follow NBC Asian America on Facebook, Twitter, Instagram, and Tumblr.