Civil rights activist Fred Korematsu was honored with a Google Doodle on Monday to mark the 98th anniversary of his birth.
The illustration was created by artist Sophie Diao who, like Korematsu, is the child of Asian immigrants.
As a 23-year-old in 1942, the Oakland-born Korematsu refused to voluntarily relocate to a Japanese-American incarceration camp and instead went into hiding. He was later arrested in May 1942 and charged with violating a government order.
Korematsu's case went all the way to the Supreme Court, which he ultimately lost in a 6-3 decision in 1944.
RELATED: New Book on Civil Rights Icon Fred Korematsu Challenges Youth to Speak Up for Justice
While he was released from detention at the Central Utah War Relocation Center after World War II ended, Korematsu's arrest was on his record until his conviction was overturned in 1983. Korematsu would continue to be an activist for the rest of his life, speaking out on behalf of Middle Eastern immigrants after the September 11th attacks and filing amicus court briefs on behalf of foreign nationals in Guantanamo Bay and U.S. citizen Jose Padilla in the Supreme Court case Rumsfeld vs. Padilla.
Korematsu was awarded the Presidential Medal of Freedom in 1998 by President Bill Clinton.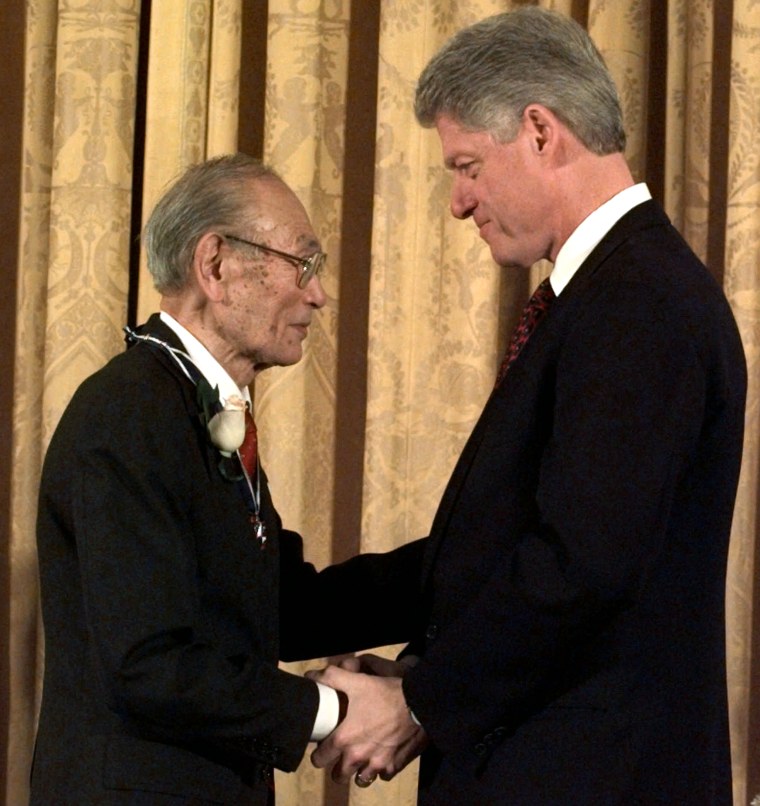 On Monday, members of the Congressional Asian Pacific American Caucus released statements celebrating Korematsu's legacy in honor of his birthday, and drew comparisons to his fight with current events.
"In the face of overwhelming prejudice and adversity, Fred Korematsu stood up for the civil rights of 120,000 Japanese Americans, then spent the rest of his life fighting for justice," Senator Mazie Hirono (D-HI) said. "Today, Fred's work is more relevant than ever. We will not stand to see this dark period of xenophobia and hysteria repeated."
RELATED: The Parallel Between Trump's Immigration Ban and Past U.S. Anti-Asian Policies
In 2015, the Asian-American nonprofit 18 Million Rising began a petition calling for a Korematsu Google Doodle as a tribute to his civil rights work. It read in part: "Fred Korematsu is an inspiration to all of us who choose to speak out rather than remain silent about injustice, but very few know his story. Google Doodles are awesome ways to spread the word about people who deserve a little more recognition for their work."
The petition garnered more than 4,000 letters to the tech company, encouraging them to honor the civil rights pioneer.
RELATED: Remembering Executive Order 9066, the 'Single Act' that Began Internment
Korematsu's daughter Karen now runs the Fred T. Korematsu Institute, which is dedicated to teaching the public about the effects and prejudices that led to the mass incarceration of Japanese Americans in the 1940s. In an editorial published on NBC Asian America last year, Karen Korematsu linked the prejudice her family and other Japanese Americans faced during the war to the profiling and prejudice many Muslims and immigrants face today.
"Current racial tensions and challenges facing American Muslims, immigrants, and other minority communities across America remind us that we have not overcome the past," she wrote.
Follow NBC Asian America on Facebook, Twitter, Instagram and Tumblr.
CORRECTION (Feb. 15, 2019, 1:08 pm ET): A previous version of this article misstated the year Fred Korematsu resisted voluntary relocation to a Japanese-American incarceration camp. It was 1942, not 1941.