After the shootings in San Bernadino, California, Los-Angeles-based civil rights organization have come together to provide free legal services for Arab, Muslim, Middle Eastern, and South Asian (AMENSA) community members targeted by anti-Muslim violence and unwarranted law enforcement questioning and surveillance.
"Islamophobia has quickly spread and increased in the recent weeks since the San Bernardino shooting. In Los Angeles alone, there have been over 20 reported hate incidents, and throughout California, multiple mosques have been vandalized and attacked," Dorothy Chang, staff attorney at Advancing Justice-LA told NBC News. "Public officials have added fuel to the fire with their intolerant and hateful anti-Muslim statements."
Asian Americans Advancing Justice – Los Angeles (Advancing Justice - LA), the Council on American-Islamic Relations (CAIR), the ACLU of Southern California, and the National Lawyers Guild (NLG) have set up three hotlines so that community members can easily access legal services and learn more about their rights.
Noting how easy it is to look the other way and infringe on people's rights due to fear-mongering, such as during World War II when thousands of Japanese Americans were incarcerated after the Pearl Harbor attack, Chang said. "The AMEMSA community has rights, and legal assistance is available — whether it be for questioning by law enforcement or harassment from a stranger. By our organizations coming together and being available as resources, we hope that the AMEMSA community members feel more comfortable coming forward to speak out and fight for their rights."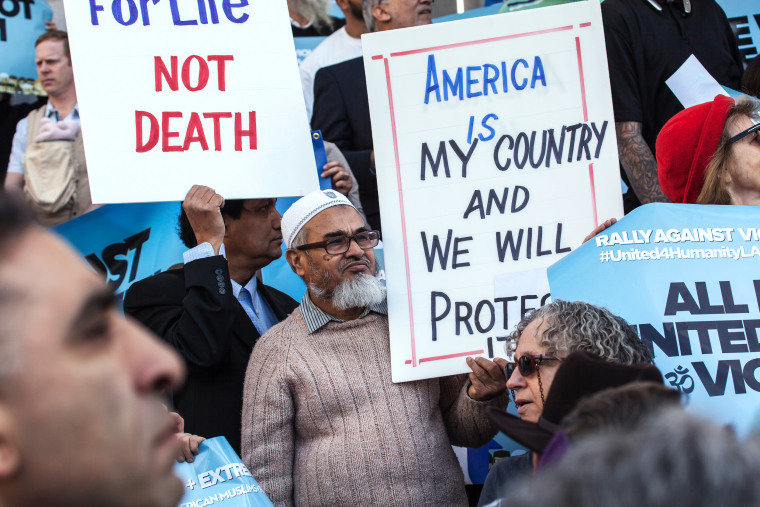 Concerned about increasing violence and rhetoric against Muslims and those mistaken for Muslims, many Asian American and Pacific Islander advocacy organizations across the country have been speaking out against anti-Muslim hate and xenophobia, drawing connections between Asian American and Pacific Islander history and the rhetoric of today, including experiences with the Chinese Exclusion Act, Japanese-American internment, and Vietnamese-American and Hmong-American refugee experience.
Follow NBC Asian America on Facebook, Twitter, and Tumblr.
RELATED
SOCIAL