Mini Timmaraju, the women's outreach director for Hillary Clinton's 2016 presidential campaign, says her journey to political activism and advocacy can be traced back to her curiosity with Gandhi and to members of her family in her native India who were involved in politics.
"I was fascinated by the stories of the Indian independence, you know, folks in the family who had met Mahatma Gandhi," Timmaraju told NBC News. "And I remember the movie Gandhi' coming out and being riveted and talking about it all the time at school and everybody being really irritated at me because it was Houston, Texas, and who wanted to talk about Gandhi in the 4th grade? But I did."
Today, the 43-year-old Timmaraju is one of the most visible Asian Americans involved in the 2016 presidential race. Before the Clinton campaign enlisted her last summer, Timmaraju already had a hefty resume, including credentials on Capitol Hill, as former chief of staff for Rep. Ami Bera (D-CA), and prominent advocacy roles with Planned Parenthood and the National Council of Asian Pacific Americans.
In her current role, Timmaraju is part of the political team coordinating policy and messaging with national women's organizations, lawmakers — including Reps. Judy Chu and Doris Matsui — and prominent women activists.
RELATED: Clinton Campaign Announces Formation of AAPI Leadership Council
She's also taken a central role building a massive national volunteer network officially called "Women for Hillary."
The work comes at hefty price, with Timmaraju estimating she's pulling 90 hours a week with the campaign. She's temporarily relocated to New York, while her husband Ken Scudder, also a senior staffer on Capitol Hill, remains in their D.C. home and regularly meets her on the road.
Despite the sacrifices, Timmaraju recites Clinton's record and policy positions with the zeal of a true believer.
Raised as an only child, she credits her mother, an early childhood educator, for raising her as an unabashed feminism, and for supporting her career.
Timmaraju wants Asian Americans and Pacific Islanders nationally to join her in representing the Asian-American community, noting that "there's never been a more welcoming time for diverse candidates on campaigns or on the Hill than now."
But she knows there's a cultural hurdle to overcome. "I think a lot of young Asian Americans and Pacific Islanders tend to go the conservative route when pursuing their careers and don't always follow their passion," Timmaraju said.
And while Timmaraju notes that both political parties can do more to court the AAPI vote, she cites the overwhelming and disproportionate numbers of Asian-American community organizations who are backing Clinton and the Democrats over the GOP candidates.
RELATED: Rubio Adviser: The GOP Can Win Back Asian-American Voters
"We have an Asian-American leadership council. I think our campaign is leading the way in that way. I'm biased, but that's what I believe. I haven't seen that same kind of outreach from any Republican presidential candidate," Timmaraju said.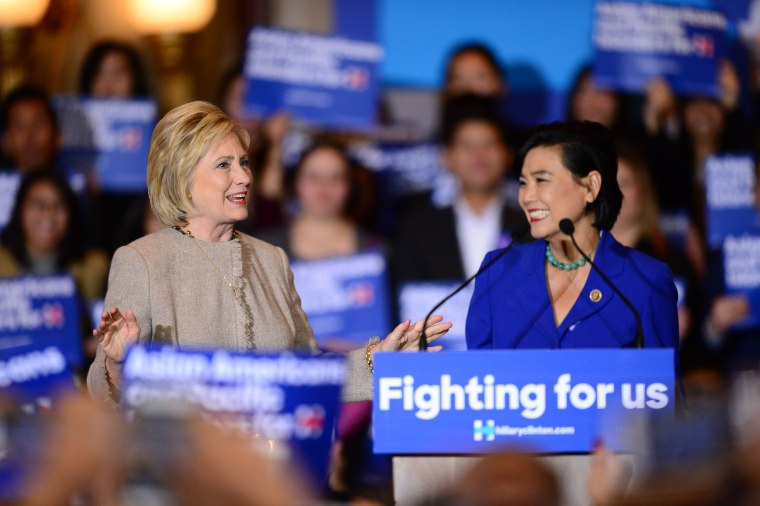 Timmaraju adds that she can empathize with the cynicism around electoral politics, but she's adamant about calling AAPIs forward to get involved by "doubling down" on investing in their own communities and being open to other modes of activism.
"The other [option] is by getting engaged in mainstream movements like electing a candidate for president and really changing and shaping the perceptions and the way Americans think of what Americans look like," Timmaraju said.
Follow NBC Asian America on Facebook, Twitter, Instagram, and Tumblr.