More than 150 elected officials and community leaders have joined an Asian-American and Pacific Islander (AAPI) leadership council for Democratic presidential candidate Hillary Clinton, her campaign told NBC News Wednesday.
The council, which follows the launch of AAPI for Hillary last Thursday in California, will help the former secretary of state organize support for her campaign in AAPI communities ahead of caucuses and primaries. Members of the council include Rep. Judy Chu (D-CA), Rep. Ted Lieu (D-Calif.), Rep. Grace Meng (D-N.Y.), and Democratic Representative Gregorio Sablan from the Northern Mariana Islands.
"Hillary has a great track record of fighting for Asian American and Pacific Islanders, and as president she will do even more to protect and promote the AAPI community," Meng said in a statement. "I look forward to working with her to accomplish this."
In this year's presidential race, both Democrats and Republicans are making great efforts to court AAPI voters, an electorate that is expected to double to 12.2 million by 2040, according to a 2015 report from the UCLA Center for the Study of Inequality and the Asian Pacific American Institute for Congressional Studies.
RELATED: Hillary Clinton to Launch 'AAPI for Hillary' in Effort to Engage Asian-American Voters
"Asian Americans and Pacific Islanders are the fastest growing racial demographic in the country, yet have too often been denied a seat at the table," Rep. Judy Chu (D-CA), who serves as chair of the Congressional Asian Pacific American Caucus, said in a statement following the AAPI for Hillary launch. "With the launch of her National AAPI Leadership Council, Hillary Clinton is recognizing the importance of engaging with our community in a way that no other candidate has."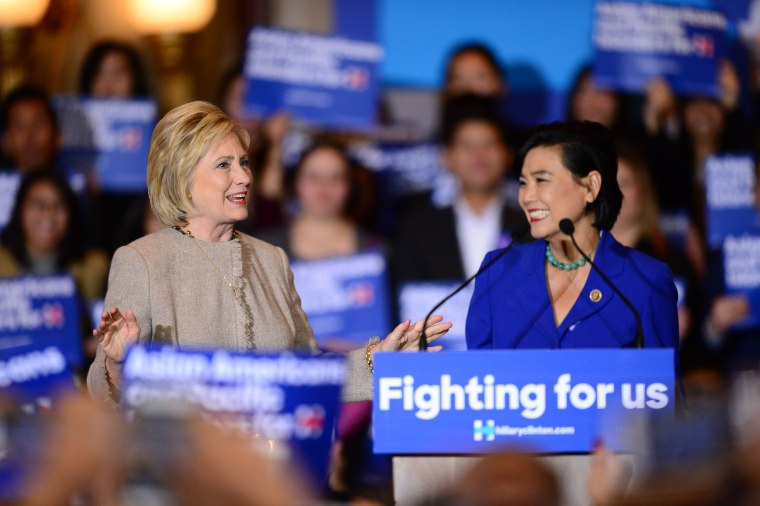 The Republican National Committee criticized the AAPI for Hillary launch last week in a statement saying Clinton's interest in the community was "for her own political fundraising benefit" and that Democrats have taken Asian Americans and Pacific Islanders for granted.
Last summer, the GOP introduced the Republican Leadership Initiative, which the party describes as "a series of extensive training workshops to equip Asian Pacific American grassroots community leaders across the country with the skills needed to work as professional field organizers and community engagers." This month, the Democratic National Committee is expected to launch ProgressAAPI, with initiatives geared toward engaging young Asian-American voters and exposing them to Democratic candidates and campaigns.
Follow NBC Asian America on Facebook, Twitter, and Tumblr.
RELATED