One thing is clear from exit polls and a survey leading up to Election Day: A majority of Asian-American and Pacific Islander (AAPI) voters nationwide backed Democratic candidate Hillary Clinton for president.
But preliminary numbers from a 14-state exit poll conducted by the Asian American Legal Defense and Education Fund (AALDEF) may offer a bright spot for Republicans. While Clinton performed better nationally with AAPI voters than President Barack Obama did in 2012 — winning 79 percent of the vote compared to Obama's 77 percent — President-elect Donald Trump secured double the AAPI support compared to GOP candidate Mitt Romney in Pennsylvania, a battleground state that helped Trump win the election.
What's more, Trump got 29 percent of AAPI support in Nevada, up eight points compared to Romney, according to AALDEF. Clinton, by contrast, garnered 69 percent, down 12 points compared to President Obama.
RELATED: Asian-American, Pacific Islander Groups Work to Get Out Vote as Election Nears
"Our gains in AAPI communities in key battleground states across the country are a testament to the leadership of RNC Chairman Reince Priebus, and the RNC's commitment to engaging AAPI communities where they work, live, worship, and play," Republican National Committee spokesman Ninio Fetalvo told NBC News in an email. "Our party will continue to work with AAPI communities to ensure their voices are heard in our political process."
"Our gains in AAPI communities in key battleground states across the country are a testament to the leadership of RNC Chairman Reince Priebus, and the RNC's commitment to engaging AAPI communities where they work, live, worship, and play."
Both the Trump and Clinton campaigns zeroed in on AAPI voters in Nevada and Pennsylvania, among other swing states, deploying volunteers to knock on doors and participate in phone banks. Clinton also relied on star power. In Las Vegas, for instance, her campaign brought in celebrities like actress Constance Wu and comedian Margaret Cho to register AAPI voters.
AAPIs make up almost nine percent of eligible voters in Clark County, according to APIAVote, which includes Las Vegas. They also account for 4.7 percent of eligible voters in Philadelphia and 4.5 percent in nearby Montgomery County.
To be sure, Clinton did topple Trump in Pennsylvania among Asian voters, 87 percent to 12 percent, according to AALDEF's exit poll, which surveyed 14,400 voters on Election Day. She also handily defeated the real-estate mogul in Nevada, 69 percent to 29 percent, the data shows.
Nevada ended up going to Clinton, Pennsylvania to Trump.
A message sent over the weekend to Clinton's campaign seeking comment was not immediately returned.
But for Tian (David) Wang, founder of Chinese Americans for Trump, the numbers out of Nevada and Pennsylvania were a positive development. In the weeks leading up to the election, Wang said he spent considerable time in both states, pounding the pavement with hundreds of his members.
RELATED: Analysis: How Exit Polling Missed the Mark on Asian Americans
Regardless of race, gender or political affiliation, Wang and his team spoke with anyone who would listen, making the case for a Trump presidency, he said. For Chinese-American voters, their weapon of choice for mobilizing the community was WeChat, a social media tool popular with Chinese-language speakers.
"Chinese Americans for Trump has contributed as the straw that broke the camel's back," Wang told NBC News. "That's very good news because that's what we wanted to be."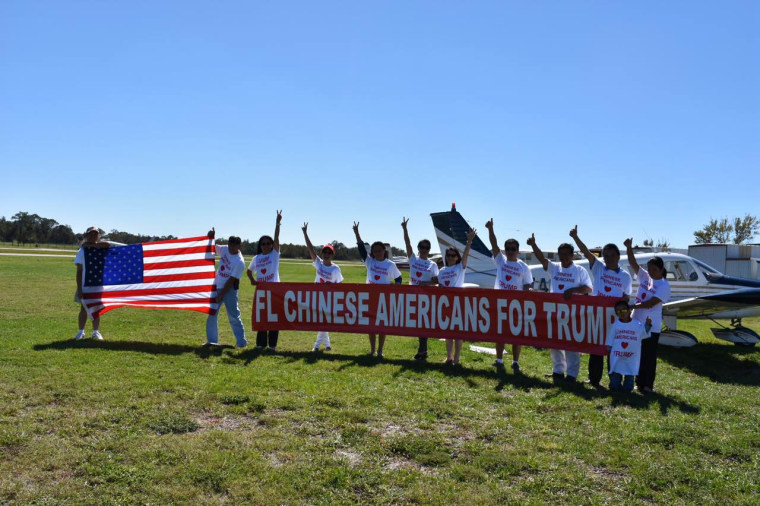 It's still too early to say whether the GOP's grassroots outreach has reversed the steady decline of AAPI Republican support since President George H.W. Bush was elected in 1992. In that year, 55 percent of Asian Americans voted for Bush, according to the Roper Center. By 2012, just 26 percent of the AAPI vote went to Romney.
Making it more difficult to estimate AAPI support for the GOP are exit polls this year that tell different stories. The National Exit Poll, sponsored by major media outlets, reported that 65 percent of Asians voted for Clinton, 29 percent for Trump, four percent for Libertarian candidate Gary Johnson, and two percent for Green Party nominee Jill Stein.

Data from AALDEF, however, found that 79 percent of AAPIs backed Clinton, 17 percent Trump, and three percent other candidates. A survey in eight states conducted ahead of Election Day also revealed similar figures, with 75 percent supporting Clinton, 19 percent Trump, and five percent other candidates.
RELATED: Analysis: Asian Americans, Pacific Islanders Are More Politically Important than Ever
Taeku Lee of Asian American Decisions, the lead researcher for the 2016 Asian American Election Eve Poll, said in a statement last week that national media exit poll numbers didn't get it right for AAPIs, who make up about five percent of the nation's electorate.
"Our poll — using representative sampling, multiple interview languages, and proper weighting — shows a more believable estimate," he said.
But if the national exit polling numbers are indeed correct, then the GOP is on its way to reclaiming the AAPI vote. If, however, AALDEF's exit poll and the national survey are more accurate, then AAPI Republican support has eroded even more.
For some close to the voter outreach operation, which extended to Asians of many ethnicities, on-the-ground efforts could have been better. Criticism included difficulty booking Trump surrogates for rallies, disorganization within the campaign, and a misunderstanding of first-generation AAPI voters.
Despite gains in Pennsylvania and Nevada, Trump still fared worse than Romney in nine of the 12 states for which AALDEF reported numbers last week. That includes Wang's home state of California, where 17 percent of AAPIs backed Trump, compared to 34 percent who supported Romney in 2012.
New York, according to AALDEF's preliminary findings, was the only other state polled that saw more AAPI support for Trump than Romney, 14 percent to 12 percent.
"We have done our best, but we can always do better," Wang said.
Follow NBC Asian America on Facebook, Twitter, Instagram, and Tumblr.
Correction: An earlier version of this story misstated Clinton's reported margin among AAPI voters. She won 79 percent of AAPI voters nationally, according AALDEF.