A coalition of more than 60 Asian-American groups filed a complaint today against Harvard University, asking for an investigation into what it alleges are "discriminatory practices" in the Ivy League school's admission process.
"We want to eliminate discrimination of Asian Americans, and we want procedural justice for all racial groups," Yukong Zhao, one of the chief organizers and a guest columnist with the Orlando Sentinel, told NBC News. "All racial groups should be treated equal."
The complaint, which Zhao said has the support of a number of Chinese, Korean, Indian and Pakistani-American groups, asks that the United States Department of Justice and the United States Department of Education require that Harvard "immediately cease and desist from using racial quota or racial balancing" to admit students and "ensure that Harvard and other ivy league schools will never again discriminate against Asian-Americans or applicants of any other races."
The coalition includes, among others, the Chinese-American Association of Orange County, in California; the Global Organization of People of Indian Origin, in New York; and the Pakistani Policy Institute, also in New York, Zhao said.
Over the years, Harvard has been accused of using race in its admissions process, with some claiming that the number of Asian-American students admitted annually has not kept pace with an overall increase in the Asian-American population. But others, including Khin Mai Aung of the Asian American Legal Defense and Education Fund, have said the accusation that Harvard uses quotas is one not rooted in fact.
In a written statement, Harvard University General Counsel Robert Iuliano said that Harvard College has a strong track-record of both recruiting and admitting Asian Americans to its school, with the percentage of admitted Asian Americans increasing from 17.6 percent to 21 percent in the last decade.
"The college's admissions policies are fully compliant with the law and are essential to the pedagogical objectives that underlie its educational mission," Luliano said.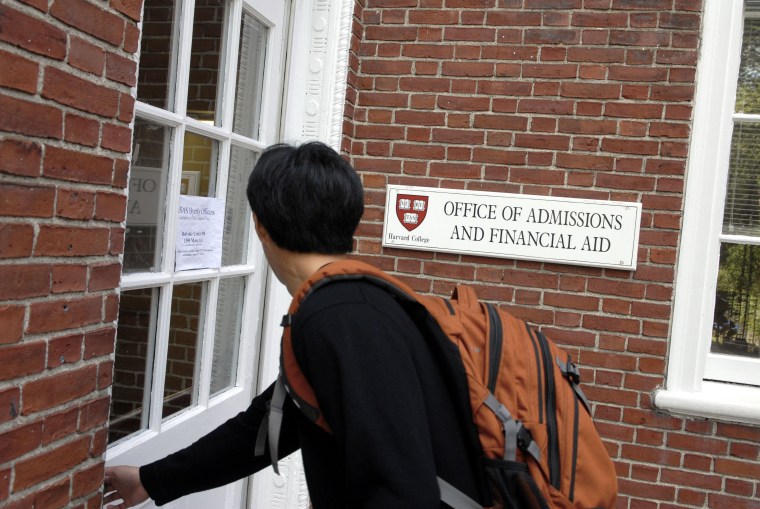 The statement added that the United States Department of Education had already investigated a claim similar to the one to be filed today, finding that the "college's approach to admissions was fully compliant with federal law."
The Department of Justice did not return an email from NBC News seeking comment.
A spokesman for the U.S. Department of Education said the department does not confirm receipt of complaints. But if it does receive a complaint, he said, it will open an investigation, informing the institution, complainants and the public as necessary.